The Best WordPress Booking Plugins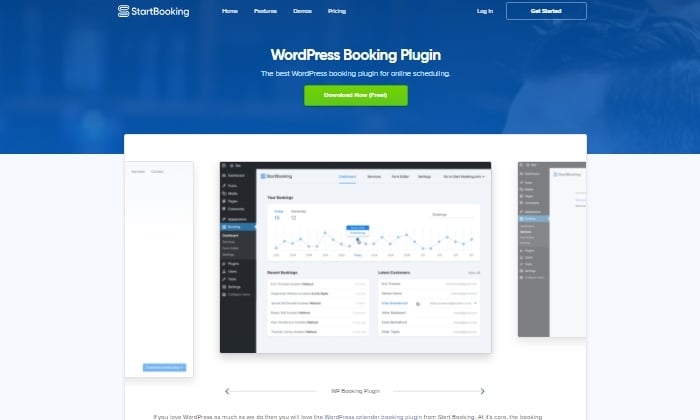 Does Your Business Book Appointments Online?
Are you looking for the best WordPress booking plugins to help you streamline your workflow and increase customer satisfaction?
An effective booking plugin can be an essential part of your business puzzle. Once you find the right one. You eliminate the possibility of losing customers to faulty or less than ideal plugins that don't do the job well.
Therefore, in this guide, I share some of the best WordPress booking plugins. To help you manage all your appointments with ease. As a result, once you've read through my top choices. You'll be able to make the best decision for your unique business needs. So, let's get started.
#1 – WP Simple Booking Calendar — The Best For Calendar Views
Firstly, in need of full calendar views to ensure customers know what dates are available and when they're booking? Moreover, WP Simple Booking Calendar completely takes care of that for you with their richly featured plugin.
Consequently, because of how well this booking plugin is built with their calendar view feature are the core.
It's A Great Plugin For The Service, Hotel, And Lodging Industries.
The intuitive plugin lets you sync with iCalendar. Most importantly, to ensure you're always up to date with bookings, cancellations, and changes. Above all, with their bulk editing feature. You can select date ranges to add or change statuses with just a few clicks. For example, the plugin offers multiple calendar views in the backend. So you can easily plan and organize for each week and month in advance.
However, you can also create a customized legend with custom colors and symbols for easier sorting. And organizing as you look through each date.
Some Of WP Simple Booking Calendar's Best Booking Features:
Easily show date availability with their customer-facing calendar views
Display a legend so that your customers always know what each date is labeled as
Calendar data backup so you don't lose your appointment information
Lets customers search for available dates
Intuitive and user-friendly interface with a sleek design
Offers customer support that can answer tickets in as little as a few hours
Allows you to create and configure unlimited calendars
Therefore, To Use The Plugin And All The Features It Offers.
Therefore, You Can Sign Up For One Of Their Subscription Tiers That Auto-Renews Annually:
Personal — $39 per year for one website
Business — $69 per year for up to five websites
Developer — $169 per year for unlimited websites
Get started now with WP Simple Booking Calendar here. Consequently the plugin comes with a 14-day money-back guarantee. Therefore, if you were to want a bigger version with more features such as booking forms and payment options. The same company also offers WP Booking System for a bit more per year.
#2 – Booking Calendar — The Best Free Booking Plugins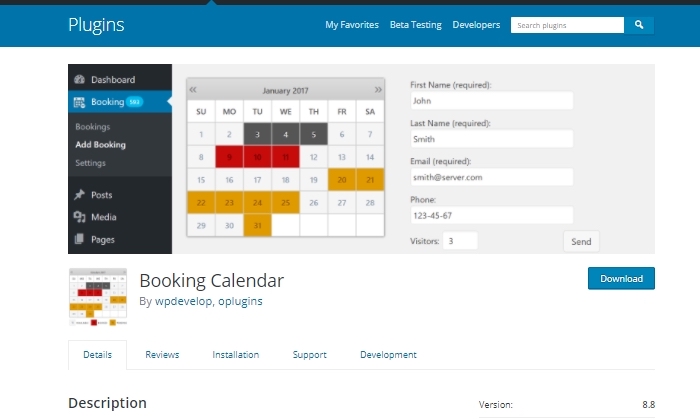 Booking Calendar is a powerful free plugin if you don't want to shell out extra cash for booking features. Therefore, as a free option, Booking Calendar is a dynamic plugin that helps you manage your bookings needs. Moreover, right from your WordPress dashboard.
Booking Calendar is a solid booking choice. That is to say, if you're in the hotel and lodging industry, event scheduling, equipment rental. And really any other service-based business. That consequently, works through reservations.
Set A Specific Front-End Calendar View.
Therefore, you can even customize your calendar legend to ensure your customers know the current bookings. As well as, availability of each date. One of their best features as a free booking plugin. Is that you can import feeds that use .ics like Airbnb, HomeAway, TripAdvisor, or Booking.com, just to name a few.
Some of their best booking features:
Both you and your customer receive email notifications to approve or change bookings
Easily select which dates and time slots you want to have available to book
See bookings in either calendar or list views for more straightforward navigation
Easily add booking forms on any of your pages with Gutenberg calendar blocks
Responsive booking interface that adjusts to any screen size
You have the option of importing Google Calendar dates and events
Booking Calendar has been downloaded over 1.75 million times since 2009 and is available for free here.
#3 –WordPress Booking Plugins – StartBooking — The Best For Service Appointment Scheduling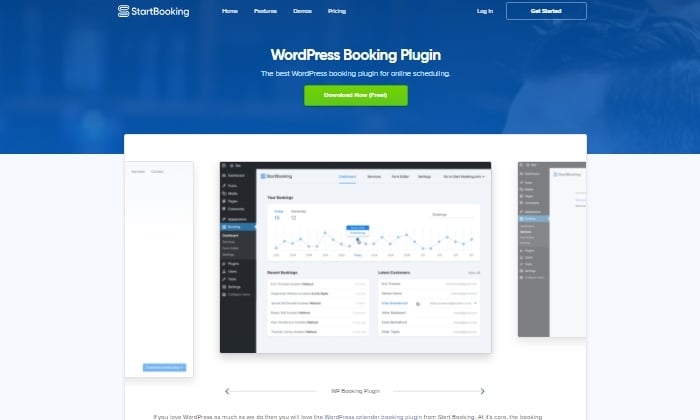 StartBooking offers a powerful WordPress booking plugin you can easily download. You can install and manage all your service appointment needs.
They offer a clean customer-facing interface that allows them to choose from a pre-defined list of services. Likewise, with available times and dates. Once they're ready to book their appointment. StartBooking effectively captures all their information, so they're ready to go. This makes StartBooking an exceptional option for WordPress users in the service industry. That want to offer their customers a clean and professional online booking experience they can rely on.
Also, if you want to capture online payments as your customers book their appointments. StartBooking integrates with Stripe for easy payment processing.
Some of their best booking features:
Offers a fully customizable booking plugin so that you configure it to book appointments exactly how you want
Easily integrates with Google Calendar
Manage how customers view their booking options and services from your WordPress dashboard
Book and manage an unlimited number of appointments
Get access to crucial booking analytics, so you always know how you're doing month to month
Assign different staff members to different appointment offerings
Define booking times that prevent you from overlapping appointments
The ability to handle class and group booking
Pricing tiers include:
Individual — $12 per month for unlimited sites and appointments
Business — $28 per month for unlimited sites and appointments
Both tiers offer custom fields, blocking dates, and customizable emails. The Business plan is better for a team with multiple calendars and comes with advanced reported and priority support. Try StartBooking free here for 14 days.
#4 – BirchPress — The Best For Easily Capturing Payments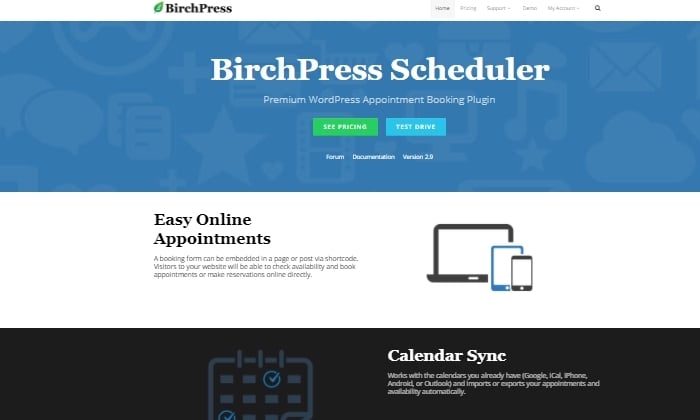 BirchPress is a reliable WordPress booking plugin that works great if you want to capture PayPal. And all credit card payments, hassle-free. Consequently, this makes it easy to process payments without having to look for a third-party payment gateway. That complicate your life.
If you'd rather not use PayPal as your payment gateway. You can capture payments through other available gateways with WooCommerce integration.
Especially if you operate in the healthcare industry, fitness, automotive, salon and beauty, or the health and wellness space. For example, BirchPress helps make the process of scheduling. And keeping up with appointments easy right from your WordPress dashboard.
Even If You're Constantly Taking Appointments And Collecting Payments.
You won't always be available. With BirchPress's holiday blocking feature, you choose which dates are unavailable for booking throughout the year.
The straightforward features BirchPress offers, along with their ability to sync with more than one payment option. Make's them a top booking plugin for online appointment management.
Some Useful BirchPress Features Include:
You can embed booking features on any page or post with their shortcodes
Integrates with Google Calendar, Outlook, iPhone, or Android to import and export appointment dates
Easily send reminders and emails when someone schedules, changes, or cancels an appointment
Customize their appointments to your needs by configuring sign up forms accordingly
Developer friendly plugin with advanced customization features
Once You Make The One-Time Payment In The Tier That Suits Your Business Budget.
You can quickly start handling your booking needs.
Here is The Pricing Tier Breakdown:
Personal — $99
Business — $199
Business+ — $249
As a result, all plans come with one year of support and updates, automated email notifications, and holiday blocking. The Business+ package is the only one to support WooCommerce integration. Start using BirchPress today, or go through a live demo here.
#5 – WordPress Booking Plugins – Booking & Appointment Plugin For WooCommerce — The Best For Use With WooCommerce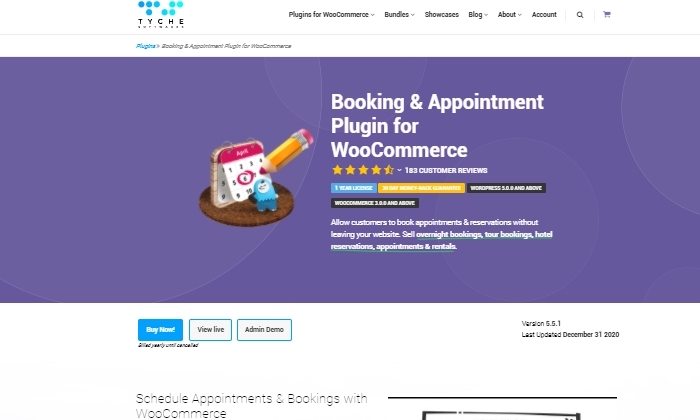 The Booking & Appointment Plugin For WooCommerce truly does it all. Consequently, when it comes to booking just about anything online once you integrate and use it with WooCommerce. Which isa robust WordPress ecommerce store plugin).
With it, you can handle hotel bookings, fitness appointments, party rentals, apartment rentals, and a ton more. Once you get it configured with your WooCommerce shop.
The Booking & Appointment Plugin For WooCommerce lets you set up single-day or multiple-day bookings. And, for equipment rentals or hotel reservations with just a few clicks. If you already have a WooCommerce shop set up through WordPress, adding the booking and appointment plugin. That can completely transform your shopping experience with a booking and appointment interface . That's easy to use in both backend and frontend views.
Some Of The Booking & Appointment Plugin's Best Features:
Syncs with Google Calendar for both admin users and customers
Easily set up and automate SMS reminders
Enable time slots that configure to customer's local time zones
Capable of multilingual displays in more than 60 languages
See all your penned in appointments in either calendar or list views
You can setup booking for multiple products on multiple dates
For A License, You'll Pay An Annual Subscription fee. The Tiers Are:
Starter — $119 for one store
Business — $199 for five stores
Enterprise — $249 for unlimited stores
All three licenses come with all of the core features. Including flexible labels, exclusion dates, custom booking calendar, multi-language capabilities, and timezone conversions. Get started with The Booking & Appointment Plugin For WooCommerce here.
#6 – Bookly Pro — The Best For Use With Staff Members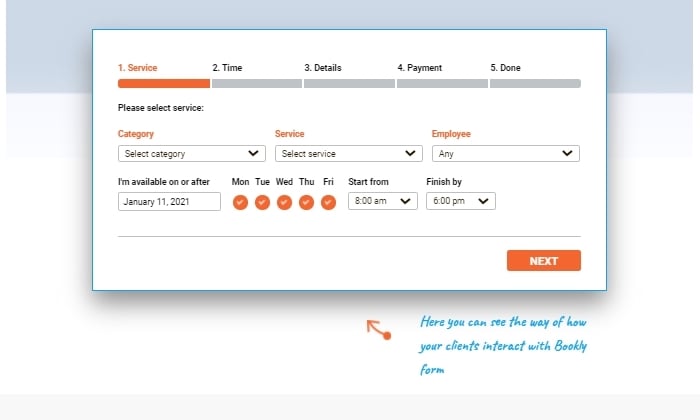 A plugin like Bookly Pro. Is a top choice if you work with staff members and need plenty of assignable backend booking features. The pro Bookly version was downloaded over 34,000 times by businesses that want a strong handle on their booking workflow.
With Bookly Pro.
You can enable your staff to stay on top of upcoming appointments with automated notifications. And letting them know when they've scored a purchase. Bookly lets you connect each of your employees and their Google Calendars to any number of services available for booking.
This enables you to manage your team and multiple bookings without the potential confusion that can come with it. It's the feature that makes Bookly an immensely effective booking plugin if you're managing a growing team.
Though Bookly Offers A Free Plugin Version
If you want access to support and advanced booking features. You're better off making their one-time payment for full access to everything they offer.
Some Of Its Best Features:
Gorgeous booking forms and front-facing design
Fully responsive booking features that work on any screen size
Integrate with Google Calendars and WooCommerce
Accept payments through a variety of payment gateways, including Stripe and PayPal
Built-in analytics with plenty of booking stats
Offers the ability to connect to a number of third-party systems using Zapier
Bookly Pro costs $89. A one-time payment that includes future updates and six months of support. You can also pay an additional $31.50 to extend support for up to 12 months.
What I Looked At To Find The Best WordPress Booking Plugins
Booking plugins come with lots of different features that can strengthen how you run your business appointments. Any booking plugin worth using will offer a great user experience, integrate well with your WordPress site. And streamline the process of accepting and organizing appointments. Still, you'll want to take it a step further. And look into some key criteria to enable you to choose the best plugin that will deliver what you need.
To Choose A Plugin That Works For You.
Make sure you're clear on your business goals to know exactly what you need a plugin for.
Are you booking online sales calls with prospective customers? Are you booking local in-person appointments? Will you need to capture payment information upon booking?
Are You Booking Appointments Or Reservations?
Some plugins come with robust features like drop-down menus for multiple schedules, the ability to revise. And, as a result, re-schedule appointments, a dashboard that allows you to easily view and manage your calendar. Or even automated appointment reminders triggered upon booking.
Here are a few other things I considered when researching and choosing the best WordPress booking plugins. Use these factors when doing your research and selecting the best for you.
Online Payments
Some plugins are designed to accept online payment solutions without having to use a third-party payment gateway. This can be useful to you as a business owner if you require payment upon booking.
Being able to capture payments within your booking plugin can go a long way in saving you time. This way, you don't need to integrate additional plugins on your site that could potentially slow it down.
Calendar Views
Would booking appointments on your site be made easier. If your plugin offered a calendar view for you and your customers? Using a plugin with calendar views can be a great option. If you offer appointments over a span of time or if your business is service-based.
Mobile-Friendly
Your booking plugin won't do you much good if you can't easily capture appointments from a mobile device. There is, a vast amount of online traffic generated through mobile. As opposed to the standard desktop view.
You're always better off with booking plugins that are up to date. And offer mobile compatible views. Using booking plugins that haven't been recently reviewed. Or updated to be compatible with the latest WordPress version. Can work against you if you aren't careful.
Bringing It All Together
This might have been a ton of information to digest in one go. After reviewing a list of the top booking plugins for WordPress. You can start using right now that go beyond the basics.
Consequently,to help you choose the best WordPress booking plugin and make it easier on you. Therefore, here's a quick recap of the plugins recommended:
Therefore, now it's your turn. Has there been a booking plugin that's worked better for you than others? Let me know in the comments below.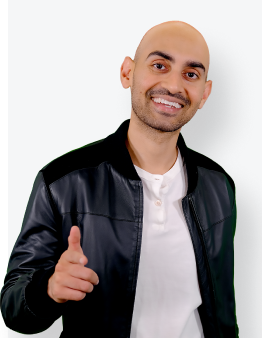 Consulting with Neil Patel
See How My Agency Can Drive Massive Amounts Of Traffic To Your Website
SEO – unlock massive amounts of SEO traffic. See real results.
Content Marketing – our team creates epic content that will get shared, get links, and attract traffic.
Paid Media – effective paid strategies with clear ROI.
Disclosure:
This content is reader-supported, which means if you click on some of our links that we may earn a commission.