The Marketing's Guides To Working Remotely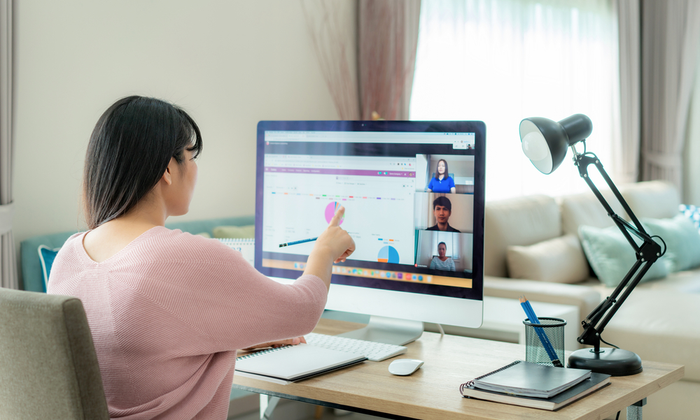 Working Remotely! Remote work is going from an occasional perk to the norm. As long as you have a computer and internet connection, you can perform your job anytime, anywhere.
For marketers, creating promotional materials, meeting clients, and completing projects from home, hotel, coffee shop, library—basically anywhere with an internet connection.
While working remotely has many benefits, employees who regularly worked in the office may have a difficult time making the transition to exclusively working this way.
In this article, we'll talk about the how's and why's of remote work for marketers.
The Rise in Popularity of Working Remotely 
Remote work has been around for years.
However, the COVID-19 pandemic made it unexpectedly the norm for many businesses, and both employers and employees are realizing the work-from-home system can be successful.
According to Global Workplace Analytics, big companies like Best Buy, British Telecom, Dow Chemical found remote workers are 35 percent to 40 percent more productive.
The survey also found employees call in sick less often and feel empowered to work independently while also increasing collaboration. Importantly, many people are less likely to report unemployment due to workplace discrimination or lack of transportation.
Employees often prefer working remotely than regularly frequenting the office. In fact, 72 percent of employers believe remote work leads to increased employee retention.
These numbers show remote work is likely here to stay.
Employees prefer the convenience of working from their desired location. Meanwhile, employers can enjoy a more productive and efficient workforce. It's a win-win-win situation for everyone.
The Benefits of Working Remotely As a Marketer
There are a ton of benefits to working remotely as a marketer. For many, there are feelings of freedom and improved work-life balance that didn't exist when going into the office every day.
Here are five of the top benefits of working remotely as a marketer.
1. Working From Anywhere in the World 
Gone are the days when employees had to issue a leave of absence to go on a vacation.
As long as you have a laptop and WiFi access, you can create promotional content from a beach in Thailand or a coffee shop in Japan. As long as you work during your expected hours, where you're working from generally doesn't matter.
Hence, talented marketers who want to explore the world can do their job and travel simultaneously. 
2. Work at Your Preferred Time 
While this isn't allowed by every workplace, working remotely may allow you to have more control over your hours.
If you're a morning person, you could start your day at dawn and be done by the afternoon. If you're a night owl, you could start and end later.
This type of work also frees you up to use your breaks however you please. For instance, if you want to hit the gym, you don't have to worry about showing up back at work with wet hair—or showering at all, if that's your thing.
3. More Time for Loved Ones
You know the feeling: You get up early, commute, are "on" all day at work, commute home, and are just spent when you walk in the door.
If you have a long commute, you may be out the door before your kids even finish breakfast or feel unable to go out with friends at the end of the day.
With working remotely, you may have more time to help the kids prepare for school or have conversations with your significant other.
Upon finishing your deliverables, you don't have to spend an hour in traffic. Instead, you can just walk out of your home office and transition to your "real life."
4. Take Advantage of Time Zones 
While being in different time zones could make finagling meetings a bit challenging, there are also some benefits. Your end of the day is the beginning of the day on the other side of the world, meaning you could send a project from your desk in New York to a worker in Singapore at 5:00 pm your time, and they'll instantly receive it—at 5:00 am their time.
While you sleep, they can work, and it's almost like your project traveled through time to meet your deadline.
5. Save Money 
Remote work can help you save money.
You don't have to spend money on gas, a professional wardrobe, or an expensive lunch in the cafeteria—which can amount to $4,000 per year.
A FlexJobs study found the average commuter spends $2,000 to $5,000 annually on gas, vehicle maintenance, and insurance (which can cost less if you drive less). If you work from home, that money can stay in your pocket.
Besides transportation costs, households spent $1,866 a year on clothes and $3,459 on "food away from home." As a remote marketer, you may only need to dress up during video calls and cook from your kitchen.
Challenges of Working Remotely as a Marketer
Not everything is perfect, including remote work arrangements. Here are a couple of hurdles marketers may encounter when they're far from an office.
1. Reimbursement for Office Equipment 
Marketers creating video content and editing images may require a high-end computer and software. You may also need to purchase a home office setup. Who would foot the bill?
Plenty of big companies provide quality equipment for marketers, but small agencies and startups may not offer these privileges.
If you're interviewing for a remote position, don't be afraid to ask them about these costs before you accept the position: Who will pay for the internet connection, software, or equipment? Will your employer provide a home office stipend?
2. Difficult to Establish Relationships 
Marketers based in an office may find it easier to establish genuine relationships with their teams or bosses.
As they fulfill tasks together, they can make small talk and get to know each other better. In contrast, remote work means you may talk to co-workers only during meetings. (Though off-topic group chats aren't uncommon.)
Moreover, you're not exactly working closely with your boss. Hence, it may be challenging to set yourself up for a promotion or improve your professional relationship with your boss. You have to take extra steps to build camaraderie.
Tips for Successfully Working Remotely 
How can you succeed as a remote worker? Let's take a look at these tips which could help you out.
Minimize Distractions 
As a remote marketer, you don't get to be monitored by your boss or co-workers. You can work anytime and anywhere as long as you finish your deliverables.
The downside is you may also be prone to distractions. It's easy to get sidetracked by a social media notification when no one is watching your back.
How to minimize distractions? Some practical tips include the following:
Put Your Phone in a Different Room
While chances are you'll need your phone at some point during the day, consider putting it in a different room when it's not necessary for your work. Otherwise, you may find yourself scrolling through Twitter instead of staying on task.
Plan Your Break Time
Most marketers have a ton to accomplish in a day, such as blog post writing, SEO optimization, and planning marketing campaigns. The hectic tasks may tempt you to take an unplanned 30-minute break which quickly becomes a one-hour break.
To help yourself avoid this, plan your break time and length of the breaks before beginning the day. Set alarms and timers to force yourself to remain focused.
Understand Your Most Productive Time
When are you most productive?
According to BBC, 11 in the morning is the most productive time of the day. Of course, this may vary by person.
Tips For Successfully Working Remotely – Understand Your Most Productive Time
Determine when you're at your peak productivity and tackle difficult tasks then. For instance, a morning person could start with high-priority tasks in the morning and switch their attention to less important tasks in the afternoon.
Time Yourself
Setting timers isn't just for breaks. You can also use it to set self-imposed deadlines or give yourself permission to step away from a stressful task.
For projects needing to be done soon, you could set yourself a 60-minute timer, telling yourself you can't even check your email until that timer goes off. You can come back to it later, but returning with fresh eyes could help you improve what you've created.
If you're working on something mentally exhausting, like a very emotional piece, you could also set a timer for yourself.
If you know you're going to need to step away from it for your own wellbeing, it may be much easier to stave off the negative feelings if you know you only have to look at it for one hour right now.
While you could use your phone timer, there are other time tracking software options that could help you reach maximum productivity. Plus, these may make it easier to keep track of what time of day it is so you don't suddenly look up and realize you were off work an hour ago.
Create a Workspace
Having a dedicated workspace is the key to maximizing productivity and focus. The ideal workspace can help you get in the mood to get the work done.
Here are some tips for creating a good workspace for marketers.
Pick a Good Spot
In a perfect world, you could set up an office in a space no one else has much access to, like a spare bedroom. An ideal workspace should help you concentrate on your current marketing campaigns. Hence, pick a quiet area free from distractions.
For example, Li-Chi Pan's workspace keeps it simple with a desk equipped with an iMac and lamp. Her entire setup is beside a panoramic window which provides ample lighting and a gorgeous view of Sydney's rooftops.
However, this option isn't available to everyone.
If you don't have a spare space, set yourself up in an area that's as distraction-free as possible, even if that means facing a wall at your kitchen table. Avoid setting up a space in your bedroom, as that may make it harder to view it as a place of rest.
Change Up Your Remote Work Scenery 
Even when your workspace looks gorgeous, sometimes working a long time from home can lead to boredom. After all, when you're around others at the office, what you see is constantly changing.
I highly recommend working in a coffee shop, library, or co-working space when possible. This could not just stave off boredom from looking at the same stuff all day, but if you're someone who thrives with company, it could help prevent feeling isolated.
Have a Board for Your To-Do List or Ideas
Marketers often have plenty of sticky notes for their various tasks or marketing campaign ideas. The nice thing about being at home and not the office is you can arrange this however you want because you're in control of the space.
Consider having a board where you can place your schedule or creative schemes to help you stay organized.
For example, this workspace by Oh Happy Day has a transparent glass board where a marketer can place their weekday priorities.
Get the Right Office Equipment and Office Supplies for Remote Work Success
Ask your employer to provide your equipment such as monitors, a mouse, and a keyboard. You can also inquire about reimbursement for office supplies or even needed furniture like a desk.
While much of your work may be possible via video conferencing tools, some clients prefer talking on the phone. If this is the case for you, ask your work about getting you a work phone so you don't have clients calling your personal number.
Unfortunately, these expenses are often not tax-deductible anymore, though some states allow this, so be sure to check on your laws and talk to a tax professional if needed.
Ensure Your WiFi Works Well Enough
Whether you're working from home or on the beach, make sure your internet connection is strong. You don't want work to delete just before it backs up or for a client's call to be dropped.
I highly recommend using Virtual Private Networks (VPN) to guarantee you'll have a secure and private connection. Some marketing agencies may also benefit from a VPN because it helps them determine the organic search results, peek at YouTube ads, and conduct competitor analysis when browsing from a specific country or region.
Celebrate Your Remote Work Wins
Did your marketing campaign generate record-breaking results? Have you gotten a new client? Every groundbreaking achievement is a cause for celebration.
Sadly, your wins and successes may not be as visible when you're working from home or a remote location.
A potential solution is to encourage teammates and employers to set-up an announcement system whenever you and your teammates have a win. This can be as simple as announcing the achievement through a dedicated group chat or sending an email with a list of successes.
Conclusion 
Just like everything else, working as a remote marketer comes with perks and drawbacks. Productivity may go up, and money may be saved—both for employees and employers—but it can get a bit lonely.
As long as you can minimize distractions and have a dedicated workspace, you could efficiently accomplish your projects and marketing campaigns. Don't forget to ask your employer for the right equipment and to ensure you have WiFi access.
Whenever you and your digital marketing team experience big or small victories, celebrate your successes. This way, everyone is motivated to do their best even when they're apart.
How will you succeed as a remote marketer?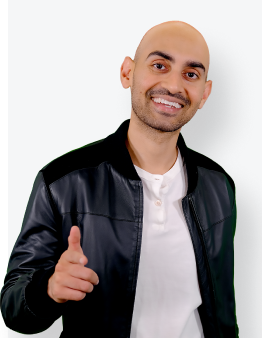 Consulting With Neil Patel
See How My Agency Can Drive Massive Amounts of Traffic to Your Website
SEO – unlock massive amounts of SEO traffic. See real results.
Content Marketing – our team creates epic content that will get shared, get links, and attract traffic.
Paid Media – effective paid strategies with clear ROI.