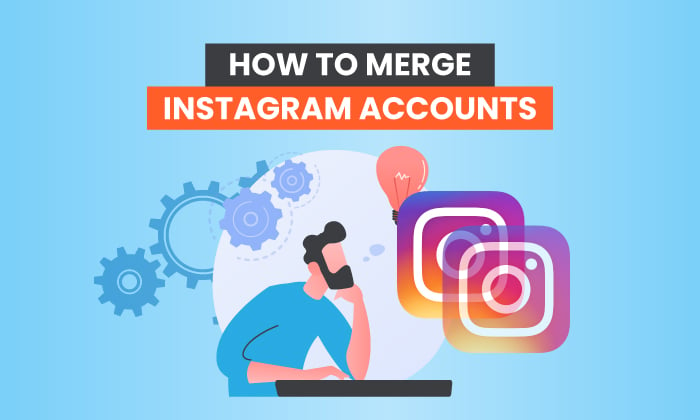 Merge instagram accounts! Managing one social media account is a lot of work. In many cases, managing two or more (when you don't need both) can be a nightmare.
That's why if you have many accounts on the same platform, it's best to merge them.
Thankfully, platforms like Facebook make this easy as long as you're the admin of both accounts you want to merge and the two accounts have similar audience demographics.
Can you merge Instagram accounts, though?
The simple answer is no, not at the present moment.
However, there are ways in which you can merge Instagram accounts. We'll be looking at them in a moment.
Why Should You Merge Your Instagram Accounts?
Before we get into how you can merge your Instagram accounts, you need to determine why you want to merge your accounts.
What do you want to accomplish by merging your accounts?
Are you merging business and personal accounts?
Do you have multiple business pages and are struggling to maintain them?
Instagram marketing is a powerful tool for achieving your business goals. If you're running two or more Instagram accounts, it's a good idea to merge them. Here's why.
Consolidate Your Content
One primary reason many businesses choose to merge Instagram accounts is to consolidate their content.
For example, if you have multiple accounts for different locations, you may want to consolidate your content to make it easier to manage your account.
Provide a Better User Experience for Your Followers
Another good reason for merging your Instagram accounts is it helps you give your followers a positive user experience (UX).
This is because they won't have to hop from one account to another to get the most out of your content. A better UX will also help you build a stronger following.
Create a Stronger Brand
Bringing all your assets under one roof, whether merging a business and personal account or two (or more) business accounts, is a great way to create a stronger brand.
Humanize Your Brand
It's easier for people to follow a personality than a brand.
Merging your personal and business Instagram accounts humanizes your brand and empowers you to connect better with your audience.
Adds Variety
Another excellent reason to merge your Instagram accounts is that it helps you add variety to your account. It helps add diversity in terms of content, audience, and even monetization methods.
Merging Instagram accounts is a great way to keep your followers engaged, too. That's because it allows you to post different kinds of content, thereby spicing up your feed. Apart from that, it also helps you streamline your marketing efforts, resulting in your generating more leads and revenue.
Now, how do you merge Instagram accounts?
How to Manage Two Instagram Accounts When a Business Consolidation Occurs
Business consolidation occurs when two organizations merge into a single business operation.
When this happens, you will have to handle the Instagram accounts of both businesses. To make sure the process goes as smoothly as possible, keep your followers posted on the changes.
People don't like change—especially when it happens fast.
That's why you must always keep them in the loop concerning your consolidation. From both Instagram accounts, create posts explaining to your audience what the consolidation means and how it will benefit them. Make sure to tag the other account when you post.
Once your followers are notified, you can continue with the merge.
Merging Your Instagram Accounts
It's advisable to merge Instagram accounts when a business consolidation occurs. Remember, Instagram doesn't allow the merging of two or more accounts. However, there are ways to circumvent this. Here are a couple of ways to go about it:
Create a New Account
One way to merge your two accounts is to create a new account and manually transfer the content from the other accounts to the new account. You can make this process easier by using a third-party tool to repost your content.
This lengthy and tedious process also has the downside of losing all the likes and comments on your posts. However, it's one of the best ways to ensure that all your content from your other accounts is in one place.
When creating an account to merge your other Instagram accounts, it's advisable to set the live accounts to private. Doing so helps avoid any new engagement while you're moving your content.
Move Your Followers
There's no way to move your followers to your new account automatically. The only way then is to create a post notifying your followers of your new account and asking them to follow.
Make it easy for them to do so by tagging your new account in your posts. You can also edit your bios to redirect your followers to your new account.
Delete Defunct Accounts
Once all content has been moved to the account, and you're sure most followers have come on board, you should delete the old accounts.
While this may sound counterintuitive, it's necessary to prevent people from following and engaging with the defunct accounts. These are precious interactions that would better serve you on your new account.
Creating a new Instagram account for two businesses that have consolidated is the best viable option for merging your Instagram accounts. It may take a lot of work to move your followers and establish a strong brand presence, but the hard work will pay off in the long run.
How to Manage Your Instagram Accounts When a Business Acquisition Occurs
Taking over another business means taking over all their assets—including their social media accounts.
When an acquisition takes place, how do you manage the Instagram accounts of both brands?
The first thing to determine is whether the acquisition brings all business operations under one umbrella or whether the acquired company will maintain its brand image.
If the latter is the case, you'll have to run the two social media accounts independently.
However, if the company you've bought will assume your brand, you must merge Instagram accounts. The easiest way to do this is move the followers from the business you've acquired to your main Instagram account.
To do that, alert your followers of the change and encourage them to follow your main Instagram. You will have to post several times and give your followers time to make the move.
How to Manage Your Instagram Accounts When You Change Your Business Name
If you've changed your business name, it goes without saying you'll also have to change your social media profiles.
Thankfully, Instagram makes it very easy to do this. However, despite it being easy to change your business name on Instagram, there are a couple of considerations you must make:
Instagram Name or Username—Which One Are You Changing?
When you change your business name, you have two options to change your identity on Instagram.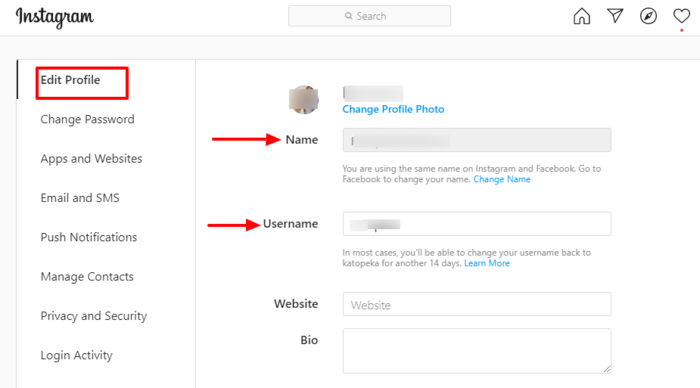 You can either change your Instagram name or your username.
Instagram name: This is the name displayed on your profile and under your posts.
Username: Your username defines your account and is the one preceded by "@." It also determines your URL.
You can easily change your Instagram name without any impact on the backend of your account. However, changing your username has a huge impact on what happens on your backend. That brings us to the next point.
Your URL Will Change and Engagement May Drop
Your username is part of your Instagram URL. Changing it means altering your URL.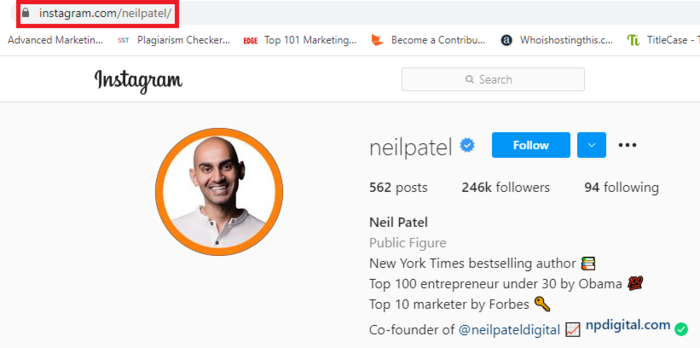 Once that happens, it may take a few weeks for search engines to index your new URL. As a result, the traffic and engagement you get from other places you've linked your Instagram account to will be affected. This includes other posts your account has been tagged in.
3 Quick Tips to Manage Your Instagram Account Name Change
Most people complain of losing followers and engagement when they change their business name. Here are a few tips to help you make the transitions smoothly.
1. Alert Your Followers of the Name Change
Before you change your business name, make sure to let your followers know that you're rebranding. Doing so will let your followers know you're still active, even if at times, they may not find your account when they search for it.
2. Change Your Handle On All Other Platforms
Changing your business name affects all your other social media platforms. So make sure to change your handle on all of them.
3. Edit Links to Your Account
Remember, your username affects your URL. Once you change it, your old URL becomes useless.
That's why you must visit all blogs and other platforms you've posted your URL on and edit them with the new URL. Sure, this may be a lot of work, but it must be done if you're to reduce the negative impact of the name change.
Changing your business name on Instagram can have some negative ramifications. Make sure you only do it when it's absolutely necessary.
How to Manage Your Instagram Accounts if Your Business Has Multiple Accounts for Different Departments
If your business has multiple Instagram accounts for each department, juggling them can be quite a daunting task. In many cases, the hard work will be worth it as having multiple accounts will help you:
Customize your messaging for each of your target audiences.
Cater to the preferences of audiences in different geographic locations.
One of the easiest ways to manage multiple accounts is by switching between accounts. To do this, you must add the other accounts you want to manage on your Instagram app. On mobile, you can do this by:
Going to settings.
Under the "Login" section, click on "Add Account."
Enter the login details of the account you want to add and log in.
You can then easily switch between accounts by clicking on the profile icon.
Another way to manage multiple accounts is by setting up Multi-Account Log In. To do this:
Go to settings.
Select "Multi-Account Log In."
Choose the account you want to use to access the other accounts.
Anyone with access to the account you have chosen to use as the administrator account will have access to all other accounts.
Once you've set up your accounts this way, it becomes easier to manage multiple accounts without having to log in and out.
How do you manage multiple Instagram accounts on a desktop?
To manage multiple Instagram accounts on desktop, you'll have to use Facebook's free dashboard dubbed Creator Studio.
Connecting your Instagram accounts to Creator Studio is super easy:
Switch to a business profile.
Click on the Instagram icon in Creator Studio.
Sign in to Instagram from Creator Studio.
With Creator Studio, you can post and schedule content to multiple accounts. You also get access to Instagram Insights, the native Instagram analytics tool.
Leverage a Social Media Management Tool
Managing multiple Instagram accounts from the platform itself can be laborious and time-consuming. An easier way to do it is to use a third-party tool that allows you to manage all your accounts from a single dashboard. Examples of such tools include:
Hootsuite
CoSchedule
Sprout Social
Buffer
Using a social media management tool will give you a bird's-eye view of what's happening across all your accounts from a single dashboard. It also has the advantage of assigning tasks to teammates, making collaboration much easier.
Managing multiple Instagram accounts for different departments may seem like a daunting task. However, with Instagram's account switching function or the use of a third-party tool, it becomes easy.
Conclusion
Instagram is one of the best social media platforms for growing your business.
With over 1.2 billion active monthly users and as the fourth-most popular social networking site, you can't afford to ignore it. It's undoubtedly one network you must include in your social media marketing strategy.
That's also why you must tread carefully when merging Instagram accounts. Executed well, the worst that could happen is losing a few followers. However, if you don't do it well, you may end up having to start building your brand on Instagram from scratch.
What's your experience with merging Instagram accounts?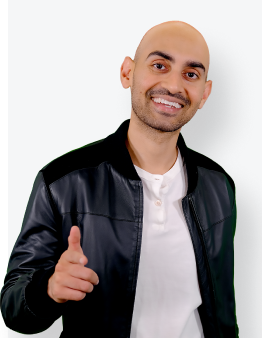 See How My Agency Can Drive Massive Amounts of Traffic to Your Website
SEO – unlock massive amounts of SEO traffic. See real results.
Content Marketing – our team creates epic content that will get shared, get links, and attract traffic.
Paid Media – effective paid strategies with clear ROI.