5 Useful Features of Vimeo For Marketers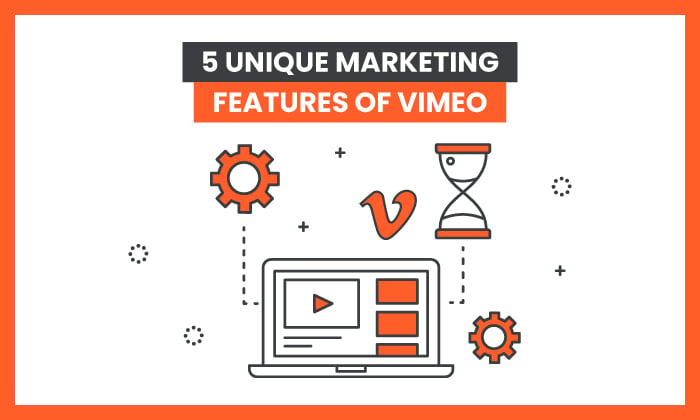 Video marketing has exploded in recent years. 54 percent of consumers say they prefer to watch videos from the brands they support over any other content type. If you have or are considering diving into video marketing, you need to know about Vimeo.
Creators and marketers use Vimeo in various businesses to create and share videos. Like YouTube, all types of companies can use the platform to grow their businesses, including small businesses, e-commerce, social media marketers, educators, fitness professionals, and creative professionals.
Does Vimeo have any marketing potential, and is it right for your business? Or is it just another platform that will suck your time and offer no returns?
Here's what you need to know to figure out if Vimeo is right for you.
What is Vimeo?
Vimeo is a video-sharing platform that provides businesses and professionals with the tools they need to make, share, and market high-quality videos. The platform boasts more than 200 million users, 1.5 million paid subscribers, and over 100 billion video views.
Just what makes this video platform so popular?
The platform allows creators to record, edit, and customize high-quality videos with features like text, music, and calls to action.
It also provides a range of collaboration tools, workflow features, privacy settings, and detailed analytics so you can understand what videos your audience likes.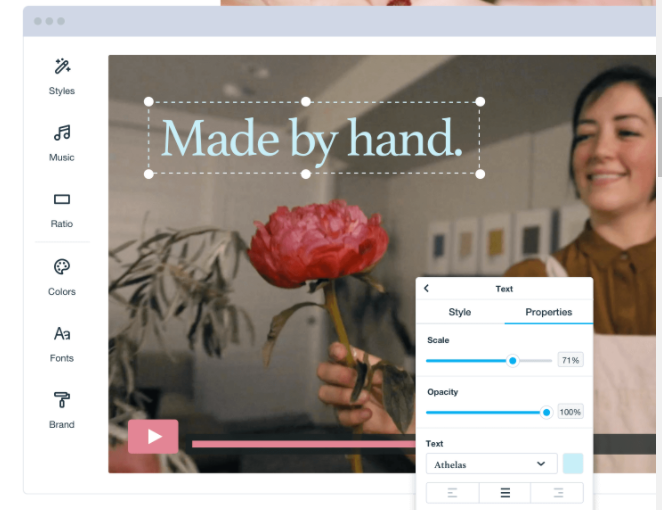 What makes Vimeo stand out is the platform's dedication to helping creators produce high-quality videos that make a difference. Unlike YouTube, you won't find random, low-quality videos and tons of spam.
Instead, you'll find thoughtfully crafted videos, high-quality creators, and an engaged, helpful community.
Here's an example of an interview I did a few years back that was posted on Vimeo—it has a bit of a documentary feel, which is typical for Vimeo videos.
In addition to interviews, Vimeo creators also post landscapes, music videos, training, augmented reality, workout videos, short films, and, yes, even cute cat videos.
What Features Does Vimeo Offer?
If you are looking for an easy-to-use, professional-grade video platform, Vimeo may be the right choice for your business. However, before you make your decision, let's look at a few of the key features Vimeo offers.
Like YouTube, Vimeo allows creators to record and host videos. However, it also does a lot more. Here are a few key features Vimeo has to offer:
record videos, add text, music, and adjust colors, ratio, etc.
post-production and collaboration tools to streamline video creation workflows including version history, time-coded notes, and real-time replies
privacy features, including password protection, viewer permissions, and data security
customizable video players, end screens, and speed controls
customizable channels with editable headers, thumbnails, and URLs
call to actions, including clickable buttons and video interaction cards to send viewers to your website, landing page, or other URLs
advanced metrics including video engagement graphs, average viewing time, live stats, and total plays
Note: Vimeo's free basic version limits access to advanced tools, including some metrics, privacy features, and storage options. However, the free version is still quite useful!
How Much Does Vimeo Cost?
If you are on a tight marketing budget, Vimeo is an ideal choice for video marketing.
Unlike YouTube and other video marketing alternatives, there are no paid ads, so you won't have to spend thousands to reach your audience.
Vimeo is pretty affordable, with a robust free forever plan that lets you:
upload up to 500MB per week
store up to 5GB of data
use basic embedding features
view basic video analytics
download converted video files
access limited privacy controls, including "Only me," which keeps your videos private
upload up to 10 videos a day
create one channel, one group, and three showcases
publish videos natively to social and e-commerce accounts
Paid Vimeo accounts are also reasonably priced, starting at $7 per month when billed annually for their Plus version and goes up to $75 per month for the Premium version.

Is Vimeo worth the cost? Let's look at how you can use this video editing and sharing platform to grow your business.
How Do I Use Vimeo for Business?
Vimeo can be used by any business interested in leveraging the power of video marketing. Whether you are a local plumbing company looking to share customer reviews or a million-dollar marketing company looking to share training videos, you can use Vimeo to create, host, and share videos with your target audience.
Remember, Vimeo is not just a video hosting platform but also a community.
You can look for other videos, leave comments, and even create custom playlists of your favorite videos. Videos don't just stay on Vimeo—they can also be posted natively on platforms like Facebook or embedded in landing pages or on your website.
Here are a few use cases for the platform:
training videos with your team or users
high-quality product videos
behind-the-scenes peek at your manufacturing or creation process
video testimonials from happy customers
How is Vimeo Different From YouTube?
In terms of usability, Vimeo and YouTube are pretty similar. Both platforms allow you to upload videos, watch videos from other creators, go live (with the premium plan only), create playlists, design a channel, view analytics, and engage with other creators.
The core difference between Vimeo and YouTube lies in the audiences. Vimeo users tend to be more creative and engaged.
Unlike YouTube, you won't likely deal with spam messages that add no value. Vimeo videos also tend to be more artistic and of high quality.
Vimeo also doesn't have ads—which makes it easier for creators with smaller marketing budgets to share engaging, high-quality videos with their audiences.
Note that live video is only available to premium plan members, so if that is important to you, consider using other platforms like Facebook and Instagram to go live.
5 Unique Marketing Features of Vimeo
Now that you understand what Vimeo is, how it works, and what makes it stand out from other platforms, it's time to dive into actual uses. There's no reason to waste time learning a new platform if it won't help you grow your business, right?
Vimeo stands out from other video platforms due to several unique marketing features. Let's look at a few of them.
1. Vimeo Channel and Video Customization
Branding helps you make a memorable impression on your audience. Colors, fonts, and logos can help consumers know what to expect from your company and recognize your brand across platforms.
Vimeo allows you to create a custom channel aligned with your brand by adjusting your channel's title, thumbnail, header image, description, and even create a custom URL.
The channel page essentially serves as a landing page for your brand where you can share videos, a description, and essential links.
Here's Content Marketing Institute's Vimeo page. Note the header image is a video that showcases Content Marketing World, the brand's flagship conference.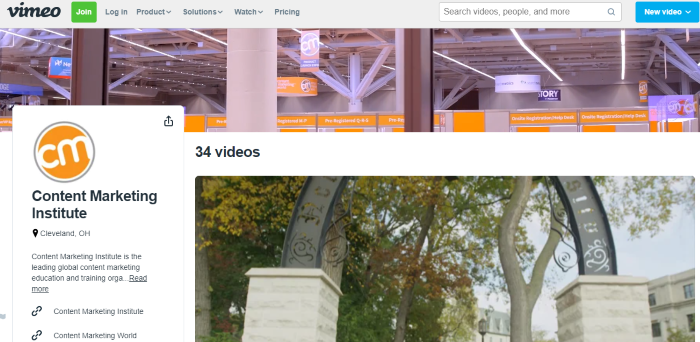 Videos can also be customized by adding keyword-optimized titles and descriptions, time-stamped links, links to other sites, captions, and unique thumbnails. The time-stamped links and internal links are advantageous because YouTube killed off a similar feature a few years back.
These features don't just make it easier to create videos your audience will love (which is a huge benefit!). It also allows businesses to keep their branding consistent across all platforms.
Paid plans also have access to Vimeo Create, their video maker tool that provides access to stock photos and videos and includes the ability to add branding to videos.
2. Advanced Vimeo Analytics and Trends
Vimeo's analytics platform provides insights into demographics and user behavior, including impressions, plays, likes, comments, and your most popular videos.
It also provides an overview of the devices used to watch videos and shows which parts of your videos garner the most and least user interaction.
Even if you natively publish videos on other social platforms, Vimeo still monitors play, likes, shares, and reposts so you can see which platforms are most popular.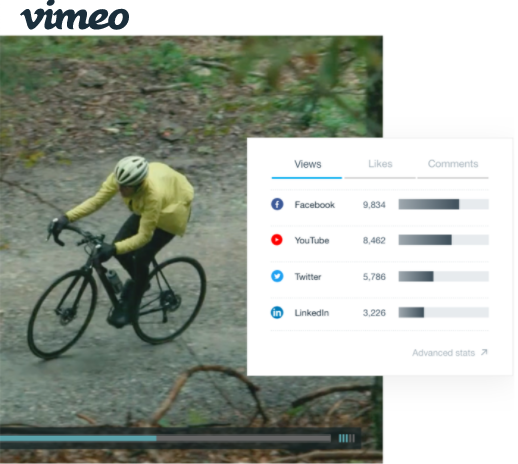 This data makes it easier to understand what types of videos resonate with your audience so you can create more of the content your users love.
If you spring for a paid plan, Vimeo provides access to even deeper analytics to help you understand how your video marketing is driving business and what you can do to keep delivering valuable content.
3. Video Optimization
Creating great videos is just half of the battle—you also need to make sure your audience can find your videos through video optimization. Vimeo allows creators to produce custom titles and descriptions and choose categories to help interested parties find your content.
These features aren't particularly unique to Vimeo; YouTube also lets you optimize videos by adding titles and descriptions.
However, what is unique is the impact these optimizations can have on your reach. That is because Vimeo does not allow creators to bid for keywords and outrank organic results.
For example, your competitor can't bid on your brand name and outrank your content just by paying for it. This feature makes video optimization critical on this platform.
The lack of sponsored content is a feature that makes it stand out, so let's dig in a little deeper.
4. Free of Sponsored Content
The average internet user sees hundreds, if not thousands of ads every day. From social media to your own email box, paid ads pop up everywhere we use the internet—except on Vimeo.
On Vimeo, all search is organic and there are no pre-video or mid-roll ads.
Unlike most social platforms, Vimeo is mostly monetized through paid memberships. This levels the playing field; posts from brands must live and die on their own merit, which is pretty cool.
Smaller brands that post content have the same opportunity to drive user engagement and views as large brands, making this an exciting platform for businesses in all different industries—including those with little to no marketing budget.
5. Collaboration With Other Tools
Vimeo allows users to post and embed videos on other platforms or social media and integrates with a wide range of other tools, including Final Cut Pro, Adobe Premiere Pro, Mailchimp, Constant Contact, and Campaign Monitor.
This means you can leverage the power of Vimeo without ever leaving your current video editor and better track the impact of your email marketing campaigns.
For the more tech-savvy, Vimeo also offers an API so you can add video integration into your custom apps.
Conclusion
There are many video marketing tools on the market—which can make finding the most valuable tool a headache. On Vimeo, if your content is high quality, useful, and brings value to your audience, you are just as likely to reach your audience as larger brands.
Ready to create a Vimeo content strategy? Start by researching keywords your audience is interested in and look at your most popular content. Are any of those topics conducive to videos?
If so, write a video script, fire up your camera, and start recording. Then, use Vimeo to reach your audience. Make sure to optimize your videos and engage with other creators to see the maximum impact.
Are you using Vimeo? What's the most valuable feature for your business?