How Niche Communities Are Chaning Online Conversations
Niche Communities – Social media is a noisy place. When you log onto Facebook, Instagram, or TikTok, ready to enjoy some content, you're bombarded with ads and thousands of posts about all sorts of things—much of which you might not care about.
It's overwhelming at best, and at worst, it makes us feel lonely. For the most part, we aren't having meaningful discussions or engaging conversations around our biggest passions.
Instead, we are mindlessly tapping away or not feeling safe to express ourselves online because of trolls.
As a result, people are moving away from crowded online spaces and seeking more curated experiences within niche communities. These platforms bring together people who share interests or experiences—without all the ads and other distractions.
What does this mean for the future of social media and digital marketing?
In this post, we take a deep dive into niche internet communities, where you can find them, and how marketers can use the rise of these sites to boost conversion rates, thought leadership, and brand loyalty.
What Are Niche Communities?
A niche community is a group of people brought together by a common interest, value, or goal.
For example, if you love books, you might join a book club. A massive online book club equivalent is Goodreads, where you can find new books to read, leave reviews, and join community groups and have discussions with other readers.
As an author, it pays to be active on a site like Goodreads. It's where your core audience hangs out, and their attention isn't fragmented like it often is on larger social media sites.
For publishers, the site lets people see at a glance what books and topics are resonating with readers. This is a gold mine of market research, and it's completely free.
What Are Niche Communities Used For?
Niche communities give us the exclusivity and sense of belonging we crave. More than ever, people want to connect with a community, such as a group of people who are equally obsessed with anime or Game of Thrones plot theories.
In a niche community, you don't need to scroll past dozens of irrelevant posts to find people who want to talk about the things that excite or intrigue you. With a community that shares your interests, all you need to do is log on, and you can instantly connect with like-minded people.
Niche communities do what Facebook can't.
They cut through the digital noise and create safe spaces to discuss specific topics without judgment, trolling, and unrelated content getting in the way.
What I love about these sites is that people get to tap into a hive of shared knowledge. Let's say you're starting your digital marketing career and you have dozens of questions, but no one in your life can answer them.
Instead of staying in an isolated state and trying to figure out things by yourself, you can log onto a niche community like a HubSpot User Group (HUG) to connect with other digital marketers. You can get your questions answered by industry professionals and join insightful discussions.
It's a source of incredible concentrated value you can't find on your Instagram feed. You get to grow professionally, network, and eventually, give back to the community by helping someone else.
Where to Find Niche Communities
Not sure where to start? Here are some of the best niche communities you can use to connect with your audience or people who share similar interests.
Reddit
One of the biggest niche community platforms is Reddit. Since its creation in June 2005, it's grown to over 100,000 threads called "subreddits." You can find a thread on almost everything, but Reddit is a hard nut to crack for marketers. Redditors hate self-promotion. You can't drop a link and leave. You need to spend time creating value as an active community member and occasionally posting content.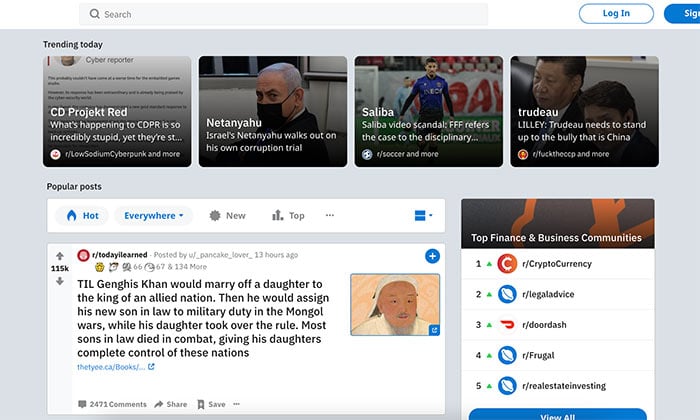 The Amazon-owned site connects readers with authors and creates an engaged community around books. You can get recommendations based on your past reads, discuss how much you love or hate Sarah J. Maas's A Court of Thorns and Roses series, leave book ratings, and get your burning questions answered by your favorite authors. When used correctly, it's an invaluable way for authors to build relationships with fans.
Not only is Stack Overflow the hub for all things IT, but you might land your next full-time or freelance developer gig with its job board. The site allows you to get your coding questions answered by millions of users, collaborate on open-source projects, answer questions and gain insights from developers worldwide.
Are you a professional creative? Behance might be the niche community for you. Created by Adobe, it has more than 10 million members worldwide. You can upload your portfolio, search for jobs, share projects, and get feedback from the community.
Quora
If you want to build your brand and establish yourself as a thought leader, Quora may be able to help. The site has millions of monthly users asking and answering questions on hundreds of different topics. Besides answering your audience's most pressing concerns, you can use it to see what people are struggling with or find your next product idea.
Instructables is an online community for do-it-yourself projects. You can upload your latest craft creation or musical masterpiece and connect with other creators. The community is also a place for people who need help with a DIY task.
Simply create a post around your problem, and you'll likely get solutions from people who are even handier than you. You can also watch tutorials and collaborate on projects with other users.
What started as a conference in 2005 has turned into one of the largest online niche communities. BlogHer is a platform for female creators to discuss digital marketing, blogging, and business. There's a job board for female creatives, yearly conferences, and women-led community support and feedback.
Is your weekend hobby or full-time career architecture or interior design? Sign up to Houzz. The social media platform lets you browse designs by other members, connect with professional and amateur builders, and discuss industry trends with its 40 million homeowners worldwide.
Want to build a niche community? You can do precisely that with Disciple. The private community platform is customizable to match your brand and lets you sell courses, charge subscriptions, and more.
4 Ways Niche Communities Are Changing Online Conversations
Are you tired of bland online chats and posts? You're not alone.
Here are some of the ways niche communities are changing the way we communicate online for the better.
1. Niche Communities Encourage Meaningful Conversations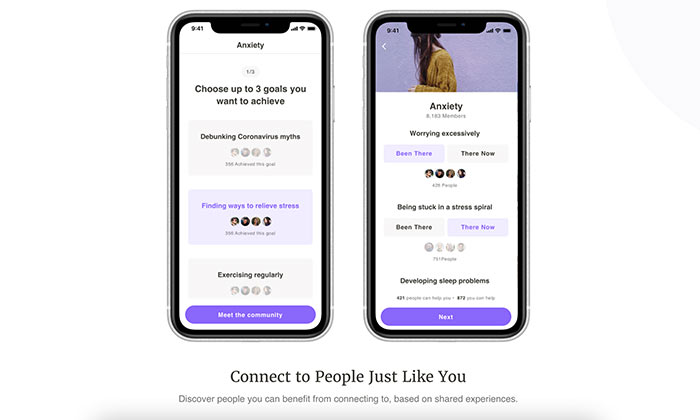 In a study on online communities by the Global Web Index, 45 percent of respondents said they were frustrated with the offensive language and bullying on traditional social media sites. Additionally, 36 percent felt they didn't have a genuine connection with other users.
Community chat apps like Wisdo give users the ability to find meaningful conversations that aren't the norm on other public forums.
Topics on the app range from mental health challenges like anxiety and depression to identity forums around gender transition, racism, and coming out.
It's a way for you to share your story, find a support system, and have conversations you might be too scared to have in real life.
2. Niche Communities Are More Personal Than Social Media
With these communities closed off from the rest of social media, they generally become safe places for people to share their thoughts, feelings, and interests.
You're connecting with people who get what you're going through and why you feel a certain way. This fosters a culture of acceptance, which may be hard to find on traditional social media sites.
A study by Plan International discovered that 39 percent of girls had suffered harassment on Facebook. Twelve percent changed the way they expressed themselves as a result.
3. Niche Communities Allow You to Meet New People With Shared Interests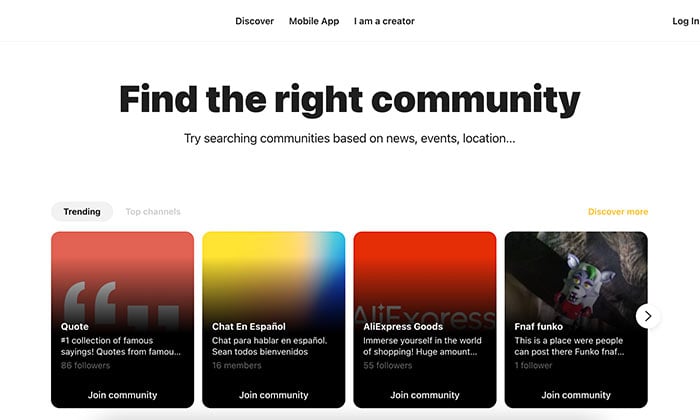 Sometimes it feels like you're the only person in your life who cares about the Impressionist art movement or backpacking across Africa.
Niche internet communities give us a way to stop feeling isolated in our interests and find a community of people who are passionate about the same things.
Capture is another group-chat app bringing niche communities together. The app uses artificial intelligence to suggest group chats. And topics to users based on similar interests or locations.
4. Niche Communities Offer a Sense of Belonging
As humans, we are hard-wired to find communities. And as much as we may hate to admit it, we crave group acceptance.
Niche communities give us a sense of belonging. That we might not have access to outside of the digital world.
Social media can be a way to create meaningful social spaces, but it's not always possible on larger sites. As a result, people crave more authentic online connections and places where they "fit in". Therefore, by connecting with others who share their fascination with SEO, hiking, or preparing for the zombie apocalypse.
What Benefits Can Marketers Expect From Niche Communities?
While Instagram and Facebook have billions of users. It doesn't mean those platforms are the best options for building a loyal and strong engagement with your audience.
Here are some of the advantages you can expect from adding niche communities to your marketing strategy.
Access to High Target Audiences
One of the most significant advantages of niche communities is that it gives marketers access to a high target audiences.
Just like micro-influencers see better engagement and conversion rates. The same is true for niche communities. You can connect with a much smaller audience, who is your ideal customer.
You're not shouting into an endless massive online void. You're zeroing in on a group of people who care about the same things as your brand.
Plus, people are actively engaging in these communities. Without the digital noise on other platforms, users are not mindlessly scrolling past your posts. Or ignoring your ads.
Form Meaningful Relationships With Your Audience
Over the years, we have seen more brands step away from boring, corporate, professional online personas. Instead, brands are creating engaging personalities that act and feel like people more than businesses.
An excellent example of this is Wendy's, which is known for its witty Twitter comebacks.
Users also expect brands to take a stance on important social issues. To use their platforms for the greater good. Silence on such matters can quickly get you "canceled" because people want to know what their money is supporting.
This shows that people want to have authentic relationships with brands.
Niche communities may allow you to develop these relationships and engage with your audience on a personable level by stepping away from mass marketing. This, in turn, can help create brand loyalty and show your customers you share the same values.
Conclusion
Niche communities are a trend all marketers need to watch. As users become distrustful of social media giants and those platforms become increasingly crowded. It's more important than ever to find the online spaces for your niche and connect.
Whether you're an eco-friendly e-commerce brand or a business coach. A niche community will give you better access to your community. An opportunity to grow as a thought leader, and possibly see an increase in conversion rates.
Are you going to add niche communities to your marketing strategy?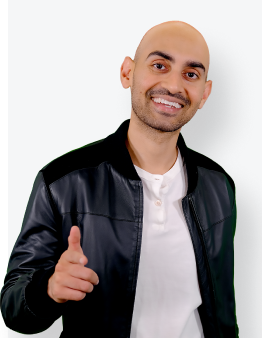 Consulting with Neil Patel
See How My Agency Can Drive Massive Amounts of Traffic to Your Website
SEO – unlock massive amounts of SEO traffic. See real results.
Content Marketing – our team creates epic content that we share, get links, and attract traffic.
Paid Media – effective paid strategies with clear ROI.