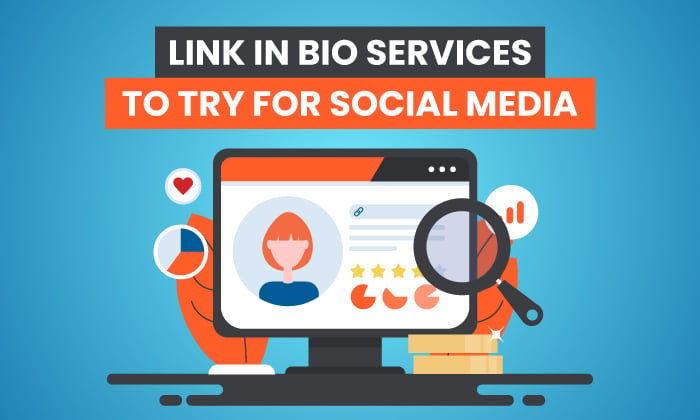 Link in Bio Services! If you've spent any time on social media, especially Instagram. Therefore, you've likely seen your favorite influencers post "link in bio" or even use the hashtag #linkinbio.
Above all, what does the phrase mean, and can it improve your Instagram marketing? It's not just a weird trend. Directing users to click the link in bio is a powerful tool to help you drive traffic from social media. To your website, product pages, and more.
Here's what you need to know about the link in bio CTA. Including where to use it, and what tools make it easy to make the most of your social links.
What Does "Link in Bio" Mean?
Originally, Instagram only allowed posters to add links in one place: their bio. That made it hard to drive social media users from Instagram to your website. Instagram users began using the phrase "link in bio" on posts to tell followers to go to their bio. To find the link they were referencing.
For example, a blogger might post a picture and a small snippet of a recent blog. Then say, "Read more in my latest blog post. #linkinbio."
Here's an example of an e-commerce store using "link in bio" to share a product link:
Today, Instagram allows users to post links in a few other places (with restrictions). However, many users still use the link in bio feature because it makes it easier for users to find the most updated content. However, it's also popular on other apps and platforms, such as TikTok, YouTube, and Twitter.
How to Add a Link in Bio to Your Instagram Profile
Sign up for one of the tools from the list below.

There are several free tools if you want to send users to a landing page, or you can use a paid version if you want to track links, etc.

. Add URL links to your landing page.

For example your podcast, specific blog posts you've mentioned in posts, sale pages, etc.

Copy and paste the link from your tool to your Instagram bio.

Head to your profile, then click "Edit Profile." Add your link to the "website" field.
Why Should I Use Link in Bio Tools?
Instagram is a powerful tool for building your brand, connecting with your audience, and driving sales. However, you only get one link to drive users from your Instagram page, so use it wisely.
But, the good news is, there are several tools that turn that single link into a traffic-driving powerhouse. Rather than linking to your home page or a single page. You can use a link in bio tool to send users to a landing page highlighting all of your top content. Including blogs, downloads, and even your email list.
Rebel Girls, an online e-commerce store and blog promoting powerful girls, uses one of these tools in their bio:

Consequently, that one link is used to send their audience to a landing page. With eight different links to pre-order their book, their podcast, and free activities: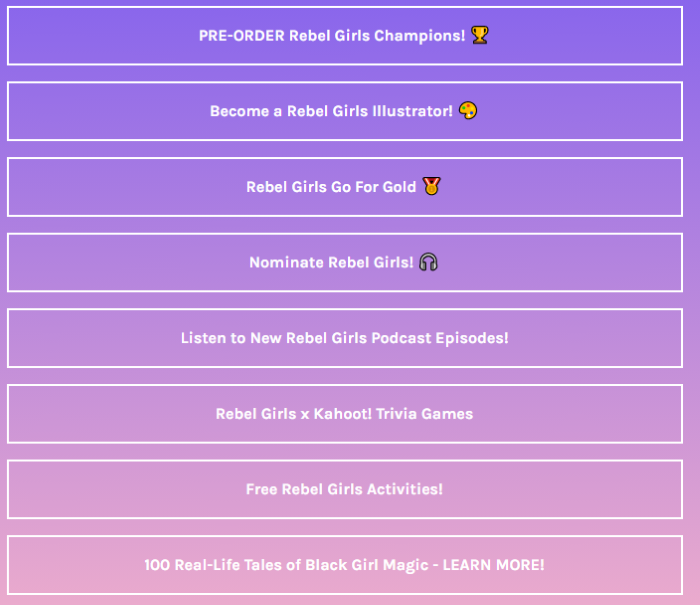 The link in bio tool allows them to share tons of relevant information with their audience all in one place. The tools make it easy to update your content. Therefore, some include added features such as analytics and the ability to add forms.
Top Link in Bio Tools
How do you turn your one Instagram bio link into a powerful traffic-driving tool? By using link in bio tools. These tools allow you to make the most of your single Instagram bio and, in some cases, track metrics on how many users click those links. Let's take a look at the best tools on the market.
1. Later
Later is an Instagram scheduling tool used by top brands like MeUndies, USA Today, and GQ. In addition to scheduling and analytics features. They also offer a Linkin.bio tool that helps drive clicks and discover what type of content your users are interested in.
In other words, Linkin.bio turns your single Instagram link into a mini-website for your business. Share products, downloads, or other content you want to promote. As a result, Linkin.bios also tracks clicks to help you understand what posts and links drive the most traffic.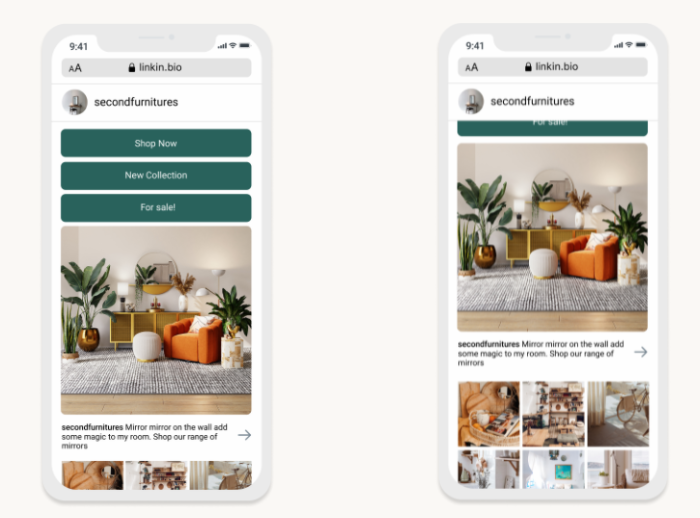 Cost: A "lite" version of Linkin.bio is available in Later's Free Forever plan. Paid plans start at $15 per month.
2. Shorby
Shorby is a tool for creating mini landing pages for social media bios. It pulls your latest content from any RSS feed, and you can include pillar content pages or prices and service lists.
However, all pages are mobile-friendly (which is important for both user experience and Google). You can also add links to chat, making it easy for users to contact you. Above all, the tool also offers basic analytics for clicks.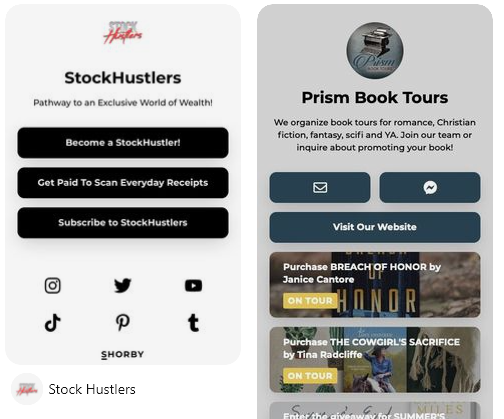 Their website is a little short on details, but don't let that turn you off. They aim to create a mobile-friendly experience. So I recommend viewing their site from a phone or tablet for best results.
Cost: Paid plans start at $12 per month.
3. Tap Bio
Tab Bio is another streamlined link in bio tool. However, if you don't need the scheduling and analytics capabilities of Later, Tap Bio is a solid option. With Tap Bio, you can create branded cards featuring links, images, pictures, or messages you want users to see.
Like Shorby, their website is designed for mobile, so it looks a bit sparse on desktop. However, they do use their site to show exactly how the tool works.
Here's their home page, with links to all the features you need to get started:
What makes Tap Bio stand out? For starters, they offer a solid free plan. Their Basic plan offers a profile card, plus one additional card. Which means you can use it on multiple sites. It's also pretty easy to set up.
Cost: Free for the basic plan; paid plans start at $5 per month.
4. Feedlink
Feedlink is a feature of Embed Social that creates a clickable URL filled with links to product pages, landing pages, and more. It can be used beyond Instagram on platforms like your podcast, YouTube, and more.
Like most social media tools, Embed offers tiered plans with different features. While all plans include Feedlink, paid plans include features like automatic Facebook sync, Twitter albums, responsive and light box mode. With additional layout options.
Cost: Free limited plan; paid plans start at $19 per month.
5. Linktree
The OG of link in bio is Linktree. This tool turns your single link into a landing page with clickable buttons to your most important content. Add links to product pages, collections, videos, email signups, downloads, and more.
Linktree also allows businesses to collect payments. Which is handy for businesses looking to collect donations for projects or creators monetizing their content. However, the platform is super easy to use and edit. It offers analytics, and integrates with tons of other tools like Mailchimp, Google Sheets, and Facebook.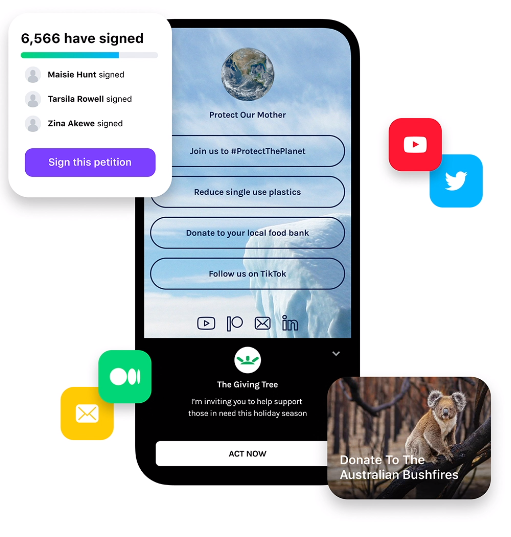 Cost: Free plan with limited features; their Pro plan starts at $6 per month.
6. Milkshake App
Milkshake lets you easily create a website to use as your bio link right from your phone. The mini-site can be used to introduce your business, share services or products, or promote your YouTube, podcast. Or recent blog posts.
On the other hand, unlike other link in bio tools. Milkshape lets you create a fully customized website, not just a list of links. It's also super easy to use right from your phone. Each website features "cards" that users can swipe through. Just like an Instagram story.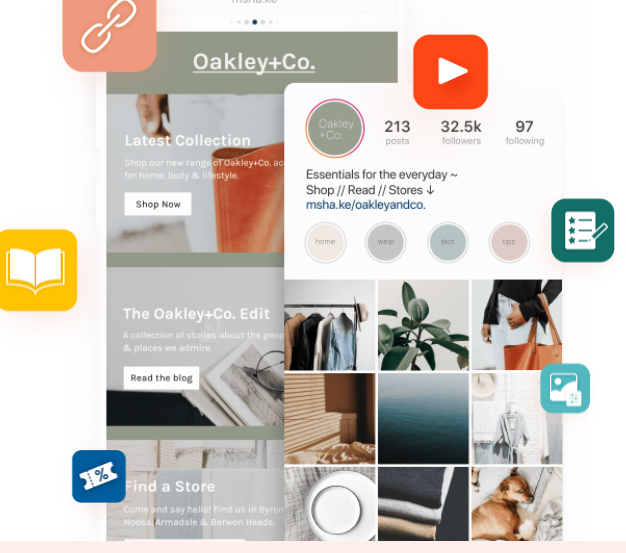 Cost: Free for IOS and Android users.
7. Sked Link
Sked Link is a feature of Sked Social, an all-in-one Instagram tool for planning your feed. Automatically publishing posts, and analyzing follower behavior. Sked Link is easy to use and allows you to share links to popular content. New blog posts, and other platforms.
If you only want to create a link in bio page, Sked might not be the best choice as the paid plans are pretty pricey. However, if you are looking for an all-in-one Instagram tool, Sked Link is a good add-on.
Cost: $25 a month; but they do offer a free seven-day trial.
8. elink
Elink is another full-featured tool, so it's not the best choice if you just want to add a link to your bio. However, it's got a lot to offer, including a bookmark manager, email newsletter generator, content automation, and a website builder.
It also integrates with a ton of other platforms including Gmail, Intercom, Mailchimp, and Aweber.
If you are looking for a content and landing page design tool, rather than just a bio tool, elink might be a good choice.
Cost: Limited plan (one user, five links per post) is free, paid plans start at $12 per month.
9. ContactInBio
Contact in bio is a micro-landing page creation tool that helps connect followers with content from all over the web. Add links to blogs, products, and other platforms to build your brand across platforms.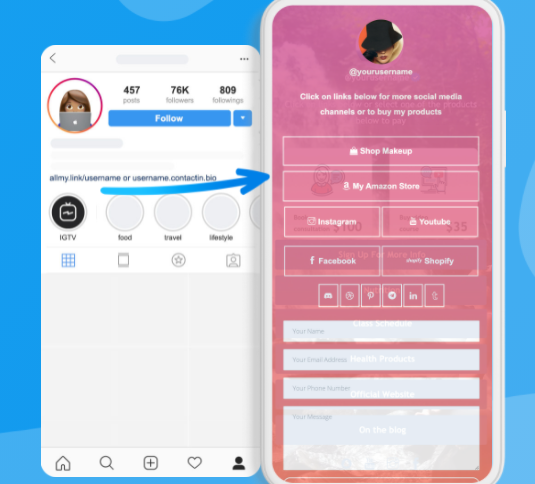 ContactInBio also lets users add forms, collect payments, and even book appointments all in one place. As a result, sites are fully customizable, allowing you to adjust fonts, add music, and more.
Cost: They offer a pretty solid free plan; paid plans start at $4.55 per month.
10. Campsite
Campsite aims to solve the "one link problem." According to their site, you can create a super simple social landing page in just five minutes. They offer an easy-to-use interface, tons of customization options, and advanced analytics.
The Pro plan offers additional features such as adding an email sign-up, using your own domain, and the ability to add custom images to your links.
Cost: Limited free plan (includes Campsite branding); paid plans are $7 per month.
Link in Bio Frequently Asked Questions
What does #linkinbio mean?
This phrase tells followers they can find the content a specific post mentions in that user's bio. As a result, it is often used on social media apps, especially Instagram, where most users only get one link.
Why should I optimize the link in my bio?
Consequently, optimizing your Instagram bio link can help drive traffic, increase sales, and create a stronger connection with your followers.
What is a link in bio page?
A link in bio page is a landing page used as the bio link on Instagram that links to several other pages on a website. This landing page can share recent blog posts, increase email subscribers, promote your podcast, and more.
What are the best free link in bio tools?
The right tool will vary based on your needs but Later, Tap Bio, and Milkshake are all good options. Later offers a free plan that includes link in bio, scheduling posts, and more. Tap Bio, a streamlined bio link tool, offers a free plan if you don't need all the bells and whistles of Later. However, Milkshake is a free app for iOS and Android that lets you create a mini-website right from your phone.
Link in Bio Conclusion
That is to say, if you're still struggling to stand out on social media or build a successful Instagram strategy? A link in bio tool can help. By making it easier to drive users from social media to other platforms, including your website or email list, these tools help create stronger relationships and drive sales from social media.
Therefore, if you're looking to make the most of Instagram or TikTok, a link in bio tool is crucial. There are several free tools, so there is no reason to wait.
Do you have a favorite link in bio tool? What do you love about it?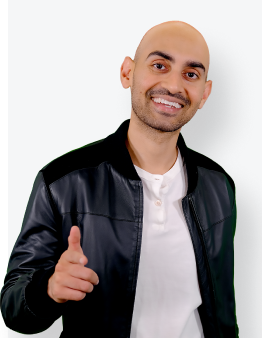 See How My Agency Can Drive Massive Amounts of Traffic to Your Website
SEO – unlock massive amounts of SEO traffic. See real results.
Content Marketing – our team creates epic content that will get shared, get links, and attract traffic.
Paid Media – effective paid strategies with clear ROI.