How To Use Google Call Only Ads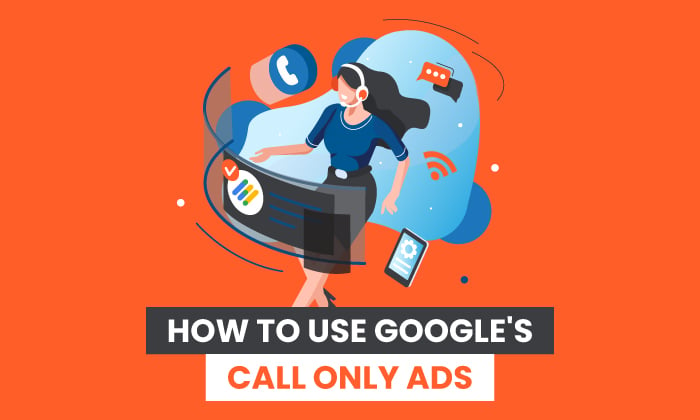 Google Call Only Ads? For service businesses everywhere, the noise of the telephone is often the sweet sound of sales.
But maybe your phone isn't ringing much anymore. The internet has made it easier than ever for customers to get in touch with businesses without picking up the phone.
That's great for introverts, but it's not always good for business owners and service providers who'd rather chat with potential customers on the phone than respond to a slew of emails.
While being accessible in more than one way is a good idea, you don't have to restrict yourself to emails or online chats. Google's call-only ads make it easy for customers to call your business.
This article explains what these useful ads are, how they could benefit your business, and how you can start running them today. Let's get that phone ringing again.
What Are Call-Only Ads?
Call-only ads, officially called "call ads" by Google, lets customers call you directly from Google. You've probably seen them if you've ever searched for a local business on your phone. The giant telephone icon makes them hard to miss.
When users click on the ad, Google automatically brings up the business' phone number on their keypad. The user can be on the phone with someone in two taps, reducing friction in the customer journey because they don't have to try to find the number on the brand's website. As the ad is designed to make the user take action, there's also less space dedicated to copy and more dedicated to your business' information.
Google Call-only ads only appear on mobile devices. When their sole aim is to get users to make a call, it would be a waste of money to show them on desktop and tablet searches.
The Benefits of Call-Only Ads
Google Call-only ads come with a ton of benefits that make them stand apart from other ads you can run on AdWords.
Google Call-Only Ads Bring in High-Quality Leads
These ads filter out many time-wasters and other low-quality leads. If someone is willing to pick up the phone to speak to you, chances are they have a problem that needs to be solved.
The research backs this up. Invoca found calls have a 30 to 50 percent conversion rate, while clicks convert at one to two percent.
Google Call-Only Ads Are Easy to Create
Google Ads aren't always the easiest things to create, but call-only ads are different. They're quick to set up and designed for even the least tech-savvy creators.
They Leverage the Best Sales Channel
Not only are phone call leads high quality, but the phone is also statistically the best sales channel for most businesses. HubSpot's State of Inbound report found phone calls to be the best channels for sales reps to connect with prospects.
Google Call Only Ads – HubSpot State Of Inbound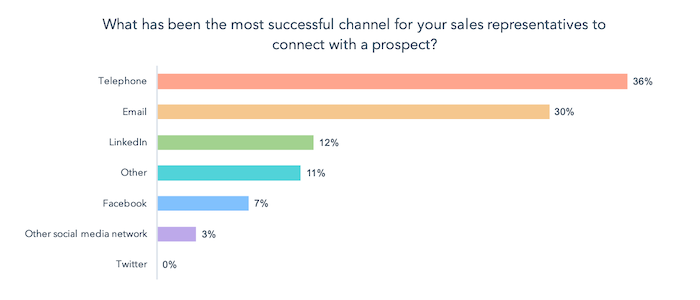 People Like Calling Businesses
You might not know it from the number of leads your website generates, but many people still prefer calling businesses over filling out online forms or speaking via email. Invoca's State of Mobile Experience found 65% of people called a business within the last month.
With these ads, there's no need for users to hunt around on your site for your phone number. With two taps, they're on the phone with you.
When Should You Create Call-Only Ads?
There are many circumstances when it makes sense for businesses to create call-only ads. Here are some of my favorites.
Local Businesses
Call-only ads are great for local businesses and national businesses operating on a local level. A local dentist would be the perfect fit, for example, but so would a nationwide chain of motels since every individual motel has its own phone line.
Plenty of other businesses make great candidates for call-only ads, including:
doctors
lawyers
restaurants
home repair workers
specialty grocers
Urgent Services
Customers clicking on call-only ads know what they want. They usually have a specific issue and are looking for someone to help them quickly. If you provide urgent next-day or same-day services, these ads could be a fantastic marketing tool. The more urgent the customer's need, the more likely a call-only ad will be effective.
For instance, if someone's basement is flooding, chances are they don't want to spend a lot of time browsing the web, comparison shopping, and shooting off emails trying to find someone to fix the problem—they need someone at their home now. Having this call-only ad option allows them to find that person quickly.
A few urgent services that could benefit from these ads include:
plumbers
electricians
handymen
locksmiths
veterinarians
Any Business That Sells on the Phone
As per the HubSpot report above, phone calls are the best sales channel for many businesses. If you make sales on the phone, even if you don't offer the types of services listed above, I recommend you try call-only ads.
You've only wasted a couple of hundred bucks if they don't work, but you could discover an untapped gold mine of sales leads.
Call-Only Ad Examples
Before we get into creating your ad, let's look at some of them in the wild. Here's a selection of call-only ads for a variety of businesses and why these work.
Emergency Locksmiths
Examples Of Call Only Ads – Emergency Locksmiths.png

If you're locked out of your house, you need someone who's going to respond fast. That's what makes this ad so good. There are three references to how quickly this company will get you back in your home.
First, they're "Speedy." Second, they're available 24 hours a day. Third, they work across all of New York City. It doesn't matter where I am or what time I'm searching; this business can clearly solve my immediate need if I'm in NYC.
A Roofing Company
Example Of Call only Ads – A Roofing Company

You may or may not need a roofer urgently, but you'll want to hire the best person either way. This ad's copy does a great job of persuading the reader that the contractor is one of the best in the area by using phrases like "high-quality" and "master elite."
A Pest Control Company
Examples Of Call Only Ads – A Pest Control Company

Do you know what's great about this ad? It's simple, concise, and gets straight to the point. Unlike the other two, this company has carefully tailored its ad copy, so nothing gets cut off. In just two short lines, we know what they do and how well they do it.
This ad is also a solid example of how non-urgent businesses can use call-only ads. Pest control is sometimes an emergency, but often, customers are just dealing with something annoying that needs to be handled soon, not right now. You don't need to offer an emergency service to succeed with these ads, but you do need to write great copy.
How to Create Call-Only Ads on Google
Creating an ad is easy. Just follow the step-by-step process I outline below.
1. Open AdWords and create a new campaign. 
How To Create Call Only Ads On Google – New Campaign

2. Set your goal as "Sales."
How To Create Call Only Ads On Google – Select Sales Goal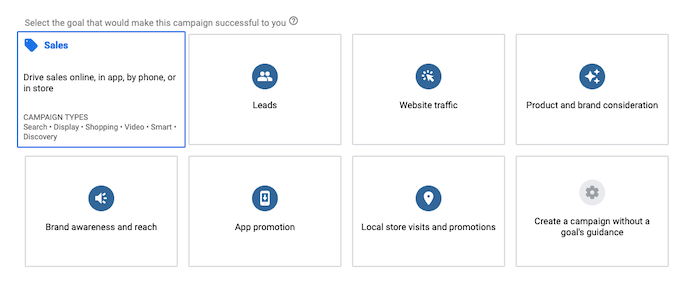 3. Choose "Search" as your campaign type.
How To Creare Call Only Ads On Google – Search Campaign Type

4. Tick the "phone calls" box, then enter your number. 
How To Create Call Only Ads On Google – Phone Call Box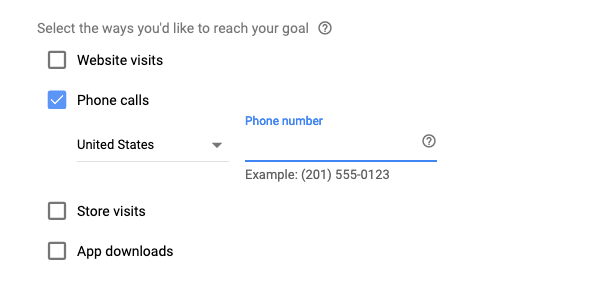 5. Change your campaign settings.
Rename the campaign.
Untick the "Include Google search partners" box.
Click "Show more settings" and set the "Ad schedule" to your office hours.
How To Create Call only Ads On Google – Schedule
6. Set your target locations.
In this example, I've set my ad to target all of San Diego. But you can be as broad or as specific as you like.
Hwo To Create Call Only Ads On Google – Location Targeting

7. Set your daily budget and focus the bidding on clicks. 
You can also choose to set a maximum cost per click.
How To Create Call only Ads On Google – Bidding

8. Create ad groups for your ads. 
Enter a relevant web page or service, and Google will spit out a list of related keywords you can group together.
How To Create Call Only Ads On Google – Creating Ad Groups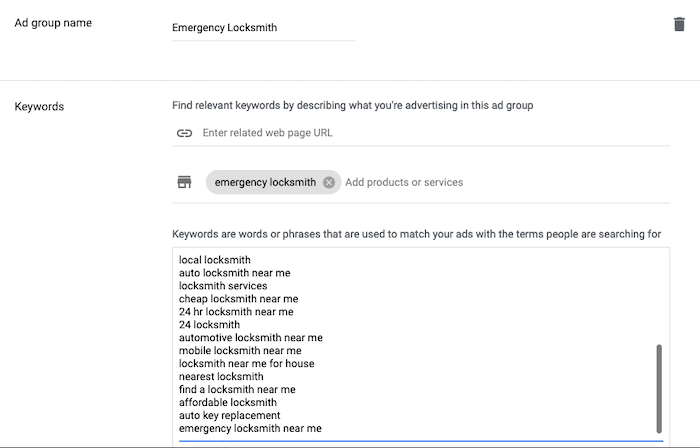 I recommend creating very specific ad groups, each targeting a different customer need. If I'm targeting searchers looking for an emergency locksmith, for instance, I only include a handful of very specific keywords. That makes the list above a lot smaller.
How To Create Call Only Ads On Google – Emergency Locksmith Example
9. Create your ad
There's a lot to do at this stage, so follow my checklist below:
Verify your phone number is correct.
Include a URL users can visit instead of calling.
Add the URL of a page on your site that includes your phone number. This allows Google to confirm the number.
Create a vanity URL if you don't like how your final URL looks.
Add a 30-character headline. This will be displayed next to your business name.
Add a 30-character secondary headline.
Enter your business name.
Add two descriptive lines. Keep these short, sweet, and enticing.
Make sure to include a call-to-action.
How To Create Call Only Ads On google – URL Set Up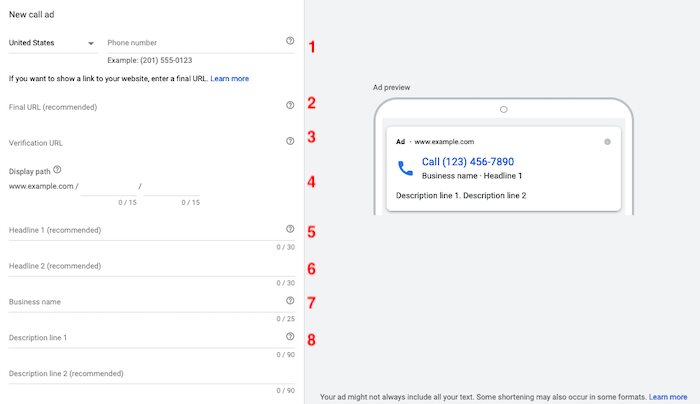 The vast majority of these fields are optional. Google's call-only ads are flexible and appear differently on different mobile devices. Even if you use every field when creating an ad, it doesn't mean it will always be shown to the end-user.
10. Review your ad and hit publish!
Nice work. You're done.
Google Call-Only Ads Best Practices
Let's look at how you can make sure your ads are as eye-catching, clickable, and profitable as possible.
Create a Killer CTA
There are dozens of businesses each user can choose when they search, and you need to make them click on you with the perfect call-to-action (CTA). Copy is even more important in call-only ads where you have two lines of text instead of the usual three.
Keep your copy focused on the user and their urgent need. Phrases like "call now," "act fast," and "quick quote" can persuade searchers you're able to provide the fastest solution to their problems. Create a sense of urgency.
Make it clear users will speak to a human. Including phrases like "We answer immediately" or "speak to a rep today" will relieve any fears the user has about having to sit through a long hold time or deal with an automated phone system.
Set an Ad Schedule
There's no point running a call-only ad when you or your team can't answer the phone. Yet, I see so many business owners who forget to set an ad schedule.
Make sure you use the ad schedule to only run ads during office hours. Of course, if you have a 24/7 hotline, you don't need to worry about this. You may even find the cheapest clicks and most profitable calls happen in the middle of the night.
Use a Link to Your Website As a Catch-All
In April 2020, Google added the ability to include links in all call-only ads. It's an optional ability, but I recommend most businesses use it. Not only does it make your ad slightly bigger (and therefore more noticeable), it also adds a level of authenticity from the user's perspective and gives them the option of finding out more about your business before they call.
Opt for No-Headline Google Call-Only Ads
When Wordstream's in-house team compiled research on the conversion rates of call-only ads, they found those without headline copy—that is, they focus on the phone number and not other information—converted at a significantly higher rate.
No-headline ads had a 17 percent higher average conversion rate than standard call-only ads. The cost per action of no-headline call-only ads was 28 percent lower, too.
Test your ads if you have the budget. Otherwise, stick to no-headline ads.
Google Call only Ads – Localize Your Ads As Much As Possible
The majority of searchers clicking on call-only ads will be looking for local businesses. Make your business' location as obvious as possible by:
using a local phone number
including your town or city in ad copy
targeting localized keywords
This ad for a roofing company in Dallas is a great example. They use a 214 number, name themselves Dallas' number one roofing company, and use DFW in the copy. Searchers should pick up on at least one of these references with just a glance.
Google Call Only Ads – Example Of Dallas Roofer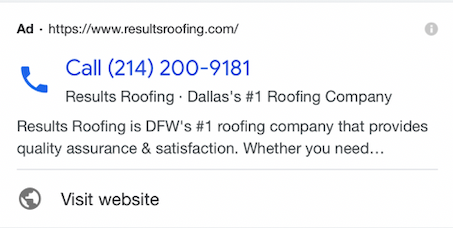 As a side note: notice they opted for the no-headline option while still getting local information in there.
Conclusion
Phone calls are the lifeblood of many service businesses. It doesn't matter whether you're a handyman or a lawyer; you need that phone to keep ringing to stay in business.
Call-only ads are one of the best ways to generate more calls, especially if you're a local business that solves urgent needs. Follow my step-by-step instructions above to create your ads, follow my best practices and continue to optimize them once launched.
How many calls are you aiming to generate from call-only ads?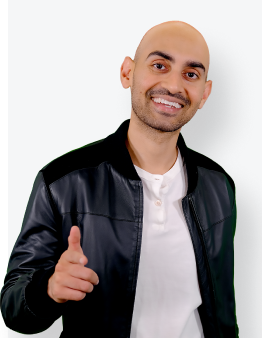 Consulting with Neil Patel
See How My Agency Can Drive Massive Amounts of Traffic to Your Website
SEO – unlock massive amounts of SEO traffic. See real results.
Content Marketing – our team creates epic content that will get shared, get links, and attract traffic.
Paid Media – effective paid strategies with clear ROI.