How To Create The Perfect Business Listing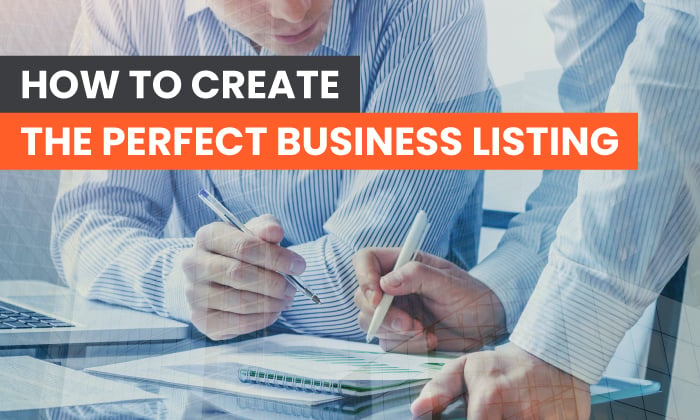 Business Listing! Local search visibility helps drive traffic, customers, and revenue. Above all, there are several ways you can improve local visibility. First you need to ensure your business listings are included on major listing sites like Google, Yelp, and Yahoo.
The Importance of Business Listings
How often do you see a business listing pop up on Google with minimal information, no images, and few reviews? Did you trust that business enough to check out their website or get in touch with them?
Probably not!
Most importantly, business listings give local businesses visibility and boost their online presence. A business listing with up-to-date information, reviews, and images attracts local users and helps convert them into paying customers.
The best part? Is above all, It's free and doesn't require any special technical skills.
Which Channels Should My Business Be Listed On?
You've probably noticed there are dozens of platforms that offer business listings. First, let's look at a few of the most popular sites and explain why they are important.
Google My Business:
Google is the number one search engine in the world, commanding more than 88 percent of the global search market. Therefore, if you're going to create a business listing, this is the place to start.
Bing Places:
Consequently, while Bing has only about 6 percent of the global search market. It still may be worth setting up your business listing there. After all, that's 6 percent of billions of searches.
Yelp:
Yelp is probably the best-known business review site in the U.S. Businesses with high Yelp ratings and lots of reviews grow their revenue faster. In fact, 42 percent of people who visit Yelp make a purchase that same day.
NextDoor:
Nextdoor allows businesses to target customers with hyperlocal marketing. Businesses register for listings that are visible in their neighborhoods. According to their site, a quarter of U.S. homes use NextdDoor.
Yahoo Localworks:
Bing actually powers Yahoo searches. You're getting the same traffic from Bing. Although Yahoo only grabbed about 2 percent of the search market, it's still 2 percent of a whole lot of traffic.
Keep in mind these are just the most prominent listing sites.
Other sites to consider include Foursquare, HotFrog, eLocal, and SuperPages.
The key is finding the business listing sites your customers are likely to use and making sure those listings are complete and up-to-date.
With so many business listing sites, how do you keep up? There's no way you can cover all the listing sites on your own without spreading yourself too thin.
There Are Two Ways To Handle That:
List your business only on the sites that make the most sense for your business. Choose the sites, such as Google and Yelp, that give you the most visibility. Put your business on a few hyper-local sites, such as Nextdoor, as well.
Use an SEO tool, like Ubersuggest, to help you optimize your information for SEO and then distribute it to multiple listing sites at once.
How to Set Up Your Business Profile
Every site has a slightly different process for claiming and setting up your business profile. Let's look at Google My Business first, since it will help you reach the widest audience.
Here's how to set up your business profile on Google My Business:
First, locate your business. Either search on business.google.com/add or search for your business on Google's search engine and select "Claim this business" or "Own this business?" under the business profile.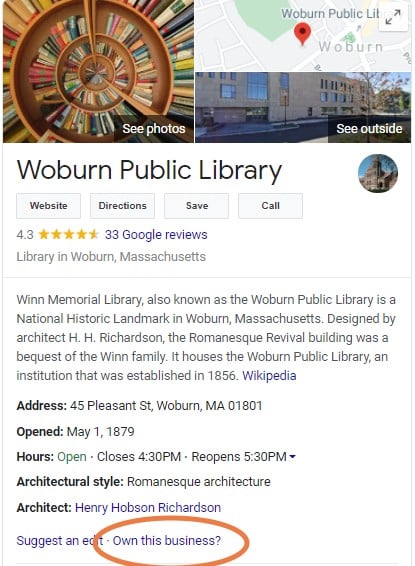 If Someone Already Claimed Your Business, You Can Request An Ownership Transfer.
Allow a couple of days for your request to be approved. You'll receive an email notification and then you can begin managing your listing.
For sites such as Yelp, Bing Places, and NextdDoor, the process is pretty much the same:
Search to see if there is already a listing. If there is, you can request to claim the listing.
If there is no current listing for your business, add one.
Bing will send you a PIN to verify your listing, protecting it from unauthorized changes.
Once you've verified your listing, your page will be published, though it may take a few days.
Optimize Your Business Listing for Local SEO
A business listing is only as trustworthy as the information it provides, so make sure to include as much information as possible.
A shining example of a great business listing is the Google listing for the Winn Memorial Library, a national historic landmark in Woburn, Massachusetts. As I go through the steps to optimize your listing, I'll refer back to the library to show you the importance of each step.
Once your listing is complete, use the following local SEO tips to optimize your listing.
Ensure Your Business Listing Contact Info Is Up-to-Date
According to Think With Google, 54 percent of online searchers are looking for business hours, 53 percent want directions to a store, and 50 percent are searching for an address. Make sure to include this information so searchers can find what they need.
Including your address also generates a map pin on listing sites and directions to your business.
Make sure your phone number is there too, so prospective customers can quickly contact you.
The Winn Library includes all of their contact info underneath a well-written description from their Wikipedia page (if you have one, you can do the same).
They Even Include The Architectural Style Of The Building And The First Day They Opened In 1879.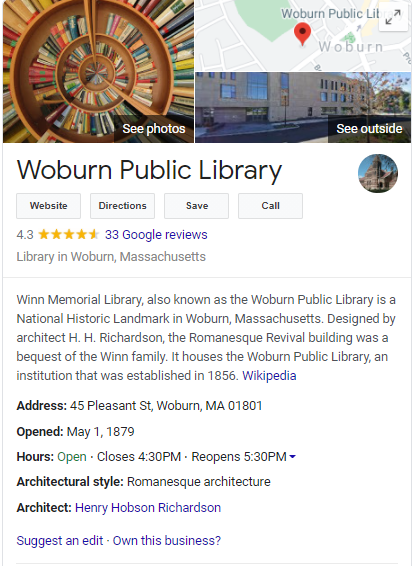 Include All Relevant Data in Your Business Listing
Aside from your contact info, your business listing should also include:
Your website
An SEO optimized description of your business
Links to your social profiles
Photos of your business
Depending on your business and the business listing site, there may be space to add additional information.
The Woburn library Google listing features a graph that shows the busiest times at the library and the average stay time of customers.
Graph Showing Data From Business Listing – Busiest Times At A Library And The Average Time Spent There.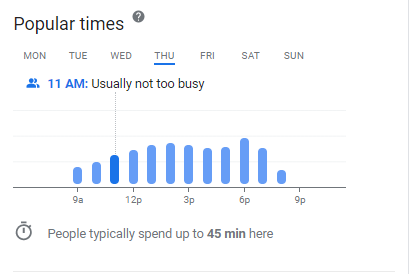 If you're a restaurant on Yelp, you may include icons that help categorize your business for searches by type of food or seating.

You Should Fill Out The Checklist For Health And Safety Updates, As Well.

Include as much information as you possibly can on each listing site. This will improve your rankings and give potential customers a clear picture of what your business has to offer.
Create Smart Campaigns in Google
Google Smart Campaigns is a simple way for businesses (particularly small businesses) to create ads in Google. When you create a Smart Campaign, you essentially hand off the work to Google.
With Google Ads, you have to figure out keyword research, bidding on keywords, geo-targeting, and a slew of other aspects. With Smart Campaigns, Google does all that for you.
You've probably seen Smart Campaign ads at the top of your own searches in Google. They look like this: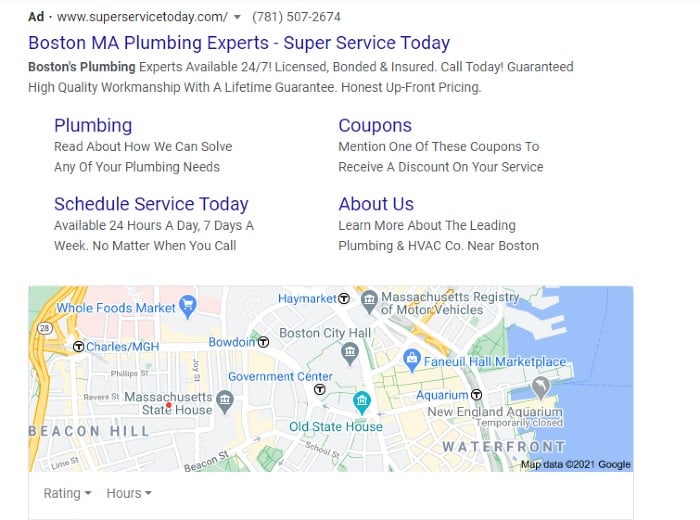 Each ad includes a headline, description, site link, map pin, phone number, and address. Your ad will show up when someone in your area searches for keywords related to your business, or when someone outside your area searches for keywords and your location.
Basically, you give Google a description of your business, a keyword theme you'd like to target, and your budget. Google picks up the ad from there and distributes it across all of its platforms, including YouTube and partner websites.
You can run one or multiple campaigns at a time.
Add Photos to Your Business Listing
According to BrightLocal, 60 percent of consumers say good images influence their decision to patronize a business. They offer some tips on including images with your business listing:
Include a variety of photos so potential customers can see what your business is all about.
Don't include overly polished images. Professional photos can actually seem untrustworthy to users.
Google finds and deletes stock photos, so don't bother trying to use them.
Again, the Winn Library does a great job here. They include interior and exterior shots of the building and its books. I do wish they'd include shots with the staff to give the listing a human touch.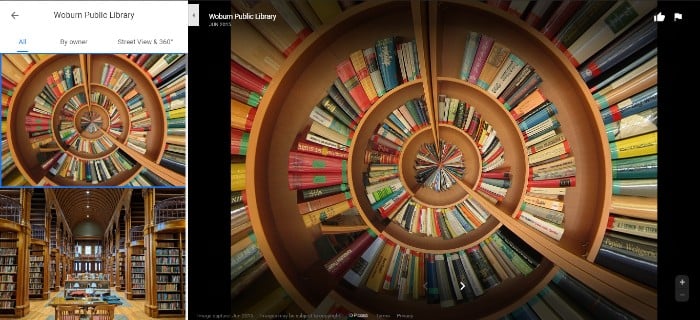 Optimize for Voice Search
Digital assistants have become more sophisticated, and people rely on them more for search. Especially when they're on the go–so it's important to optimize your listing for voice searches. Voice searches are more conversational, and use longer search terms.
However, most voice searches are formed as questions, rather than the phrases you type into a search engine. Therefore, you need to think about how to include the answers to those questions in your business listing.
Optimize Your Business Page for National/Global Customers
While your business listing is meant to help with local search. You should still have your eye on national and global searches. Subsequently, you may have someone in another region looking to send flowers from a local shop to a relative. Or, on the other hand, someone who's moving from across the globe may be looking for a good realtor.
You still want to be visible in those kinds of searches. Here's how.
Reply to Customer Reviews
It's not enough to collect reviews from customers and then just let them sit there. Responding to customers' reviews, both the good and the bad, increases engagement, makes your brand human, and builds trust with prospective customers.
For good reviews, thank the reviewer and include an element of their text in your response. Take a look at this review for a furnace maintenance company:
I had a great experience with National Heating and Cooling when my furnace stopped. Their technician was on time and very professional. She quoted me a fair price and explained every step of the process. She even wore shoe covers to keep my white carpets clean.
Now take a look at the response from National Plumbing:
Thank you so much for choosing National Heating and Cooling! It was our pleasure to help you with your furnace! Don't hesitate to call us for all of your heating and cooling needs. We even have discounts for customers who sign up for regular yearly maintenance.
Notice that National Heating and Cooling not only pulled in details from the review. They also included a bit of promotional text to encourage the customer to sign up for a yearly package.
While it's important to respond to every review, it's essential to respond to bad reviews as quickly as possible.
When Responding To A Bad Review, Include:
A sincere apology for the bad experience.
An offer to replace or refund broken products.
A discount or gift card to compensate for bad service.
An offer to take the conversation offline. When you do that, listen to what the customer has to say and work with them to fix the problem.
Use Google Trends Feature
Google Trends allows you to search trends in search terms in real-time or during a specific time frame, as far back as 2004 and as recent as 36 hours before your search.
You can break your searches down by location, as well, to find sample search trends by region or by country.
Use Google Trends to inform your list of targeted keywords.
For example, if I search for "libraries" and view trends in Massachusetts, I see people often search for library hours and computers, so I'd make sure to include that information in my listing.
Create a Quality Landing Page
Landing pages are the pages users come to through search. Your homepage can serve as a landing page for your business listing.
Other landing pages can be included in your Smart Campaigns. There are four landing pages listed in the plumber example: the services page, coupons, a contact form for scheduling service, and their about page.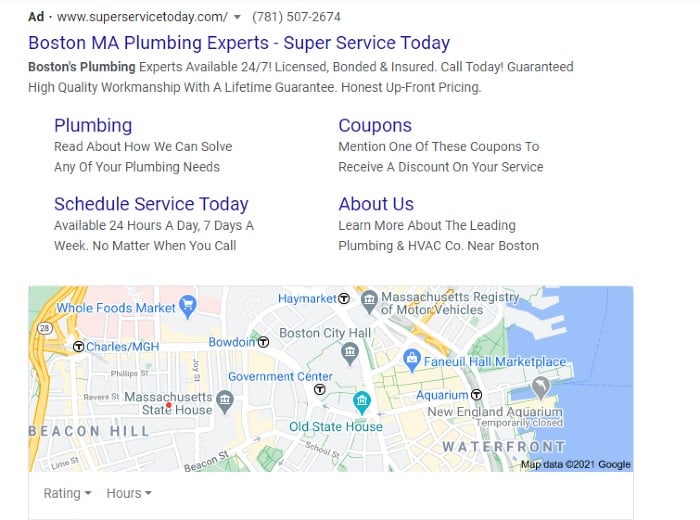 Landing pages should include keywords that help users find you in search. It should include testimonials, high-quality images, and a contact form. Try to keep your text brief to avoid scrolling and don't include too many links to internal pages. The goal of your landing page should be to encourage the prospect to take a specific action.
Here Is My Landing Page For Ubersuggest, My Tool For SEO Optimization.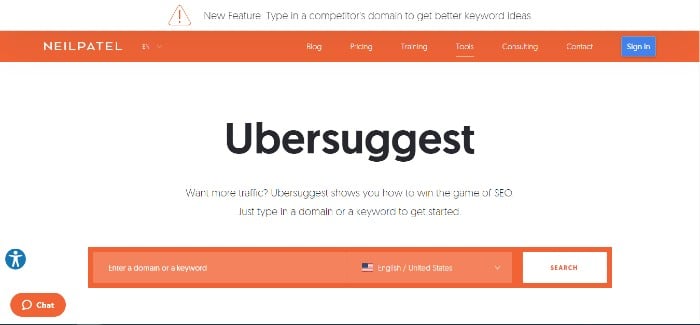 While a user can use the nav bar to look around or use the chat functionality, the main focus is on one action: entering a domain or keyword to get started on some serious SEO.
Conclusion
Local business listings are a fairly simple and free way to get visibility and target the right audience for your business. The trick is to keep them up-to-date with relevant, useful information that will help users become customers.
Responding to reviews will help you convert and retain customers and establish trust in your brand.
If you want help refining your business listings, SEO, or content marketing, reach out!
Now that you know just how many business listing possibilities are out there, where do you think you'll start? Which sites are right for your business?