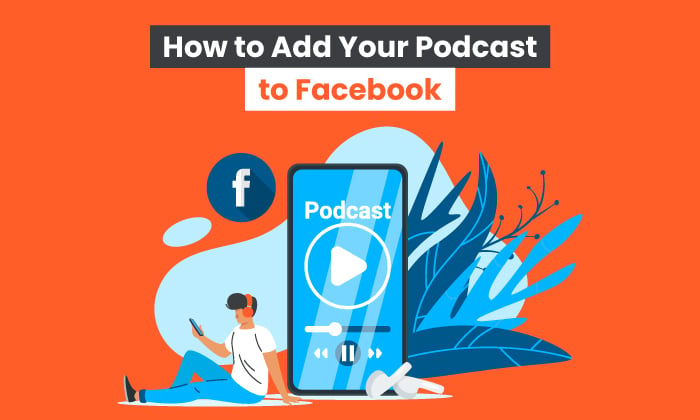 Your Podcast to Facebook! Facebook is moving forward into the world of podcasting. With the new Facebook podcast feature, creators can link their iTunes RSS feed with Facebook so episodes are automatically aggregated on your Facebook news feed. Does this have some perks? You bet it does.
In this quick guide, I want to show you the simple steps necessary to get your podcast onto Facebook while also explaining how you can take advantage of this big change by the social media giant.
Why Should You Add Your Podcast to Your Facebook Page?
There are many reasons why having your podcast on Facebook is a great idea. First of all, it's a new opportunity to reach your audience without having to do anything at all. Once it's set up, you can let it run and your Facebook followers that might not have iTunes will be able to enjoy your podcast as well.
Here are some of the other reasons to create a Facebook podcast page:
Reach a Wider Audience
You can never be in too many places, as long as you can manage it while you're there. The more people you can reach, the more money you'll make. While this is generally true, the new Facebook podcast features provide more than just a wider audience.
Having your podcast on Facebook allows you to take it beyond an audio experience. You can engage with your audience, talk with them, ask them questions, and piggyback off the success of your podcast to create new content in new places. Facebook is simply one more place you can go to reach your target audience.
Try Out New Features
Facebook is also rolling out a new suite of audio creation tools for its podcast feature. They've invested in technology like text-to-speech, voice morphing, and a backend audio creation tool to make it more enjoyable for creators. You can do all of this directly from the Facebook app without the need for a third-party provider.
The platform also offers a sound collection feature that allows you to optimize and make changes to the audio so you can mix different tracks together, create voice effects, and add filters. I think the goal of Facebook might be to eventually have creators doing everything from front to back on Facebook. They see where the niche is going, and that there is a growing demand for it.
Twenty-eight percent of listeners prefer podcasts over any other type of audio content, and around 18 percent say they listen to podcasts more now than they did seven years ago.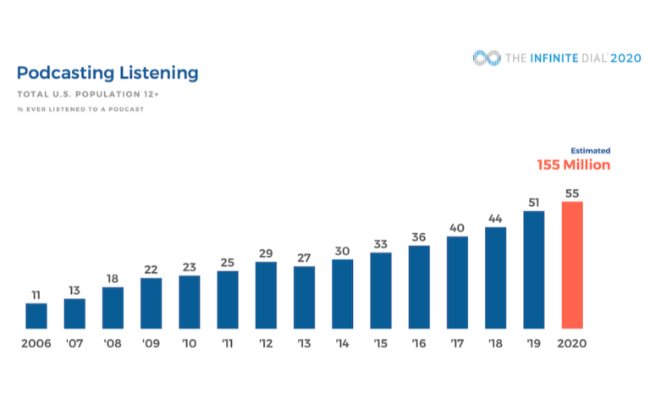 The chart above shows the percentage of people who have ever listened to a podcast year after year. It continues to grow and as the younger generation grows up, they'll be more in tune with this type of technology and expect Facebook podcasts to be readily available everywhere they go. They're not listening to radio and TV as much as the previous generations.
To sweeten the deal even more, Facebook added a "soundbites" feature which allows you to create short audio clips featuring your favorite parts of all your podcasts. You can cut out funny quotes, inspirational moments, or important pieces of history that you want to cherish and compile into a piece of content.
Live Audio Rooms
As I mentioned, one of the main reasons Facebook podcasts could be a powerful feature is the engagement factor. That's the one area where podcasting lacks; you don't usually engage with people unless it's on another platform, using a different medium. When your podcast is on Facebook, you have a variety of ways to engage with your audience. One way is through the creation of Live Rooms in groups.
For example, let's say you have a football podcast discussing the upcoming season. You can create a group to engage alongside your podcast. After the podcast, you can jump into the group, answer questions, talk, and engage with the community about your thoughts and comments.
Monetization Opportunities
Like everything else on Facebook, it's a vessel for advertisers and an income stream for creators. There are multiple ways for creators to make money from their podcast, including donations, entry fees, audio creator funds, and subscriptions.
There is the potential to turn this into something similar to Patreon, which requires subscribers to pay a monthly fee to maintain access to a private community. Facebook podcasts appear to be much more than a feature, but rather an attempt to create a whole new experience on the platform for audio lovers.
Steps to Add Your Podcast to Facebook
Now let's talk about some of the actionable steps you can take to get your podcast on Facebook. If you already have a successful podcast, you might not need to take all of these steps, but for those of you without a big presence on Facebook, here's what you'll want to do.
Set Up Your Facebook Business Page

The first thing you'll do is set up a Facebook Business Page. It's free and simple to do. You'll log into Facebook, click the "create a page" button and go through the following steps:

1. Enter your desired page name
2. Pick a category based on what type of content you create
3. Fill out a description
4. Click create page

Complete Your Facebook Profile

Once you've filled out all the necessary information, you'll want to do things like upload a banner photo, profile picture, and fill out the small details about what people can expect to learn or hear in your podcast. Make sure to optimize your business page so people can find you.

Remember that people can find you by searching on Facebook, so the basic principles of social media keyword research apply here.

Link Your Podcast to Facebook

You'll need to use an RSS feed to get a Facebook podcast, which sounds complicated, but it isn't. Once you've recorded an episode, you'll want to upload the mp3 file to iTunes, generating an RSS feed link.

This allows other platforms to play the podcast such as Spotify or Facebook. It also allows you to share the podcast to other places such as a website or other social media accounts. The best part about this is that you only have to do it once. When you have everything set up, your new podcast episodes will automatically post to Facebook each time you upload a new one on iTunes.
Adding Your Podcast to Facebook Frequently Asked Questions
Which podcast channels can connect to Facebook?
Currently only iTunes can connect with Facebook, but like I mentioned above, that's okay as long as you're using RSS feed because people on any platform will still be able to listen to your podcast. You'll just have to use iTunes to connect it to Facebook.
How do I know if I'm getting more views because my podcast is on Facebook?
Facebook offers a complete suite of analytics with new features to help you identify how well your podcast is performing. You also have a variety of options to take your followers off the podcast and entertain them elsewhere, like in Facebook groups and messenger groups as well.
Do you have to pay to put your podcast on Facebook?
Not only is it free to put your podcast on Facebook, but they also provide a creator fund and new monetization options that make it profitable to add your podcast to Facebook. You'll be able to collect a share of ad revenue while generating new income streams and providing content to your audience in a new and exciting location.
Does having your podcast linked to your Facebook page make it easier to promote it on the platform as well?
Only time will tell because this feature is still in the infancy stages. Long term, I think it will. Promoting yourself on social media is all about being consistent and creating content that provides value in some way to the audience, so even now it's a great way to promote your podcast.
Can you use Facebook Ads to promote your podcast?
Facebook ads for podcasts aren't something Facebook is discussing at this time, but I imagine they will provide a way for you to create an individualized ad that specifically targets podcast listeners in your niche. You can, however, use ads to promote your podcast's Facebook page./ This is a really new feature that hasn't even reached most smaller creators at this point. We'll have to wait and see!
Facebook Podcast Conclusion
Creating a Facebook podcast is much simpler than you thought, right? It's clear that Facebook is striving to become the only place you need to go for content, networking, business, and more. If you need help figuring out how you can make the most of your podcasting efforts, we can help.
If you're already a seasoned veteran in the realm of audio entertainment, perhaps migrating to Facebook might help you reach even more listeners? Podcasting continues to gain in popularity, especially as the younger generations age. It's time to get on board or get left behind.
Do you think Facebook podcasts are a powerful income stream moving forward?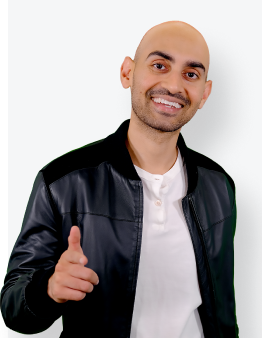 See How My Agency Can Drive Massive Amounts of Traffic to Your Website
SEO – unlock massive amounts of SEO traffic. See real results.
Content Marketing – our team creates epic content that will get shared, get links, and attract traffic.
Paid Media – effective paid strategies with clear ROI.