Google News Author Knowledge Panel, what is it? People tend to connect with news sources they trust. As an author, you could be that news source.
However, building a large following is not easy in a world where so many voices are clamoring for attention. Therefore, you need to leverage all resources available for you to stand out from the crowd.
Consequently, one way is to claim your Google News author knowledge panel.
What Is a Google News Author Knowledge Panel?
Google News author knowledge panels are information boxes Google displays at the top of the search engine results pages (SERPs). When a user searches for an entity. An entity can be a person, business, organization, or event.
Information that appears in your author knowledge panel is come's from Google's Knowledge Graph.
This is Google's data bank. Which features a system who's design is to understand facts about entities on the web. And how they relate to each other. Knowledge Graph gets information from several different sources across the web. Including (among others), reputable websites, Google My Business (GMB) profiles. Wikipedia, and social media.
Whenever source information changes, Google also automatically updates the author knowledge panel.
To display the knowledge panel, search engines:
receive a user's query
obtain search results for the query
identify the first set of factual entities relevant to the query
select the most relevant media to display in the knowledge graph
verify that collected content is factual and relevant to the query
A knowledge panel features content such as:
visuals (images and videos)
your website and other third-party websites you appear on
social media profiles
contact details
events
facts about you or your business
Giving users a quick glimpse of who you are and what you do is essential in helping you build a solid online presence.
Why Should You Verify Your Author Knowledge Panel Account?
Verifying your author panel account is one way that can help you reach your marketing goals.
Here are a few reasons why you should invest time and effort in verifying it:
Increases Search Visibility
One of the most significant reasons you should invest time and effort in verifying. And managing your author knowledge panel account is that it helps boost SEO. When people search for a query that relate's to you or your brand. The first thing they'll see on the SERPs is a knowledge graph featuring information about you and your business. Of course, increasing search visibility results it increase's traffic to your site and, ultimately, an uptick in revenue.
Boosts Brand Visibility
Another reason to verify your author panel is that it's a great way to increase brand visibility. Because knowledge panels occupy a significant portion of SERP real estate, they offer unmatched brand visibility. Knowledge panels display all kinds of media, giving you incredible branding opportunities. From your name to your social media handles to key website pages, you have an opportunity to present searchers with all branding assets in one place.
Helps With Reputation Management
Reviews play a crucial role in establishing your online currency. Unfortunately, not everyone will leave positive reviews about your brand or products. Negative reviews can tarnish your image. This is where an author knowledge panel comes to the rescue. Since it appears right at the top of SERPs, it helps establish trust with users, helping you with your reputation management.
Improves User Experience
Search engines are all about providing users with the best possible user experience (UX). Verifying your author knowledge panel helps do this. Fortunately, you also get to benefit from the positive UX as it helps drive traffic to your website.
How to Authorize Your Author Knowledge Panel Account
Now that you know what an author knowledge panel is and the many advantages of verifying yours, you need to know how to verify it. Claiming your knowledge graph is critical as it gives you more control of the information displayed in your panel. Let's dive into how you can authorize yours.
1. Create or Sign in to Your Google Account
To verify your author knowledge panel, you first need to create a Google account if you don't have one. To do this:
Go to http://www.google.com/
Click the "Sign Up" button.
In the sign-up form, fill in all necessary details.
Review and accept Google's terms and conditions.
Click the "Next Step" button. Your account is created! You can update your profile at any time.
A Google account is one of the ways Google uses to verify your identity and your association with the entity whose knowledge panel you want to manage.
2. Search for Yourself (or the Entity You're Associated With) on Google
The next step in claiming your author knowledge panel is to search for the entity whose knowledge panel you want to claim. This could be yours as an individual or an organization's knowledge panel.
The knowledge panel will appear at the top of the SERPs.
3. Claim Your Knowledge Panel
Once a knowledge panel featuring you or your organization is displayed, scroll down to the bottom of the panel. If no one has claimed that particular knowledge panel, you'll find a "Claim this knowledge panel" button.
This will take you to a window where you will be asked to verify your author knowledge panel.
Clicking "Get Verified" will take you to a page where you're asked to verify your identity using one of your social media profiles.
After successfully signing in, you can now start managing your author knowledge panel.
How to Get a Google Author Knowledge Panel
What happens when you search for your entity, and you don't appear in a knowledge panel?
This usually happens when there isn't enough factual information on the internet for Google to verify and add to its Knowledge Graph. As a result, it can't generate an author knowledge panel.
You now might be wondering, "How do you build enough critical mass in Google's Knowledge Graph for Google to recognize your entity?"
Get Featured on Wikipedia Page
Wikipedia is one of the trusted sources Google turns to when gathering information for its Knowledge Graph. One reason for this is the strict guidelines Wikipedia has put in place to ensure all pages published on the platform are accurate and contain no bias. Therefore, being featured on the platform hooks you up to one of the most reliable sources of information on the internet.
One of the best ways to be featured is to build Wikipedia backlinks. The easiest way to do this is by looking for and fixing broken links on Wikipedia. Use a tool like WikiGrabber to find pages that have broken links or need a reference.
Another way is to reach out to an independent Wikipedia editor to create a page for you or mention you on other pages.
Granted, getting featured on Wikipedia can be quite an uphill task. If you want an easier route, you can consider Wikidata. This is a data bank that feeds structured data to Wikimedia projects. Since Google shut down Freebase, their open-source repository that powered the Knowledge Graph, it also relies on data from Wikidata.
Leverage Your Website
Knowledge Graph also pulls information from websites. To leverage your website for building the necessary critical mass you'll need, you must:
Use schema markup: Schema markup, or structured data, helps Google understand what you and your website. Done well, it will point Google to all the corroborative data that serves as evidence of your authorship.
Have a detailed "About Us" page: Your "About Us" page must explain who you are and what you do. Also, include links to relevant publications that can verify who you are and what you do.
Piggy-back on your connections: If you have connections who already appear in knowledge panels, strategically mention them on your website, link to their entities, or add them to your schema markup.
Investing in an optimized website and well-structured content is an essential step to getting information about yourself pulled into the Knowledge Graph.
Get Yourself Featured on Third-Party Websites
Another way to build up enough critical mass to give search engines enough factual knowledge about you is to get featured in reputable publications. A few effective ways to do this is by:
Guest posting: Publishing articles on authority news sites helps you create more digital assets to provide Google with data about you. It's also a great way to establish yourself as a reliable source of information.
Speaking at events: Both online and in-person events allow you to be mentioned on third-party sites, helping you collaborate on your authorship claims.
The more you appear on the web, particularly on reputable and relevant sites, the higher your chances of appearing in a knowledge panel.
Ramp Up Your Social Media Presence
Social media has become more than just a way to keep in touch with family and friends. It has become one of the ways you can prove your identity online. That's why optimizing your social media profiles and being active is a great way to increase your Knowledge Graph.
Creating content that your audience will interact with and share will help boost your online presence, powering your Knowledge Graph.
Getting into the Knowledge Graph is essential to the generation of your author knowledge panel. Do everything you can to ensure you give search engines enough factual data about yourself.
Doing so will ensure that you are recognized as an entity worthy of a knowledge panel. Also, make sure to keep "feeding" the Knowledge Graph with updated information. This is essential in ensuring your knowledge panel is populated with the latest data on you.
Author Knowledge Panel FAQs
Before we wrap up this post, let's briefly answer some of your burning questions concerning author knowledge panels.
How do I get an author knowledge panel?
While you can't create an author knowledge panel for yourself, you can get one when Google recognize's you as an entity. You do this by increasing your Knowledge Graph on Google.
Where do I find my Google knowledge panel?
To find your knowledge panel, search for yourself on Google. A knowledge panel featuring all kinds of media and generate's information on you.
How do you manage a knowledge panel?
Managing your knowledge panel involves you claiming and verifying your knowledge panel. Doing this grants you access and the right to manage your knowledge panel.
Can you edit knowledge panels?
Once you have claimed your knowledge panel, you can edit the information it displays by clicking on the "Suggest edits" link. Note, however, that you can only do this when you log into your Google account.
Summary of Google News Author Knowledge Panel
Therefore, the author knowledge panel is a great feature. That makes it easy for users to find what they're looking for on the internet. If you can harness its power, it's also a great way to power your marketing strategy. From driving traffic to your website to brand awareness. Claiming your author knowledge panel is a great business move you can't ignore.
However, remember, keep creating content on various reputable platforms. To provide Google's Knowledge Graph with current information to display in your author knowledge panel.
What has your experience with claiming your author knowledge panel been like?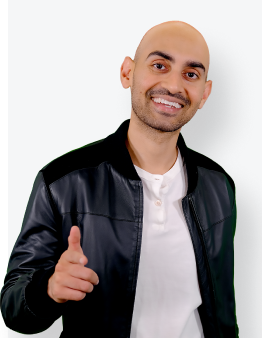 See How My Agency Can Drive Massive Amounts of Traffic to Your Website
SEO – unlock massive amounts of SEO traffic. See real results.
Content Marketing – our team creates epic content that others share, get links, and attract traffic.
Paid Media – effective paid strategies with clear ROI.