What Is Geofencing Marketing?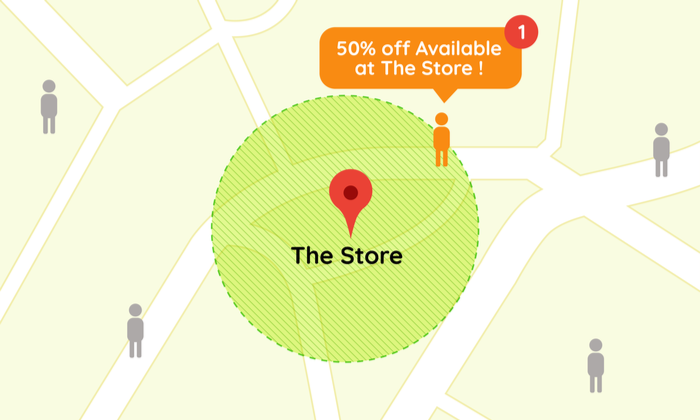 Geofencing Marketing – Imagine you're walking in a mall and receive a Starbucks coupon on your smartphone. You look up to see a Starbucks shop.
This scenario may encourage you to visit the outlet, learn about the promo, and use the coupon.
With geofencing marketing, or location-based marketing, this convenient strategy turns into a reality.
How can you leverage it?
Let's start by discussing the basics.
What Is Geofencing Marketing, and How Is It Used?
Geofencing lets businesses advertise to consumers within a specified geographic area.
With technologies like GPS and radio frequency identifiers, marketers can specify a perimeter or boundary based on a real-world location. Then, they can create a virtual barrier or "geofence" in the area.
As consumers enter the geofence, they're sent location-based ads on their devices.
Consider this geotargeted Uber ad for arriving tourists: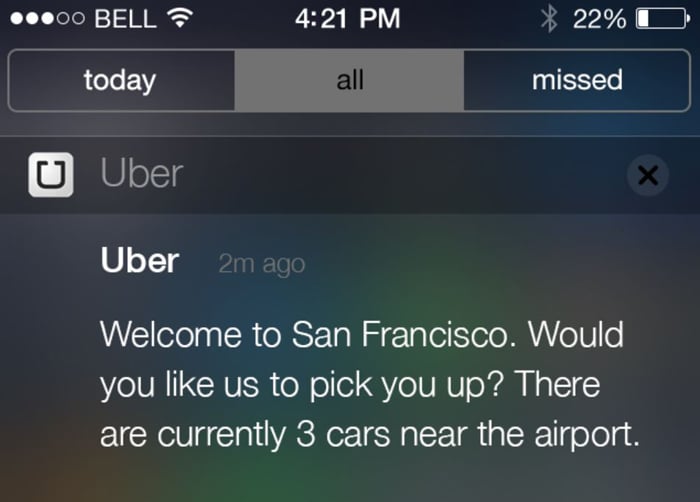 Geotargeted ads may be useful when you want to:
Boost foot traffic: Brands can send mobile ads, coupons, or notifications to attract customers to their brick-and-mortar locations.
Crowd engagement: Organizations and businesses hosting events, festivals or concerts can use it to attract those near their booths.
Target competitors' customers: Businesses can set up a geofence within a competitors' location to draw more customers into their shops.
Understand consumer behavior: Geofencing lets brands aggregate consumer behavior such as time spent in-store or how visitors navigate their shops.
Benefits of Geofencing Marketing
Geofencing marketing has many potential benefits for brands and marketers, whether they have an in-store or online presence. If you're thinking about diving in, here are some possible perks to consider.
Geofencing May Help With Local Marketing 
People express more interest in getting out of their homes, especially on foot, than ever before. This means targeting people as they make their way past shops is increasingly important.
This isn't a small uptick: A Billups study found 71 percent of consumers are more interested in simply walking around their neighborhoods or towns than they used to be. Many would also enjoy visiting outdoor pop-up shops as they wander.
Since more people want to visit shops and travel within their communities on foot, location-based marketing has a lot of potential—you don't have to worry about people driving by too fast to get or use the notification.
We also have evidence this method works even if people are driving past instead of walking. According to QSR magazine, a company conducted an experiment to determine location-based ads' effectiveness in increasing breakfast sales.
Upon setting up a geofence, the participating outlet experienced a 20 percent increase in in-store visits and a 26 percent increase in visits during breakfast hours.
Get Data on Consumer Behavior 
Unlike online marketing, geotargeted ads let businesses collect data about consumers with high-purchase intent in real-time.
After a while, you can use this information to improve your targeting and advertising methods to improve your results.
Geotargeting can also uncover interesting consumer insights. Anonymous location-based data can reveal the other outlets customers visit, billboards they may notice, and roads or areas they frequent.
This means marketers can identify ideal billboard or signage placements to boost outdoor advertising results or determine which other physical stores are genuine competitors.
Boost Brand Awareness
Geotargeted advertising can also raise brand awareness and promote your online channels.
Remember earlier when we mentioned the hypothetical situation about noticing a Starbucks after receiving a targeted ad on your phone? That Starbucks could be any store you may have otherwise passed without noticing it was there were it not for the notification.
These ads provide the opportunity to remind customers you exist and let them know you're right there, ready to serve them. They're more aware of your brand and your location as a result.
How to Integrate Geofencing in Your Marketing Strategy
Location-based ads may be ideal for businesses hoping to drive traffic to their online or in-person stores.
However, while it has many benefits, geofencing can be a bit more expensive than digital ads.
A geofencing campaign ranges from $3.50 to $15 CPM (cost per mile) for desktop and mobile campaigns. By comparison, the average cost per click on Google AdWords' search network is $2.32.
That said, if you're still ready to try it, here are some tips for successfully implementing this strategy.
Find the Ideal Size for Your Geofence 
A larger geofence is more expensive than a small one, but in this case, bigger may not be better.
If your geofence comprises a 25-mile radius from your store, for instance, you may find yourself spending money on faraway customers who don't have the time to pop by.
Rather than a large geofence, I recommend creating several small perimeters. Ideally, the perimeters should max out at around a five-minute walking distance from your store.
You aren't stuck with only your store's perimeter, though. In some cases, it may be a good idea to set up geofences at events. For instance, if your small business has a booth at a farmer's market or even a music festival, you could send out messages letting people know you're there.
Know Your Audience
Just like all marketing campaigns, understanding your target audience is key to driving results.
Identify their ages, genders, interests, and shopping behaviors to improve your ad targeting strategies' accuracy. What do they like about your business? Why were they drawn to your brand?
Beyond answering these questions, understanding your target audience can help you create compelling copy and advertisements people will respond to.
Launch an Actionable Ad 
Don't just talk about what you sell. Highlight in-store promotions or give out rewards in exchange for responding to the ad. If they're your target audience, they may already know who you are—give them a reason to come in.
For example, this is a personalized notification Starbucks sent to its nearby customers. Not only do they mention the customer's name but include a promo about their favorite drink.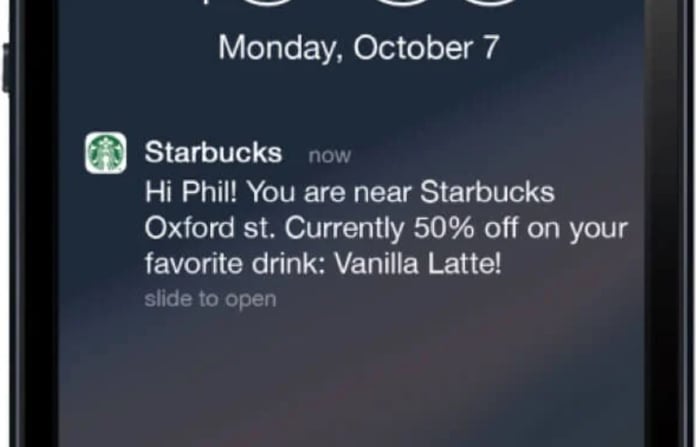 Add a Compelling CTA 
Top it off with a compelling CTA to sweeten the deal.
A Reveal Mobile report found the top-performing CTAs for geotargeted advertisements include:
learn more
shop now
buy now
click here
Marketers were also able to experience success with other CTA variations like "order now," "click to save," "call now," and "shop online."
Utilize Multiple Targeting Options
Geotargeted ads come with multiple targeting techniques you can use to communicate with your target audience effectively.
Let's take a look at the following variations:
Dayparting: Targeting users at a specific time of day.
Behavioral targeting: Displaying ads related to user behaviors.
Context targeting: Showing ads based on websites visited.
Retargeting: Sending ads to previous online visitors and former customers
Tracking the Success of Your Geofencing Marketing Campaigns
You need to track relevant KPIs and metrics to determine if your geotargeted marketing campaigns are effective. The good news is current marketing technologies enable users to collect data for their campaigns.
Here are some metrics to consider:
Ad Impressions or Views: Number of times your ad is seen.
Click-Through Rate (CTR): Number of clicks your ad receives per number of impressions.
Cost Per 1000 Impressions (CPM): Amount you pay per 1000 impressions.
Cost Per Click (CPC): The highest amount you pay for a click on your ad.
Conversion Zone Visits: Number of people who visited your store or a specific location upon viewing your ad.
Cost Per Visit: Total number of visits to your store divided by the cost of your marketing efforts.
Cost Per Action (Phone Call, Walk-In, Sale): Amount you pays to generate a conversion.
Walk-In Rate: Percentage of people on a street who end up going to your store.
You can change your ads based on your results. If passersby aren't responding to your push notifications, modify your copy or promos.
Geofencing Marketing Ethical Considerations
When it comes to location-based ads, the primary ethical consideration is privacy.
Laws such as the California Consumer Privacy Act (CCPA) and the General Data Protection Regulation (GDPR) in the EU are dedicated to protecting consumer data.
More than 80 countries have implemented digital privacy regulations, and more bills are being considered in the upcoming years.
While most location-based ad technologies generate anonymized data, location data is still personal information. Additionally, an individual's search history and browsing data must also remain private.
Businesses can protect themselves and their consumers while also implementing geofencing by abiding by the GDPR's and CCPA's consumer rights policies.
This includes the following:
Consumers can ask what information is being gathered and why.
If asked, you must provide data gathered to consumers.
People may opt out of this data collection.
You can only use the information for the reasons you disclose.
Chances are, you've already seen companies abiding by these expectations. For example, the Sephora app gives shoppers a choice to opt-in or opt-out of location services and store notifications: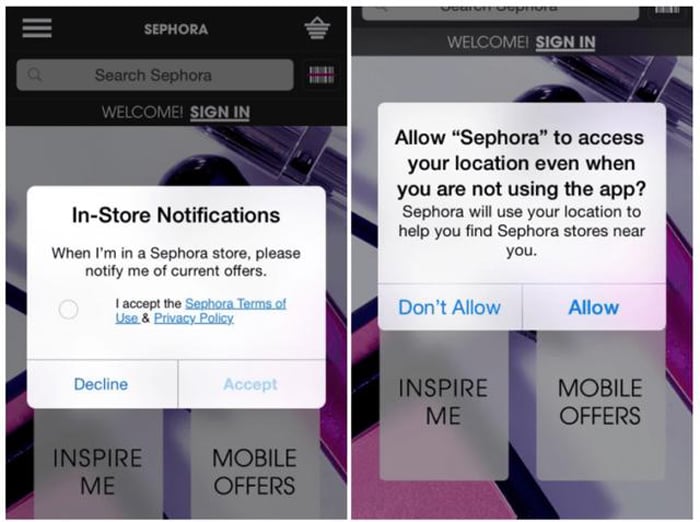 Conclusion 
Geofencing marketing can be an effective way to boost traffic to your store, website, or even social media channels.
Remember, potential customers' locations aren't enough: You also need to figure out who your target audience is and create ads to send directly to them.
As long as you know the right steps, you can build your own geo-targeted marketing campaigns. We highly recommend monitoring your results, creating compelling CTAs, and understanding your target audience for maximum effectiveness.
How will you use geotargeted ads for your business?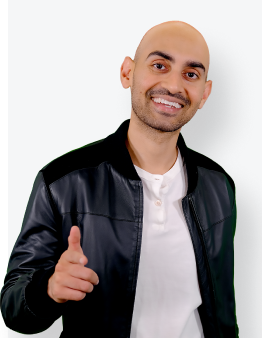 Consulting with Neil Patel
See How My Agency Can Drive Massive Amounts of Traffic to Your Website
SEO – unlock massive amounts of SEO traffic. See real results.
Content Marketing – our team creates epic content that will get shared, get links, and attract traffic.
Paid Media – effective paid strategies with clear ROI.