CPA Marketing? Are you struggling to get more clients for your accounting business?
You're not alone.
A study by Hinge Marketing found accounting and financial service firms were the slowest growing of all professions studied.
While the tech sector grows at an 18 percent median rate, accounting business slogs behind with a growth rate of 9.3 percent.
However, this doesn't mean your accounting firm is doomed.
The difference between low-growth and high-growth businesses in any sector is marketing.
How so?
Marketing is what develops the all-important know, like, and trust factor. Clients can find you through social media or blog posts, learn more about you, and decide you're the best accountant for the job.
In short, the better you get at marketing your services to the right people, the more you can squash industry-standard growth rates and boost your profitability.
CPA Marketing – Why Should Certified Public Accountants Advertise Their Services?
Shopping online isn't only for eCommerce businesses.
Fifty-three percent of consumers conduct online research before making a purchasing decision. If you don't have a digital presence, you're leaving money on the table and creating a barrier between you and your potential clients.
With 2.14 billion digital buyers, there's a huge pool of people you could tap into by having a digital presence for your CPA business.
Besides the earning potential, advertising your services online has other benefits like:
Instilling trust: You set yourself up as an authority and expert by having a professional website with sales pages and blog posts.
Brand awareness: Almost 92 percent of people use Google to answer their most pressing questions. By investing in SEO and getting your CPA business on the first page of search results, you can grow your brand awareness without a huge paid ad budget.
First impressions count: In the digital age, your website is your first impression to potential clients. If it's slow, outdated, or uninspiring, your site visitors will leave, and you'll lose the sale.
6 Marketing Tips for CPAs
Ready to take your CPA marketing to the next level? Here are some of the best ways to grow your brand awareness, attract the right customers, and scale your accounting business.
1. Create an SEO-Friendly Website With a Strong CTA
Because so many buyers turn to Google to conduct online research before purchasing, a website is no longer a "nice to have."
It's a must.
An SEO-optimized website does three things:
Search Engines Send Organic, Qualified Traffic
Sick of cold emailing tactics or leads who have no intent on opting in for your services?
By going all-in on SEO and targeting keywords your potential clients are using, you can attract the right customers (who are ready to sign a contract) straight to your website.
Not sure what SEO is or how to do keyword research? Check out my ultimate SEO guide, which takes you through absolutely everything you need to know to get your CPA business on the front page of Google.
Turns Visitors Into Leads
When someone is knee-deep in research mode, a professional-looking website goes a long way in the decision-making process.
With a strong call-to-action (CTA) on your homepage, you can stop people from leaving your site without scheduling a call, or filling out a form to find out more.
Here's a good example:
Notice the "Get Started" button. It's above the fold (meaning you don't have to scroll to see it), and it encourages visitors to take action.
If you scroll to the bottom, you'll see another CTA to schedule a call.
Want help setting up a CTA? Use one of my eight foolproof CTA tactics.
It Sets You Up as the Go-To Expert
Once your website ranks for the right keywords on Google (i.e., words and phrases your customers are using), it tells the user you're an expert and creates brand awareness.
When someone sees you as an industry thought leader, it establishes trust. This sets up one of the natural laws of business: People do business with those they know, like, and trust.
2. CPA Marketing – Create a Blog for Your Website
When it comes to marketing for CPAs, creating a blog is an incredibly effective tactic.
Why?
Your blog posts will rank on search results.
When you're ranking on the first page of Google, you get more visibility, website traffic, and qualified leads. For your customers, blogging is beneficial because it answers their questions, gives them quick wins, and helps them find solutions to their problems.
It's a win/win for everyone.
How do you start writing blog posts that end up on the first page of search results?
First, you need to do keyword research to understand what problems your audience is trying to solve.
Take the keyword "hiring an accountant for taxes." Here are some blog posts from CPA firms on the first page of Google.

By using blogging like these CPA firms, you can identify the challenges your clients are facing and create blog posts that add value and convert visitors into clients.
Keyword Research Resources:
Next, you need to write your blog post and optimize it for search.
What does this mean?
According to a user's query, there is a formula search engines use to understand the content and decide where it should show up in the results. By following basic on-page SEO principles, you can make sure your blogs are optimized for ranking on the first page of Google.
SEO Blogging Resources:
3. Start Using LinkedIn
Do you have a LinkedIn profile?
Out of the 774 million working professionals using the platform, you probably fall into two camps:
Yes, you've created a profile, but it pretty much collects dust.
No, and you don't want to add another social network to your plate.
However, LinkedIn is more than a social media network. It's one of the best places to connect with your potential clients and land work.
Eighty percent of B2B marketers say LinkedIn is the best place to find leads.
Follow these steps to spruce up your LinkedIn profile and start attracting paying clients to your CPA business.
Update Your Profile for SEO
Yup, SEO extends beyond search engines.
You want to make sure your profile is optimized with keywords your potential clients use to find you.
The better your LinkedIn SEO, the higher up you'll appear on search results.
Post on LinkedIn
Whether it's status updates, sharing business news, or writing thought pieces, creating content on LinkedIn is a powerful lead generation tool.
You can tag your posts with hashtags to boost your reach, and the more engagement it gets, the more the algorithm will push your content out to a wider audience.
By increasing the number of eyes on your posts, you increase your chances of leads finding your profile and reaching out.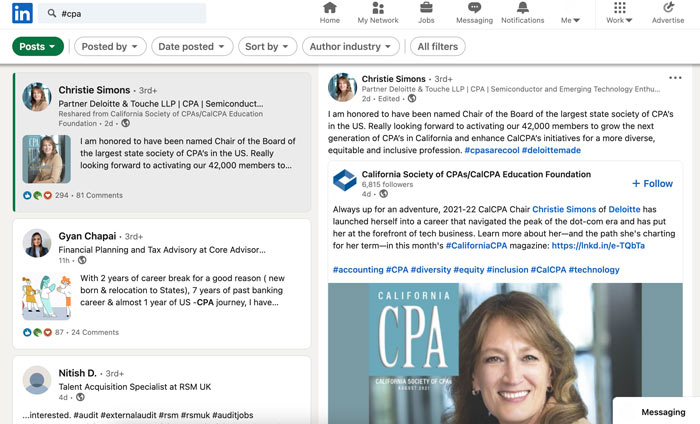 LinkedIn Marketing resources:
4. Create YouTube Videos
Writing not your style? Are you a better speaker?
Then create a content marketing strategy around YouTube. With over 2 billion monthly users, people come to the platform to learn, get inspired, or have fun. What makes YouTube such a lucrative platform is this: The content is searchable on Google.
In 2016, the search engine giant bought the video-sharing site and has integrated the platform with search results.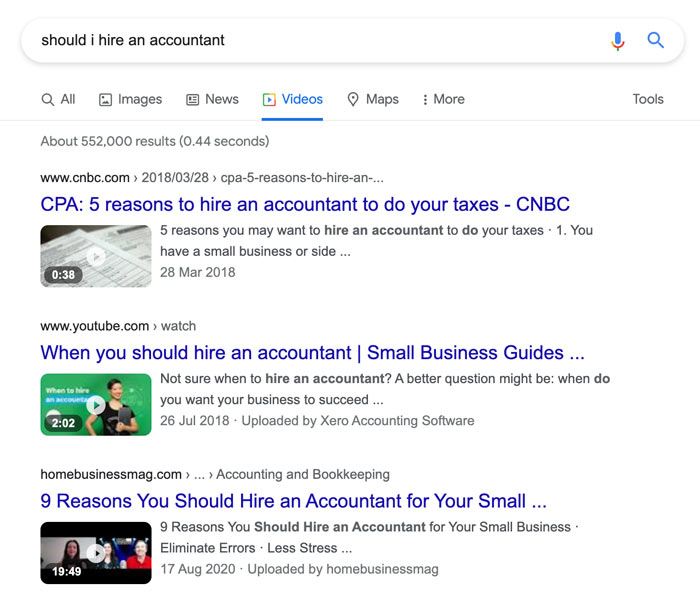 Like Google, SEO also plays a part on YouTube.
To see success on the platform, you need to use the same keywords your audience uses to search for you. Consider using keywords in these places:
your speech (YouTube scans your words)
video title
video description
tags
These views turn into leads and are an excellent way to grow your brand awareness and establish trust with your audience.
Bonus: Once you hit 1,000 subscribers and 4,000 hours of watch time, you can sign up for the YouTube partner program and start earning money from your uploads.
YouTube Resources:
5. Claim Your Google Business Page
Google My Business can help your CPA business gain more visibility in local search results. According to a study by BrightLocal, 84 percent of searches are discovery.
That's a lot of opportunities for your next client to find you. Let's say someone searches "CPA in New York." If you've set up your Google My Business page correctly, it will show up in search results like this: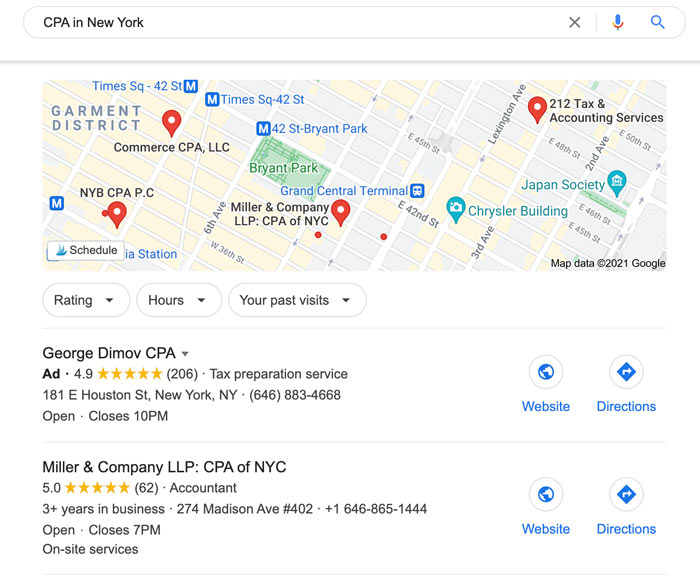 These cards make it easy for people in your area to find you, contact you, and become your next customer.
All you need to set up your profile is a business name, location, and category. Once Google authorizes it, you'll start showing up on local search and Google Maps.
Your customers will be able to leave reviews, add photos, ask questions, save your listing, and see important information like your contact details.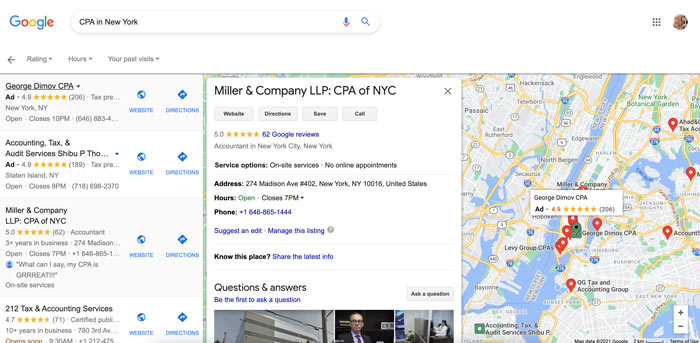 In the above example, Miller & Company has put "CPA of NYC" in their title and made their description "accountant in New York City."
Again, this is SEO. These keywords help Google understand your listing and show it for the correct search results.
To learn how to set up your Google My Business account, optimize it for local SEO, and what mistakes to avoid, check out these resources:
6. Build Your Email List 
While building a presence on YouTube and LinkedIn are solid marketing strategies for CPAs, those platforms could close down tomorrow.
If that happens, you'll lose access to your audience.
The solution? Building your email list.
Create a lead magnet and use it to entice your website visitors to subscribe. Your lead magnet should focus on a problem your audience wants to overcome and present a quick win.
For example, if you help freelancers with their tax you could make a checklist for how to prepare for tax season. At the end of your lead magnet, include a call-to-action to hire you for those that want to skip the admin and let someone else handle it.
Other types of lead magnet ideas include:
toolkits
reports
whitepapers
ebooks
case studies
cheat sheets
Once you have people on your email list, you can nurture the relationship and promote your offers and tips via a weekly or monthly newsletter.
CPA Marketing – Marketing for CPAs Frequently Asked Questions
What's the best way to promote my accounting business?
The best way to market your CPA business is with digital marketing. It's cheaper than traditional marketing and helps you attract your ideal clients with ease.
Should I hire a marketing firm to promote my accounting business?
If you don't have the time to manage your marketing, yes. A marketing firm can help save time and tweak your marketing efforts to improve ROI.
Should I invest in digital marketing for my CPA business?
Yes! With most people turning to Google to answer their questions and find companies to solve their problems, a digital presence is necessary.
How much should I spend on marketing for my accounting business?
It depends on the size of your firm, location, and how much money you can allocate towards your marketing, as well as what platforms you want to use and the results you want to achieve. You can do it yourself and spend very little, or invest thousands (which may generate thousands more in revenue.)
CPA Marketing – Marketing for Accountants: Conclusion
As you can see, digital marketing is no longer a "nice to have" for accounting firms.
The digital world is more important than ever before. Approximately 6 billion people have smartphones, which means your next customer will most likely come from Google rather than a traditional ad in the newspaper.
Follow these marketing tips for accountants, and you'll learn how to create content that attracts your ideal client, creates value in their lives, and sets your firm up as the go-to expert.
Which of these accounting marketing tips are you going to implement in your business?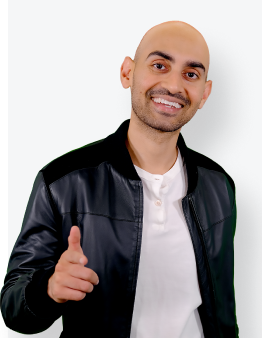 See How My Agency Can Drive Massive Amounts of Traffic to Your Website
SEO – unlock massive amounts of SEO traffic. See real results.
Content Marketing – our team creates epic content that will get shared, get links, and attract traffic.
Paid Media – effective paid strategies with clear ROI.