10 Successful Twitter Advertising Ideas
Twitter Adverting Ideas, with no minimum advertising budget to get started, Twitter offers the chance to grow your business without significant upfront investment. You can use Twitter for marketing, engagement, and customer service. Paid twitter advertising allows you to target audiences with keywords, demographics, and hashtags.
Twitter advertising campaigns work best when they are creative, clever, and aligned with your brand message. With low costs and high potential return, Twitter is worthwhile to explore when trying to grow your business.
The Top 10 Twitter Advertising Ideas
You can choose from various Twitter advertising formats, including promoted tweets, promoted accounts, promoted trends, and automated ads managed by Twitter.
Best practices change often, so be sure you're staying on top of changes to the Twitter platform as you plan and execute new advertising ideas. Get familiar with how the site differs from other social media, too.
For instance, when you compare Twitter and Facebook advertising, you'll notice Twitter demographics skew younger, and the platform tends to be a popular source for trending news.
Twitter Advertising Ideas – Remember that ads should only be a portion of what you're sharing each day.
Your Twitter advertising strategy should combine paid ads with genuine engagement and organic content posting for the best results.
Make sure you always follow Twitter advertising policy when creating ads. Let's look at some Twitter advertising examples to see how you can best use this platform to reach your audience effectively:
1. Make Sure Your Ads Are Creative
Ensure your brand message is clear through the text, images, and videos you use in your ads. Incorporate bright colors and easy to read fonts so your ads will stand out. When in doubt, follow Twitter's best practices as you brainstorm Twitter advertising ideas.
Just remember, Twitter is a high-volume platform. Thousands of tweets are sent every second, meaning it's easy to get lost in the shuffle. Generic won't stand out, so don't be afraid to push the boundaries to make an impact.
This promoted tweet from Sportsnet has eye-catching colors, an urgent call to action (CTA), and packs a lot of information into a few short lines.
Twitter Advertising Ideas – Make Sure Your Ads Are Creative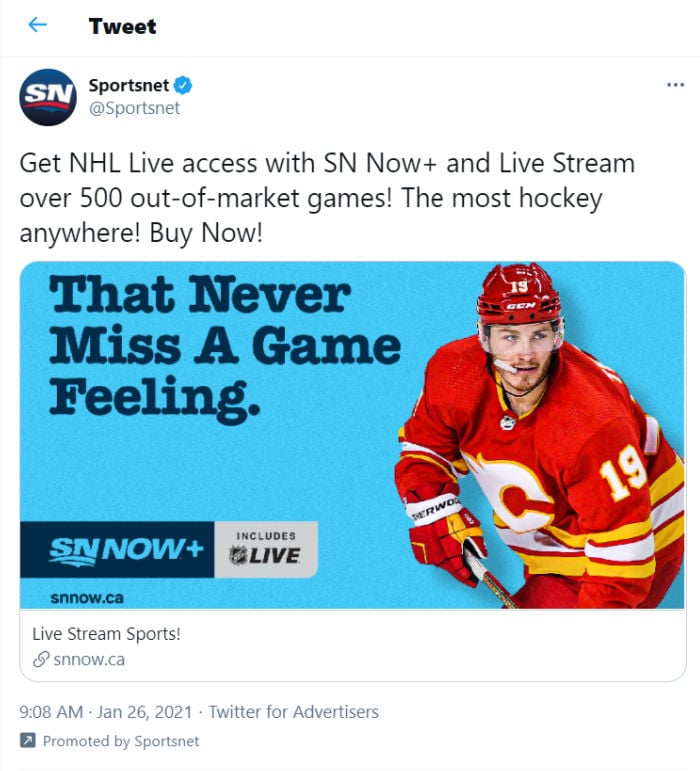 You only have 280 characters to make your point, so communicate your value with snappy copy and concise messaging. Offer just enough detail to provide clarity about your brand.
Twitter Advertising Ideas – If you're adding a link, use a vanity URL to save space and keep the focus on your message.
Twitter automatically shortens links to 23 characters, which are factored into your overall account.
Someone seeing your tweet should be able to tell who you serve, what you offer, and know what to do next.
2. Use the Right Hashtags
Using the right hashtags ensures maximum exposure for your tweets, which is critical on a platform like Twitter, where the volume of tweets is very high. Anyone looking for a particular topic can find relevant tweets and conversations by merely searching hashtags.
Tweets with hashtags get more engagement, so don't skip over learning how and what to use to bolster your efforts. HubSpot says the right hashtags can boost engagement by over 1,000 percent.
You can use hashtags for topics, events, places, industry terms, or popular themes. Try a mix of popular, trending hashtags and ones that are uniquely yours so people can find your content.
You can find hashtags by looking at trending topics and hashtags on Twitter or checking out hashtag generators.
Most will give you relevant and trending hashtags specific to your brand and content to help you maximize your followers and grow visibility for your tweets. Some will even tell you which hashtags to avoid.
A few hashtag generators you could try out:
Hashtagify
Tagsfinder
HashtagsForLikes
All-Hashtag
Trendsmap
3. Promote Your Best Tweets
Promoting tweets allows you to pay to display your content to people who aren't yet following you on Twitter. People can interact with them like a regular tweet, but they'll be marked "promoted."
Which tweets should you promote? The ones with the best content and ones with a photo or video get more engagement and retweets, as you'll see below. You should also promote tweets with links in them as they should drive more people to your website, downloadable content, or most recent blog post.
Make sure a new viewer can understand what you're all about from your promoted tweet. They may not see any others, so give them everything they need to know what you're about at once.
4. Use Images and Videos in Your Twitter Ads
Adding images to your Twitter advertising can boost engagement by 200 percent. Additionally, Twitter users post images 361 percent more than videos but save videos to their favorites 49 percent more.
Visuals can help explain your campaign and increase the chances that people will notice it and get the message within the short amount of time you hold their attention.
This ad from NICE Ltd. gives a quick message with a direct CTA to watch a demo. The ad itself contains a video showing a visual of what people can expect to see in the demo itself, with more information and a website URL. It's a lot packed into a tweet!
Twitter Advertising Ideas – Use Images and Vides in Your Ads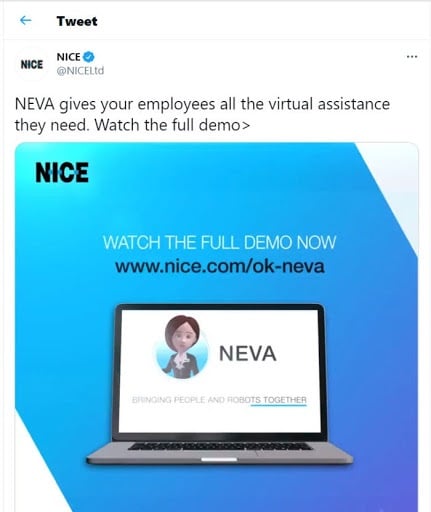 The best Twitter advertising ideas catch people's attention, likely creating immediate recognition and response. No matter how creative your written tweets are, they generally won't stand out the way an image can.
Clear messaging is particularly important when promoting your tweets to people who don't follow you. They need to recognize what you offer and what your business/brand is in a quick impression.
5. Share User-Generated Content
User-generated content is any content created by users and followers instead of brands and can include text, photos, or videos. Voluntarily created and shared by your fans, it creates connection and draws attention from other users who want to be included.
Sharing what real people think of your product or service through customer testimonials and product reviews can add a valuable human element to your ads.
How can you tap into this powerful source of credibility?
Get your followers involved by asking them to create content based on their experiences with you. They may start looking for ways to engage with your brand or be chosen when you feature your followers' work.
Listening to your fans can help you generate Twitter advertising ideas. You could involve your followers in decisions like product naming, have them upload content to participate in contests, and even create your hashtag.
6. Host a Twitter Chat on Twitter Topics With the Most Engagement
A Twitter chat is a virtual gathering or discussion that takes place on Twitter at a specific time. They can be a one-time event or a recurring meeting. Usually, a Twitter chat will focus on one main topic, attracting like-minded users to tweet with one another using a hashtag.
Whomever is hosting a Twitter chat guides the conversation, asks questions, and encourages participants to engage.
Hosting a successful Twitter chat can give you valuable insight into your target audience. You could gain valuable feedback, build brand awareness, and establish your authority on relevant topics. If you do it well, you may also make connections, build relationships, and gain followers.
Twitter Advertising Ideas – Try to choose topics where interest is spiking.
But no one has stepped forward to lead the conversation. If you can offer valuable content and no other brands are engaging directly with fans about a subject, you may see significant results with little time or expense.
Tell everyone the chat and its time, topic, and other details in a promoted tweet. If you want to offer more information, write a blog post and publish it on your site, including a link to the post in your promoted tweet.
7. Use Influencers or Micro-Influencers
Influencers have large followings on social media platforms and have shown they can guide those followers' opinions and decisions. You can engage with influencers who are active in your industry or have fans from your target audience.
Brands partner with these users to promote their products and services in relatable, authentic ways.
Twitter Advertising Ideas – Start by responding to influencers' tweets.
Sharing their content by retweeting, and building relationships with them. They may return the favor, which can help you assess which influencers might make the right partners for paid promotions.
A twist on influencer marketing is micro-influencer marketing, which is similar but on a smaller scale. Typically, micro-influencers have smaller followings of very loyal fans, meaning they may share your content with fewer people but likely only promote brands they genuinely like and trust, making their recommendations valuable.
If you can come up with unique Twitter advertising ideas that influencers find attractive, you may be able to benefit from their large followings.
8. Research the Right Keywords and Use Them Creatively
Twitter advertising success depends on your ability to be seen by your target audience as much as possible. You want to use the right keywords to attract users to your content and target users when promoting your tweets based on their recent activities and posts.
You can use a tool like Ubersuggest to do keyword research to learn what keywords you should be using in your content and hashtags (you can also use the free Chrome extension). This free tool offers key terms and long-tail phrases to try in your Twitter advertising and other marketing. You'll be shown hundreds of suggestions, complete with search volume, competition, and trends for each.
9. Discover What Makes Your Brand Stand Out
What makes you stand out?
Figure out the primary value proposition behind your product or service, and play on it to help your brand stand out. Ensure you understand why your target audience needs or wants what you offer, and personalize your message based on their needs.
See what your competitors are doing that works for your ideal audience. Don't copy, but allow yourself to be inspired to try new ideas. Do A/B testing to see what works best, and use analytics to help figure out which tweets your audience enjoys most.
10. Leverage Twitter Trends
Understand what brings people to Twitter, such as critical events. If a massive volume of people will be on Twitter because of something happening in sports or entertainment, jump in with relevant content.
Events and conferences, whether live or virtual, are often great ways to connect with like-minded people.
This promoted tweet from Salesforce calls attention to an event currently live, uses an event hashtag to bring participants together, and mentions a name people may recognize. By using the person's Twitter handle, Salesforce also makes it easy for that person to see and possibly retweet their post.
Twitter Advertising Ideas – Leverage Twitter Trends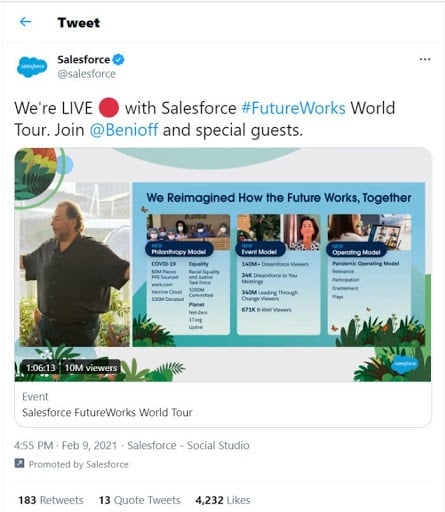 If you connect your brand to the current conversation, you can gain visibility, shares, and followers.
Look for hashtags about local, timely, relevant events and happenings and use them to increase exposure. This could mean holidays, game days, and TV events like the Grammys or Oscars. If you have a local business, capitalize on nearby events.
Conclusion
Twitter advertising offers many ways to target your ideal audience and connect with them in real-time. Appropriately used, paid Twitter advertising costs can be very reasonable and can help you grow your business.
Want to do a deep dive into Twitter advertising? We've got all the Twitter advertising guides you need.
Need help with Twitter advertising strategy or other digital marketing ideas for your business? We've got you covered there, too.
With a few creative Twitter advertising ideas in your toolbox, your ads can stand out and draw the right users to your business.
Which of these Twitter advertising ideas do you think would resonate best with your audience?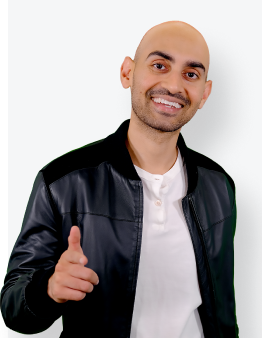 Consulting with Neil Patel
See How My Agency Can Drive Massive Amounts of Traffic to Your Website
SEO – unlock massive amounts of SEO traffic. See real results.
Content Marketing – our team creates epic content that will get shared, get links, and attract traffic.
Paid Media – effective paid strategies with clear ROI.