How Much Do Instagram Ads Cost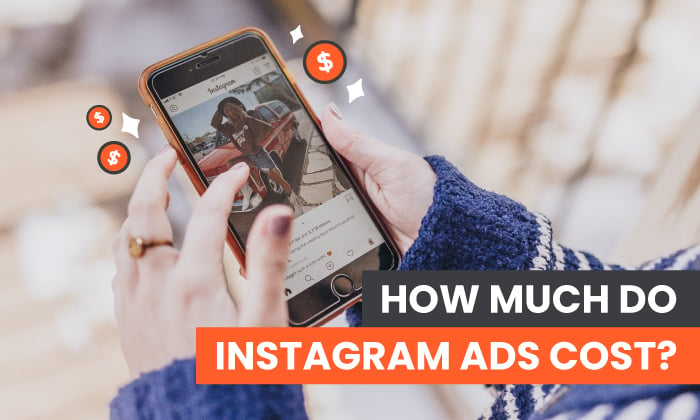 What are Instagram Ads Cost?  Instagram is a fast-growing social media platform known for appealing visuals. And high-quality photos shared by individuals and companies alike. Instagram ads are paid content that show up with organic content in newsfeeds and stories.
How much do Instagram ads cost to run? The answer depends on a few factors that include, of course, the budget you have to spend.
Well, if this platform is popular with your target audience or your business targets the age group that uses it most, Instagram could be a very powerful tool. Statista reports 33 percent of U.S. Instagram users are 25 to 34 years old.
This Facebook-owned platform has over 1 billion active monthly users, so it's certainly worth your consideration.
12 Factors That Affect the Cost of Instagram Ads
Ready to move past building your Instagram following and try advertising? You'll want to understand the platform and your advertising options as you consider costs. Social media can offer plenty of challenges in everyday use, so it's best to learn as much as you can before starting your first paid campaign.
First, how can you tell which posts in your feed are ads? Look for the word "sponsored" appearing under the brand's name. Another way you can tell is if there's a call to action (CTA) button under the image that might read something like "shop now," "learn more," or "download our app."
How much do Instagram ads cost?
Because the cost can vary, the first thing to do is check to see what the average advertiser pays.
WebFX says Instagram ads cost between $0.20 to $2.00 for cost per click (CPC) on average. For the average cost per impression (CPM), companies pay $6.70 per 1000 impressions. However, certain industries may pay more if they're very competitive.
Something to keep in mind is that Instagram is one of the most expensive advertising channels, so you'll want to do your research before getting started.
Let's look at what those average costs mean and how they're measured. Several factors affect how much Instagram ads cost each business, and there are also a few terms you should know before you start.
How Much Do Instagram Ads Cost – Instagram Ad Promotion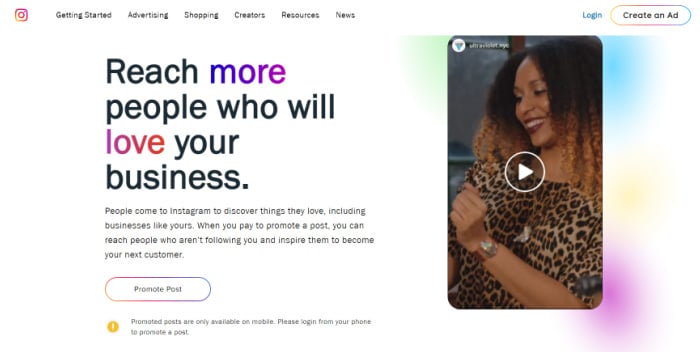 Ad Type
One of the first things you might notice is that there are different types of ads on Instagram. Different types may suit different campaigns.
At all times, you'll want to keep in mind the visual style of Instagram when creating ads and choosing what type shows off your company the best. A stiff and fake-looking stock photo will stand out from the rest of the high-quality content that Instagram is known for, and it's likely to perform poorly.
Get ready to put some time and effort into creating ads that fit your branding and follow Instagram's creative best practices.
Consider the types of Instagram ads: 
stories ads
photo ads
video ads
carousel ads
collection ads
ads on the Explore page
There's also no off-the-shelf pricing for ads. You can't just look up the cost of an Instagram story ad or carousel ad. Rather, the type of ad and the quality of the ad you create will affect your costs.
How Much Do Instagram Ads Cost – Ads In Explore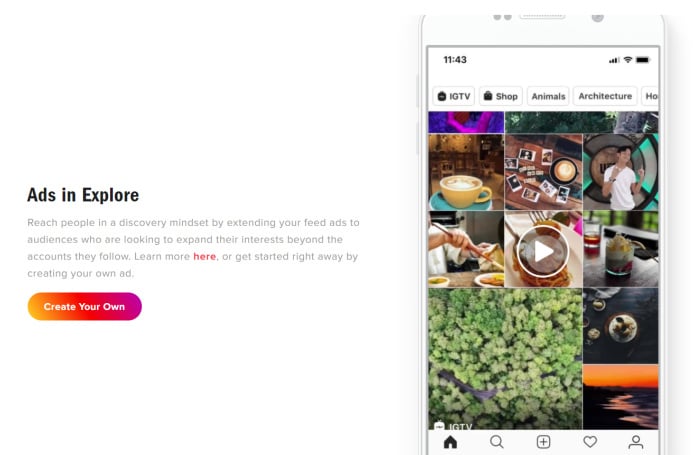 For example, in a case study by AdEspresso, product images with a clear CTA cost less than those that lacked a CTA. Video ads had a higher CPC than image ads, and clear copy with a CTA had a lower cost than copy written without a CTA.
With this in mind, you should consider testing different ad types to see how well they perform for you.
Bidding Strategy
You can use different bidding strategies when setting up your Instagram ads, and, of course, the strategy you choose for your ad campaign depends on your goals.
There are four types of bidding strategies:
(CPC) cost per click
(CPM) cost per 1000 impressions
cost per action (CPA)
cost per like (CPL)
Are you looking to increase awareness of your brand or product? You may want high exposure and lots of impressions or likes.
If you're aiming to target people who are a little lower in the sales funnel and a bit closer to converting to customers, you may want to focus on CPC or CPA.
Metrics
"How much do Instagram ads cost?" isn't the only question you should be asking. How you measure success in your Instagram advertising depends on your goals for your ad campaigns.
Goals for advertising can vary widely depending on who you're targeting and why, so be sure you're setting clear objectives before getting started. These can help you make better decisions and help you see what's working for your business.
How Much Do Instagram Ads Cost – Meet Your Business Goals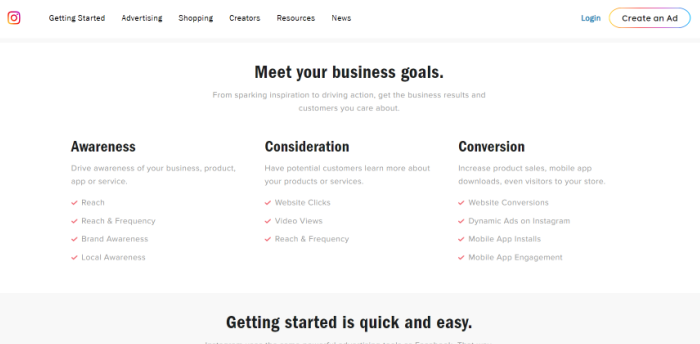 Your goals might be:
Increasing brand awareness
Educating your audience about your business
Converting more customers through sales, app downloads, or store visits
The metrics you use to gauge your success could include more likes, more followers, greater reach, higher click-through rates (CTRs), or improved conversion rate. You might also track and compare video views or app installs.
Targeting
Another factor that can affect how much Instagram ads cost is your targeting. Who are you targeting, and how much competition is there for your desired audience? How much do Instagram ads cost when you widen your target audience? What happens when you narrow your targets?
The narrower you set your targets, the higher the cost of your ads. As you add or remove these parameters, the cost of your ad shifts.
Instagram offers many advanced targeting options:
Location: You can use specific locations to target people by states, cities, or countries.
Interests: People with certain interests could be valuable to you, so target people who like similar apps, click on similar ads, or follow similar accounts.
Custom Audiences: Do you have customer information like email addresses or phone numbers? Consider running ads based on this information.
Automated Targeting: Not sure where to start? Instagram offers an automated targeting feature to create audiences who might be interested in your business using data points like location, demographics, and interests.
Demographics: Use demographic information like age, language, or gender to narrow down your audiences. Ads targeting women tend to be more expensive due to the higher likelihood that they'll engage with your content. Ad cost can also vary depending on the age group you select.
Behaviors: Target audiences based on what they do on and off Instagram.
Lookalike Audiences: Create audiences similar to your existing customers to find prospective customers for your business.
Budget
Your budget can affect pricing as well. With a smaller budget, it takes longer for Instagram's system to learn and understand your campaign and measure how your audience engages (or doesn't engage) with your ads. However, this can have the opposite effect you want and increase how much Instagram ads cost you.
Ad Quality and Relevance
The more relevant your ad is to the landing page it directs people to, the higher Instagram scores your ad in its internal weighting system. Make sure you always lead people to the pages that make the most sense for them to go. The higher the relevancy, the lower your costs can be.
Placement
Where would you like your ad to appear? During setup, you'll be able to choose whether you want your ad to appear just on Instagram or on Facebook as well. You can also choose which devices or operating systems you'd like to target.
Projected Action Rates
Instagram will try to assess how likely your audience is to engage with your content, which could mean clicking on a link and taking the desired action (converting). If Instagram estimates that people are likely to engage with your ads, your bid amount can be lower.
Click-Through Rate 
Your click-through rate (CTR) can also affect pricing because a healthy CTR helps show that your ads resonate with your audience. However, you may see higher costs if your ads aren't gaining clicks from your audience.
Timing 
If you're advertising during a busy time of year for sales, you're likely to have a lot of competition for customers as other businesses try to win their clicks. Holidays, special events, and other peak selling times for your industry can create higher costs.
Size of Audience
Another factor that affects ad cost? Audience size. The larger the audience you target, the less expensive your ad. Smaller audiences have more competition, which can drive your cost up.
Industry
Your Instagram ad costs also vary depending on your industry. Apparel and clothing companies pay much more due to higher competition. B2B companies also pay more because fewer companies use Instagram than people do.
What Should You Spend on Instagram Ads?
Now that we've reviewed the different types of ads and many of the factors that can affect how much Instagram ads costs, you might feel more prepared to set a budget for your Instagram advertising.
Your budget needs to balance how many people you'd like to reach and the goals of your campaign, in addition to working within whatever the average costs are for your industry.
From there, you'll need to look at your marketing budget and see what makes sense to invest in Instagram ads.
How Much Do Instagram Ads Cost – Control What You Spend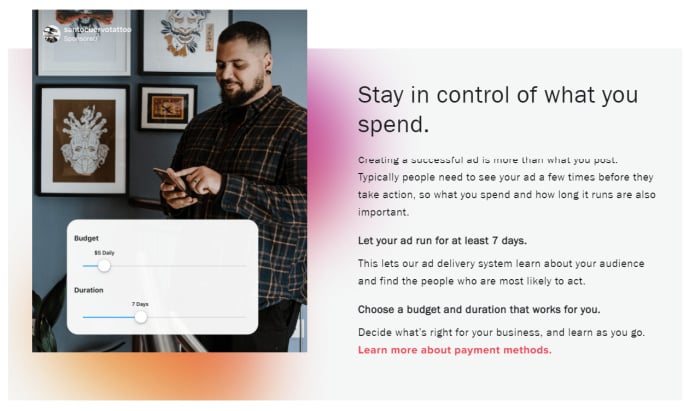 As long as you can handle the monthly cost and you're careful in your targeting, you could see a healthy return on your investment in Instagram ads.
How Much Do Instagram Ads Cost Compared to Other Social Platforms?
It pays to compare the difference between the various social platforms. How much do Facebook and Instagram ads cost? How do they compare to Twitter?
The median CPC on each social media platform varies widely. For instance, on Facebook, it's $0.51, while on Instagram, it's $1.28. On Twitter, the median CPC is $0.53, while on LinkedIn, it's $5.61.
Why is Instagram more expensive than Facebook? Facebook has been around longer, has more data to pull from, and more ad placements. However, the lower number of ad placements on Instagram could mean you'll get more out of what you do spend on Instagram ads.
How to Reduce Your Instagram Ads Cost
Sometimes it may feel as though advertising is too expensive. How much do Instagram ads cost for businesses on a tight budget? Are there ways to reduce these costs? Again, the answer is that it depends.
However, advertising is necessary for growing your business, so you're better off learning how to manage your Instagram ads properly. This will help you enjoy the rewards of effective social media advertising.
You can lower the cost of your Instagram ads by using careful targeting and having clear goals to keep you on track and prevent overspending. Try using automatic bidding to help avoid costly mistakes as you learn to use the platform. Once you set a daily budget, your costs won't go past this limit.
You can also use automatic bidding to make sure you stay within fixed costs for Instagram ads per month. 
You can also consider creating specific landing pages with highly relevant content to your ad, which can help ensure your quality score stays high. Your home page may have a wide variety of information on it that may not be relevant to your ad.
Testing can also benefit you because nailing relevancy in your ad copy can help reduce costs. Relevant ad copy can allow you to gain a higher ad position, reducing your CPC.
Conclusion
Advertising on Instagram is an effective way for you to reach valuable leads who spend time on the platform every day. Many users shop while they scroll, and if you target carefully, they may be looking for what you're selling.
Get ad targeting right, decide on a budget that will work for you, and start creating campaigns that will deliver results. Expert advice can also help you lower your costs and get the most out of your Instagram ads. If you need help with social media marketing, digital strategy, or other consulting support, don't hesitate.
What types of Instagram ads have you used to help grow your business?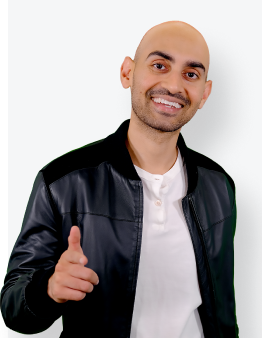 Consulting with Neil Patel
See How My Agency Can Drive Massive Amounts of Traffic to Your Website
SEO – unlock massive amounts of SEO traffic. See real results.
Content Marketing – our team creates epic content that will get shared, get links, and attract traffic.
Paid Media – effective paid strategies with clear ROI.