What Are Google Trusted Stores?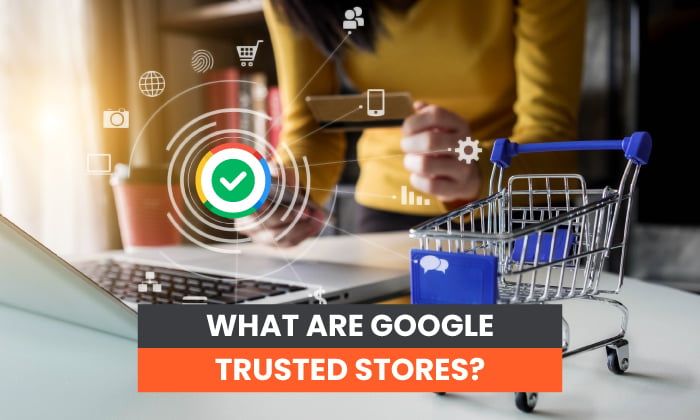 Google Trusted Stores, whether you're a retailer, salesperson, or creative. Social proof is everything. If you expect anyone to buy anything from you, you'll need to show them that other people trust you and have had a good experience with your business.
One popular way to do this has been with Google Trusted Stores. The platform offers Google's seal of approval to your business while also providing customers with purchase protection for their own security. Let's look at the program and how it could help you.
What is a Google Trusted Store?
Google offers a free certification for businesses that provide users with a consistently high-quality shopping experience.
If your store can meet the requirements, you will receive a trust badge on your website displaying your total star rating. This kind of social proof is powerful, and when potential customers see that badge, they'll know that you're a trusted vendor.
Google has changed the platform from what it's known as "Google Trusted Stores" to what they now call "Google Customer Reviews." This platform is a bit different because you'll no longer get a badge displayed in the search results, and Google doesn't offer customer purchase protection anymore.
When asked why Google made the decision, they stated:
We've made this change to help us better focus our support on getting you quality reviews and seller ratings, the two major keys to driving more traffic to your site.
Reviews and seller ratings are important, so this could be a good change. The Google Trusted Stores program never focused on that as it was more of a "pass-or-fail" situation. Now, Google is assisting you by reaching out to your customers prompting them to give you a review and rating.
Google Trusted Stores vs. Google Customer Reviews
It gets a little confusing to differentiate between Google Trusted Stores and Google Customer Reviews. Let's try to clear things up so you understand the differences between Google Trusted Stores and Google Customer Reviews.
Google Trusted Stores offered purchase protection, seller ratings, customer reviews on-site, program badges, and review extensions in the SERPs.
Google Customer Reviews offers seller ratings on Google, customer reviews on-site, and program badges.
You're losing the purchase protection and review extensions. Google does offer something in place of the review extensions, though. Instead of having a badge on your ads, you can display the number of reviews and your overall star rating. I'll explain how you can access this in the next section.
How to Become a Google Trusted Store
If you're already part of the program, you won't have to do anything to migrate to the Google Customer Reviews. If you've never signed up before and are inquiring about it for the first time, here are the steps to follow.
Step 1: Access the Merchant Center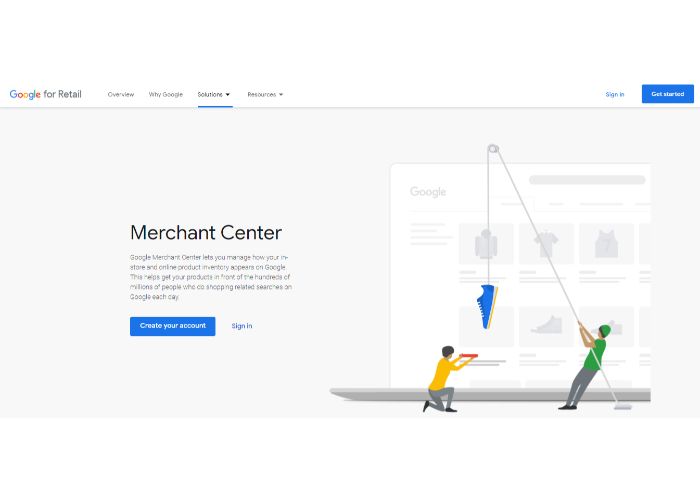 First, you'll go to the Google Merchant Center. If you already have an account, you can log in, but if you don't, I'll walk you through the steps. The whole process shouldn't take longer than a few minutes.
Once you click "sign up," you'll be brought to the page below.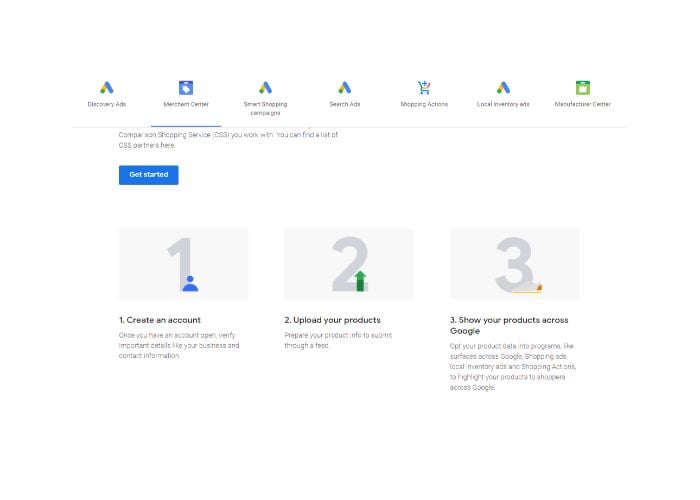 You'll create your account with all your business details and upload your products, which will then be displayed all over Google, shopping ads, and local ads. Enter your business name, country, and time zone. Once you do that, a new section will pop up underneath.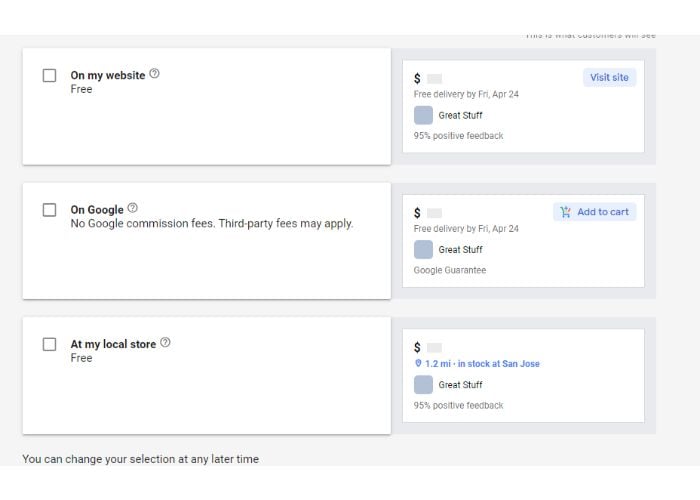 This is where you'll choose what action you want people to take and how you want Google to manage your advertisement. You can send traffic from the ad directly to your website, have customers add items to their cart directly on Google, or advertise a brick-and-mortar store with directions.
For example, I chose to have customers purchase on my website.
You can then sync with other tools like PayPal, set your notifications and emails that you want to receive, and accept the terms of use.
Step 2: Input Important Business Information
Once you reach the next page, you'll have to input some more company information. You can set up sales tax, input shipping methods and fees, including your website, and upload product data.
When you think you have everything you need to upload, you can confirm it and activate your free listing.
Step 3: Enable Customer Reviews
You'll end up on this page once you've activated your free listing or skipped past that process.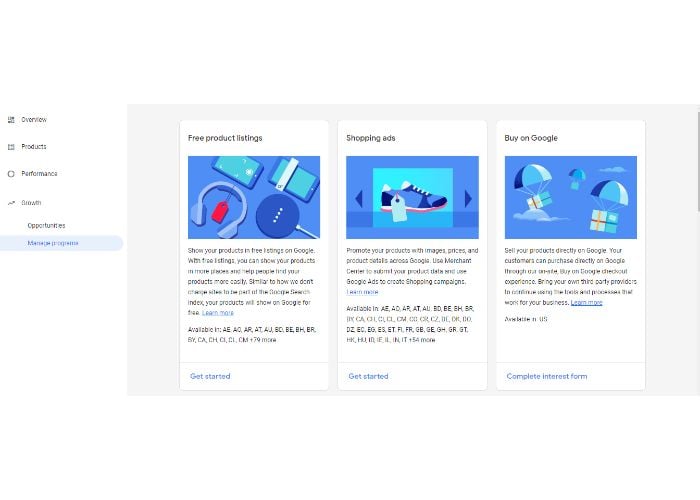 We want to enable Google Customer Reviews now. You can do this by scrolling down and finding this box. Click "enable," read through the agreement, and click save and continue.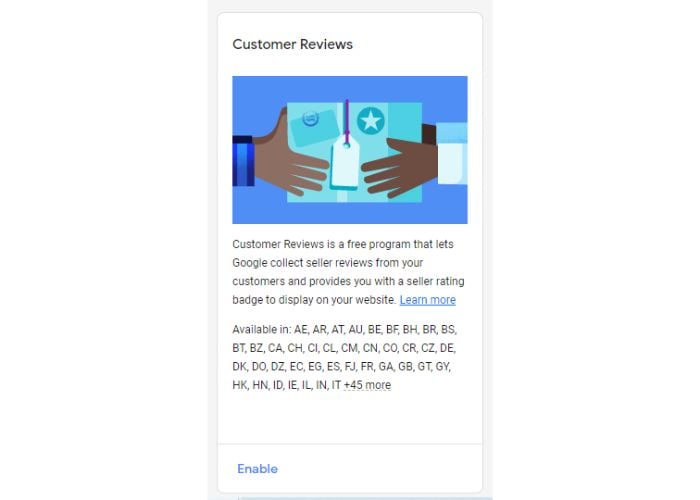 To qualify, your store needs to have its shopping cart and checkout pages hosted on the same domain, the confirmation page must be hosted on your domain, and you need to add <!DOCTYPE HTML> to the top of every page.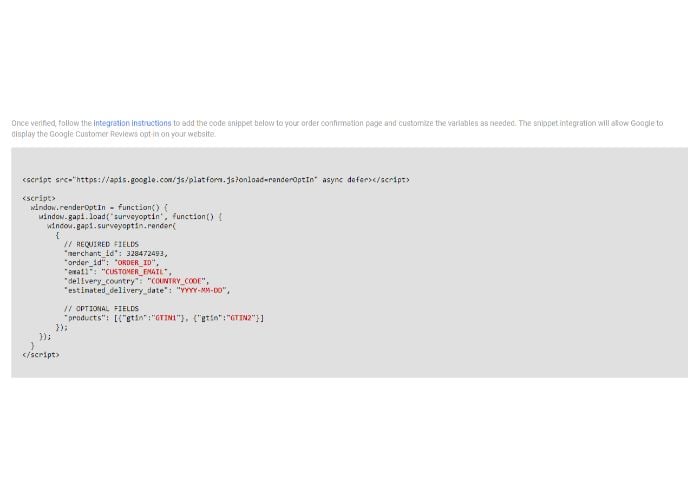 You'll then have to verify your account using the Google Trusted Store requirements and paste the reviews opt-in code on your website.
Once Google has determined you worthy of the title, they'll then prompt visitors to provide feedback on your store every time they purchase something. You'll also be able to display the Google Customer Reviews badge on your website.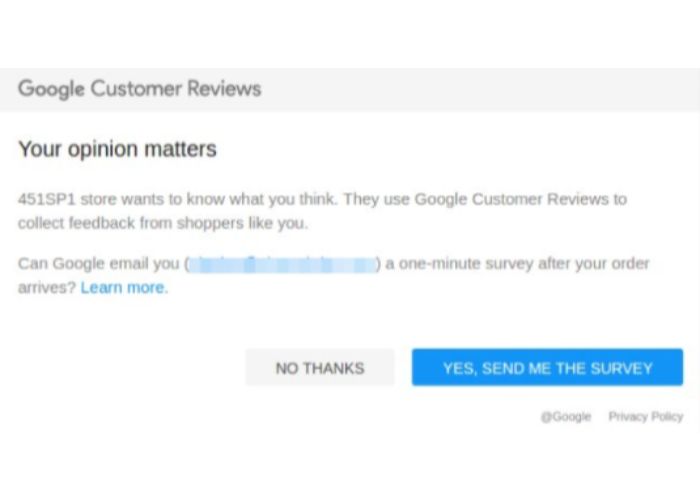 The evaluation process takes between 60 to 90 days so it's not something that will happen overnight, but it's a great way to increase social proof, ensure customers trust you, and drive more traffic by getting more reviews quicker.
Benefits of Becoming a Google Trusted Store
What's the big deal with the Google Trusted Stores program and why should you make this a priority for your business? It's the same reason why we trust certain vendors over others. If you own a store that makes custom mugs, chances are you have "preferred vendors" that you buy from over and over again.
Why do you do this?
You do it because you trust them. Having that seal of approval from Google can do a lot for your reputation, and anyone who understands the program knows that you need to meet Google's requirements to join.
Social Proof
We do so many things in our stores to ensure that people trust us. We include badges, testimonials, and trust symbols. Customers realize that Google isn't the one giving you the reviews; it's other customers. When is the last time you bought something from an unfamiliar business without checking the reviews first?
Positive reviews are the best form of social proof because it shows new customers that other people like what you're selling and they trust buying it from you. This is especially important with new businesses.
Seller Ratings
Once you get the badge, you can then display your seller ratings with your shopping posts and ads. As customers are scrolling through the many available options, they'll see that your product has a 4.8 out of 5 and will likely buy it because you have a close-to-perfect rating and a better rating than your competitors.
Best of all, you'll get a certified shop tag if you decide to advertise with Google as well. This helps separate you from the stores that weren't willing to go the extra mile and sign up for the program.
How Customers Benefit From Google Trusted Stores
At one time, the benefits of shopping with Google Trusted Stores were very clear. Now, it's a bit more of a gray area since Google moved to the customer-reviews platform.
Google initially offered customer protection whenever they shopped from a trusted store. If the customer failed to receive the item, was billed incorrectly, or didn't receive the item in a timely manner, Google would intervene and help provide a solution.
It appears that this proved to be a bit difficult for Google to manage, and that was likely the main reason they switched to the new platform.
That said, customers still receive many benefits from using the Google Trusted Stores platform even in its new form.
Customers who shop from these stores know that they have many positive reviews from the experience the businesses provide. By researching, reading reviews, and understanding where to shop, users have a higher chance of receiving the products they purchased in a timely manner.
Although customers may not receive purchase protection, buying from a reputable store should almost always result in a good experience because the retailer wants that reputation to remain. Plus customers will have the opportunity to fill out a survey if they did have a bad experience.
How to Get a 'Trusted Store' Badge for Your AdWords Campaigns
Since the switch to trusted reviews, Google no longer offers a badge on AdWords campaigns. What they do offer is pretty powerful, though.
You may remember a time when Google input some of your short, positive reviews at the bottom of your AdWords ad. This was a great way to provide potential traffic with a quick burst of social proof.
However, what they replaced it with is just as good, if not better. Now your campaigns will display results similar to the one below.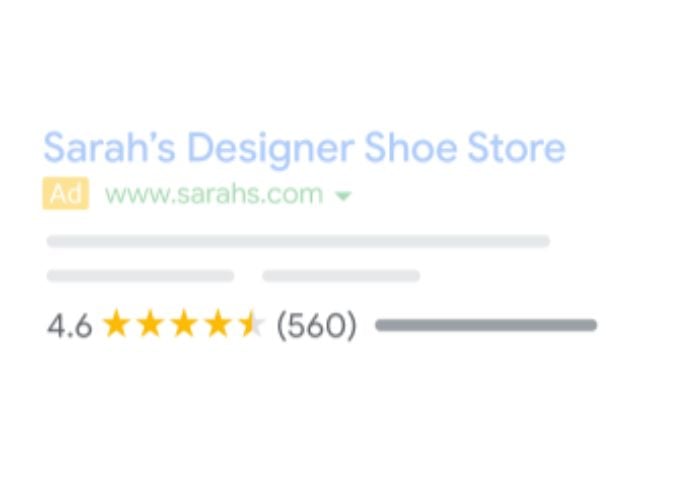 Instead of a single review, you'll get a star rating, the number of ratings, and a qualifier like average delivery time. There are some requirements to gain this status, though:
Google has received/collected 100 unique reviews within the last 12 months across Google Customer Reviews or third-party review partners
Google and/or its partners have completed a research evaluation of your site; or
Google has completed an evaluation of your site via Google Consumer Surveys.
Average, composite, rating of 3.5 or more stars for Text Ads
Currently, Google can show Seller Ratings if the average rating is less than 3.5 stars
The ad's visible URL domain must match the domain with the ratings
All of this is made possible through the customer reviews platform. As people are purchasing from you and leaving reviews, you're building this portfolio to increase your chances of getting the ad extension.
Consequences of Not Honoring Google Trusted Stores Policies
Google always has consequences for everything, right? The same holds true for the Google Trusted Stores program. If you're a store owner and are concerned about your ability to honor the policies, you might want to get some systems in place to be ready.
Each time someone purchases something from you, they'll be invited to fill out a survey explaining how the process went. Furthermore, they'll have additional opportunities to provide feedback to Google on how shipping went and how the product is when they receive it.
If at any point the customer is dissatisfied with the service and they provide feedback on that, you'll receive that information. If you regularly receive negative feedback, not only will it hurt your ratings but it could result in you getting removed from the program as well.
Google will still stand by and make sure that you're honoring the requests of your customers. Even though they don't offer customer purchase protection anymore, they're still invested in assuring that customers receive the best possible experience on Google.
Conclusion
If you're trying to get more attention to your store, there are a variety of resources that can help you with that, including my agency. Whether you've been involved in the Google Trusted Stores program for years or are just getting started, social proof is powerful.
You can never have too much of that, and Google will ensure that the businesses offering the best experience get pushed to the front of the line.
Do you prefer Google Customer Reviews over Google Trusted Stores? Explain why in the comments.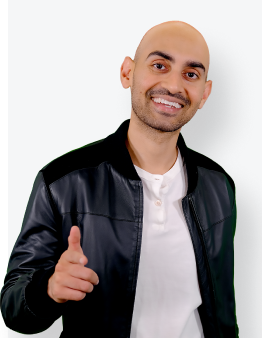 Consulting with Neil Patel
See How My Agency Can Drive Massive Amounts of Traffic to Your Website
SEO – unlock massive amounts of SEO traffic. See real results.
Content Marketing – our team creates epic content that will get shared, get links, and attract traffic.
Paid Media – effective paid strategies with clear ROI.