What Should You Look For When Choosing A Shopify Theme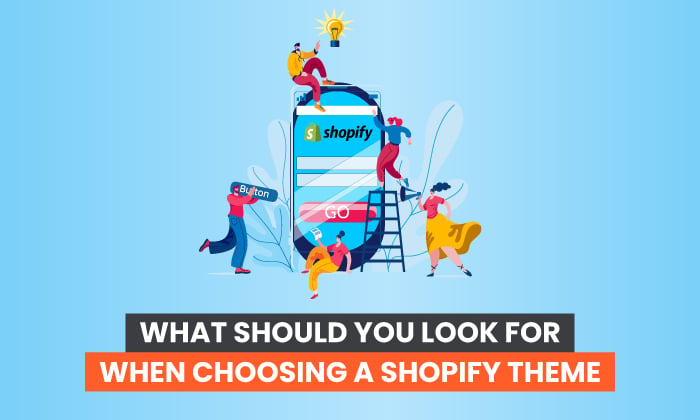 Choosing a Shopify Theme! A recent study found that 70 percent of Americans are shopping online more than ever.
E-commerce is booming, and there's never been a better time to start an online store. One of the best platforms to launch your e-commerce store is Shopify.
Why do so many people love Shopify? In part due to its:
affordability
ease of use
scalability
security
One stand-out reason many e-commerce store owners love Shopify is the flexibility it offers through Shopify themes. With thousands of paid and free themes available, you can create a unique e-commerce store that offers your customers a positive user experience (UX).
That could be why over a million businesses use Shopify to build their e-commerce stores.
Choosing A Shopify Theme – What Are Shopify Themes?
Shopify themes are a template that determines the way your website looks and feels to customers who visit your store. Different themes offer different styles and layouts. Also, each theme offers a different UX, depending on how it is designed.
Design plays a massive role in the way your store attracts, engages, and converts. That's why the Shopify theme you choose is critical to your business' success.
A Shopify Theme Is A Template Of What You Want Your Shopify Store To Look And Feel Like.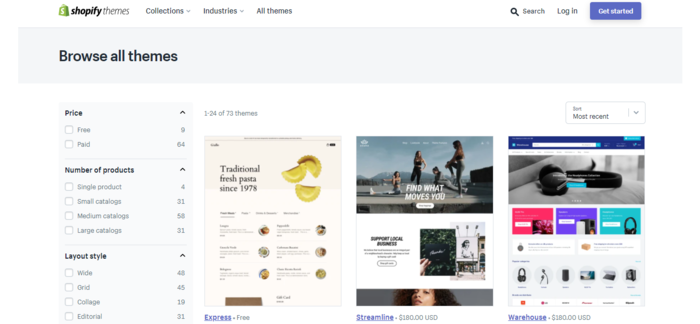 In e-commerce, your theme of choice must reflect your industry and niche. For example, if you're in the health and wellness niche, you'll want a theme that looks professional and feels reassuring.
If, on the other hand, you're into electronics, you'll want a theme that's sleek and energetic.
Choosing A Shopify Theme – Will Changing Themes Break Your Store?
One fear that most store owners have when changing themes is that it will break their Shopify store.
That's not true.
Changing your Shopify theme (or editing your current one) doesn't affect your content or other parts of your account.
So feel free to play around with your theme settings or even getting a new Shopify theme that you fancy. Your e-commerce store won't break, and you'll rarely have any downtime if you do it right.
Why Your Shopify Theme Matters
Now that you know what a Shopify theme is, let's briefly look at why your theme choice matters so much.
Helps Project Your Brand Personality
One of your most important assets as a business is your brand.
And no—branding doesn't just mean logo.
An essential aspect of branding is your brand personality. Brand personality is a set of human characteristics that can be attributed to a brand. For example,
sophistication
excitement
fun-loving
sincerity
ruggedness
Your theme plays a critical role in helping you project these characteristics. As a result, your Shopify store will attract customers who share and love your personality.
Choosing A Shopify Theme – Determines Your Website's UX
Your theme is a crucial aspect of your store's design because it determines your website's UX. That's because your theme determines essential facets of your e-commerce store like navigation, layout, color schemes and aesthetics, and more.
Your theme determines the experience your customers will have as they navigate your store, consume your content, and search for products. If the experience is positive, they're likely to keep coming back. A negative experience, on the other hand, leads to high bounce rates.
7 Tips to When Choosing A Shopify Theme for Your Store
Ready to shop around for the perfect Shopify theme for your store?
Here are a few tips to help you find the perfect one.
1. Decide on Your Budget
Shopify stores come at varying price points. That's why your first step to choosing your Shopify theme is to determine how much you're willing to spend on a theme.
Examples of factors that impact the theme's price include:
The developer: More experienced and well-known developers tend to charge more for their themes.
Flexibility: The level of customization of your theme impacts its price. For example, if it has drag-and-drop functionality, you can expect to pay a bit more.
Level of functionality. Some themes are limited in functionality, while others allow you to turn your e-commerce store into anything you want. Those with extra bells and whistles, like forms or SEO features, tend to cost more.
Like everything else in life, you get what you pay for when it comes to Shopify themes. Make sure to read the fine print and understand what features and functionality a theme has before buying.
2. Prioritize Themes on the Shopify Theme Store
Shopify theme developers are a dime a dozen. You can get a theme for your Shopify store from many theme marketplaces.
However, I highly recommend choosing from the themes on Shopify's theme store.
One of the main reasons is that Shopify carefully screens all themes submitted, so you can be sure to get a quality, secure theme.
Another reason to prioritize themes on Shopify's theme store is that you'll be assured of regular updates and world-class support.
3. List the Main Features and Functions You Want
The key to finding the perfect Shopify theme for your store is to consider the main features and functionality you want for your store.
Do you want a slide-out cart drawer?
Is a video player a priority?
Do you need forms, landing pages, or a blog?
Finding a theme with most of the features you're looking for will help you cut down on development costs. When you find a theme with one of the most important features you're looking for but not the others, move on. The key is finding one that has most of the themes you want. You can always have a developer add the missing feature(s).
To find features included in a theme, check out the theme preview page. However, because not every feature may be listed there, you may want to play around with the theme demo.
You can also use the live store examples to help you get a feel of all the features of a theme you're considering.
4. Consider Your Niche
Most themes are developed for specific industry types. When picking a Shopify theme, you must make sure it was designed for your niche. For example, an e-commerce store that sells various electronics and accessories can't easily use a theme designed for fine art pieces.
That's because the electronic store needs a theme that can handle many categories and advanced search capabilities. The art store, on the other hand, doesn't need as much advanced functionality.
As you hunt for a Shopify theme, make sure to filter your top picks by niche. Fortunately, the Shopify theme store makes it easy to search for themes by niche and number of products.
You Can Browse Shopify Themes By Industry And Number Of Products In Your Inventory.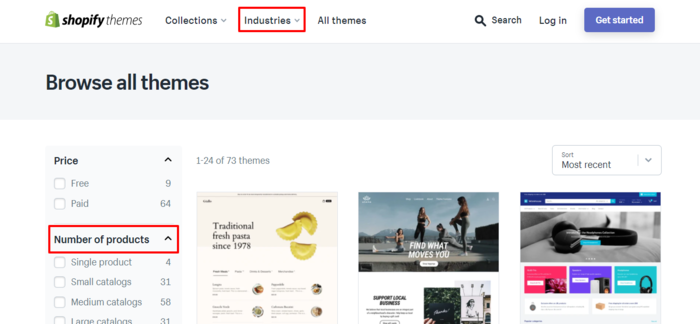 5. Choosing A Shopify Theme – Design and Aesthetics
Global e-retail sales is a whopping $4.2 trillion industry.
To get a piece of the global e-commerce action, you must attract and retain customers to your e-commerce store. That's the key to growing a successful Shopify e-commerce store.
Attracting customers can be achieved through search engine optimization (SEO) best practices, like keyword research.
But retaining customers on your site is all about your design and aesthetics. The right Shopify theme makes design simple by providing:
an attractive storefront
color palettes that match your brand
clean and easy-to-understand user interface (UI)
A well-designed Shopify store will not only look amazing, but it will also encourage more conversions.
6. Favor Lightweight Mobile-Friendly Shopify Themes
Website speed is crucial to online success, as it can impact search rankings, conversions, and bounce rate. To offer visitors the fast page speed they want, you need a fast, lightweight theme.
Lightweight themes focus more on performance and tend to avoid busy elements like animations, fancy scrollers, and other unnecessary features that increase the size of the file.
Another advantage of lightweight themes is they're designed to be simple. Their main goal is to help customers navigate around your store and perform the action they came to do.
To deliver a fast, easy-to-use site, you'll want to choose a mobile-friendly theme.
7. Optimized Checkout
Studies show that the average e-commerce store losses about 75 percent of its sales to cart abandonment. The same studies show that one of the leading reasons for cart abandonment is a complicated checkout process.
That's why you must make sure the Shopify theme you choose offers an optimized checkout experience.
The best Shopify themes offer a fast and intuitive checkout process, well-designed add-to-cart buttons, and an easy way to check the total cost.
Making the checkout process easy should be a priority, so ensure the theme you choose makes this as easy as possible.
3 Examples of Great Shopify Themes
Now you know how to pick a suitable Shopify theme for your store. Before you run off to find yours, let's look at a few great Shopify themes and discuss what makes them stand out from the rest. You might just find your perfect match right here!
Brooklyn
Brooklyn is one of the top free Shopify themes out there.
Brookly Is A Free Shopify Theme designed For The Apparel And Accessories Niche.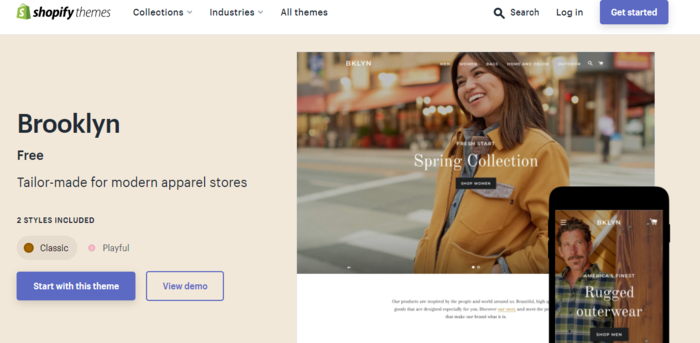 The theme is designed for the apparel and accessories niche. Because of that, it focuses on a brand image by enabling you to show off your inventory with stunning visuals. Some notable features include:
A Slide Out Cart: Helps customers easily add items to their cart without leaving the current page.
Home Page Slideshow: Use the top of your homepage to showcase multiple products or brand images.
Video integration: Grab attention, tell your story, and showcase your best products in action by featuring a YouTube or Vimeo video on your page.
If you're bootstrapping your way to e-commerce success in the apparel niche, Brooklyn is a the Shopify theme to help you get there. (Did I mention it was free?)
Icon
Looking for a lightweight and easy-to-use Shopify theme that will help you set up a stunning store quickly?
The $180 Icon Shopify theme could be what you're looking for.
Icon Is A Great Example Of Paid Shopify Theme You Must Consider.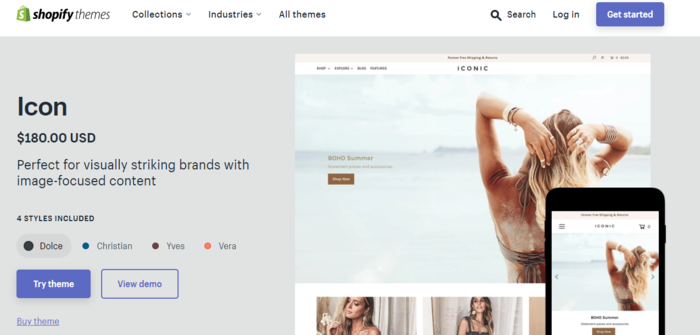 One of Icon's greatest strengths is that it's built to power omnichannel marketing campaigns. That's thanks to seamless social media integration and a blog to power your content marketing. Other features include:
Sticky Navigation: Keeps your menus fixed to the top of your page as customers scroll down.
Product Quick View: Customers can view product details in a popup, so they don't have to leave the current page
Multi-column menu: Helps you feature product images in a large, multi-column drop-down menu.
As the name suggests, Icon is one Shopify theme that will help you build an iconic e-commerce store and generate a lot of revenue.
Choosing A Shopify Theme – Expression
Have a large inventory of products?
Then you need a Shopify theme that can help you display them all beautifully. Your theme should also make it easy for your customers to find what they're looking for.
Expression is one of the best Shopify themes that can help you do that and more.
Shopify Theme Expression Gives You A Lot Of Features And Functionality.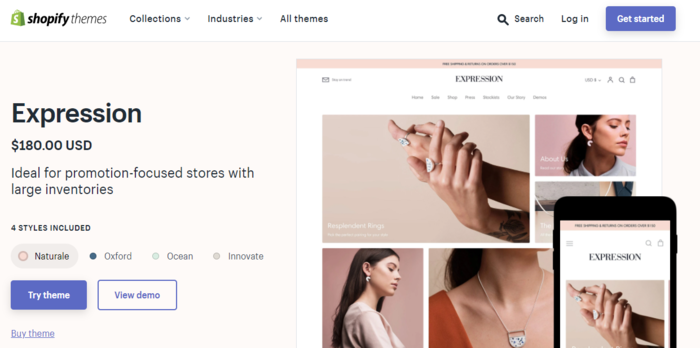 That's because some of the theme's prominent features include drop-down menu bars, advanced search functionality, and a dynamic slideshow.
Other notable features you can expect are:
Versatile Sidebar Area: You can use your sidebar to display blog posts, images, advertisements, and more.
Product Image Rollover: Hovering over products reveals different product images, giving customers a clearer picture before they buy.
Grid-Style Layout: This allows you to feature multiple products or promotions in a grid-style layout throughout your store.
Expression will set you back $180, but it's worth the investment as it helps you create an e-commerce store with attention-grabbing visuals. It's also designed to make your promotions stand out, thereby encouraging more conversions.
Conclusion
The e-commerce space is fast growing as more entrepreneurs are launching e-commerce stores. One of the most trusted platforms to launch a store is Shopify. As you design your store, pay careful attention to the Shopify theme you use.
Remember, your theme affects your store's:
user experience
aesthetics
performance
All three are factors that have a huge impact on your conversion rates.
Which Shopify themes have you had experience with? What do you like about it?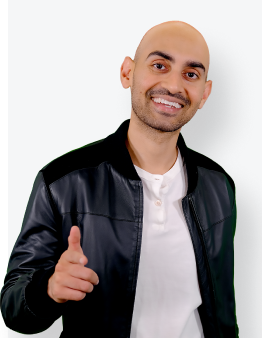 Consulting with Neil Patel
See How My Agency Can Drive Massive Amounts of Traffic to Your Website
SEO – unlock massive amounts of SEO traffic. See real results.
Content Marketing – our team creates epic content that will get shared, get links, and attract traffic.
Paid Media – effective paid strategies with clear ROI.