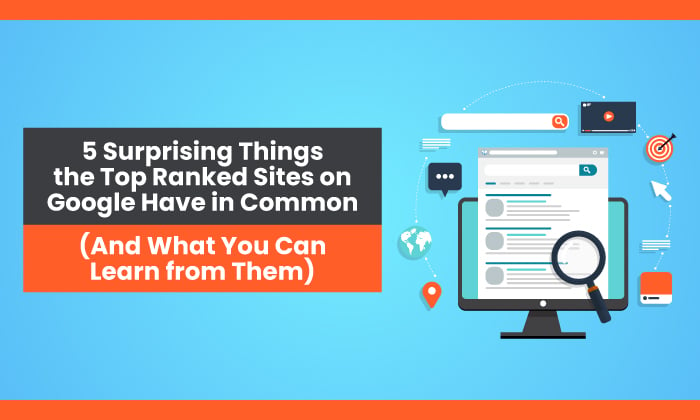 What are backlinks? Backlinks are what top sites on Google have in common! This is what separates the heavyweights of the search engine rankings from everyone else? That's a question every good SEO constantly asks themselves as they look to outrank sites. Which seem to dominate Google for every relevant keyword (like Wikipedia or WebMD).
Unsurprisingly, these sites have more than a few things in common.
It's not just their age or authority either—factors that other sites can't hope to match. There are plenty of similar qualities that help top sites stand apart from their competitors. You can copy and improve today.
Let's review five of the most important and surprising factors and explain what you can learn from them. And how you can use that to improve your own site.
1. Backlinks Reign Supreme
Let's get the least surprising commonality out of the way first. The top-ranked sites on Google all have a serious number of backlinks. As we all know, high-quality backlinks almost always mean high rankings.
Research from Backlinko finds the first result on Google has an average of 3.8 times as many backlinks. As the rest of the results on the first page.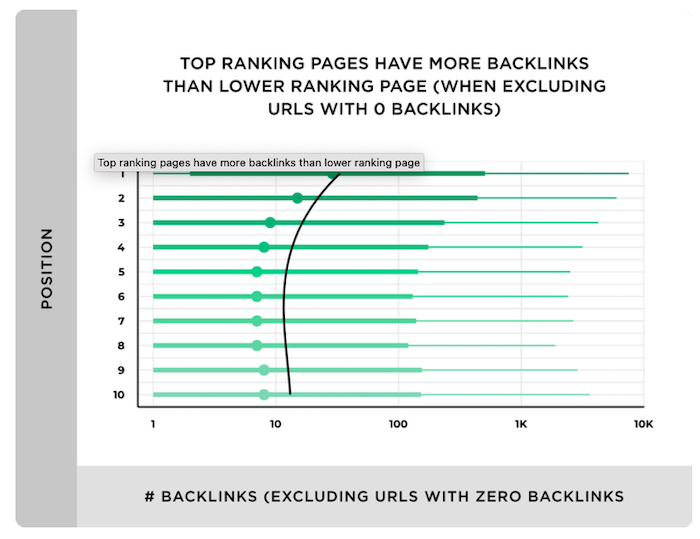 The big boys have it made when it comes to acquiring more backlinks, too. They continue to get more backlinks over time as a result of their position in Google.
Research by Ahrefs finds that the top three results generate more new referring domains. Than the rest of the pages on Google. Pages ranked first and second get significantly more new referring domains. Those pages ranking first get between backlinks at a faster rate of between five percent and 14.5 percent per month.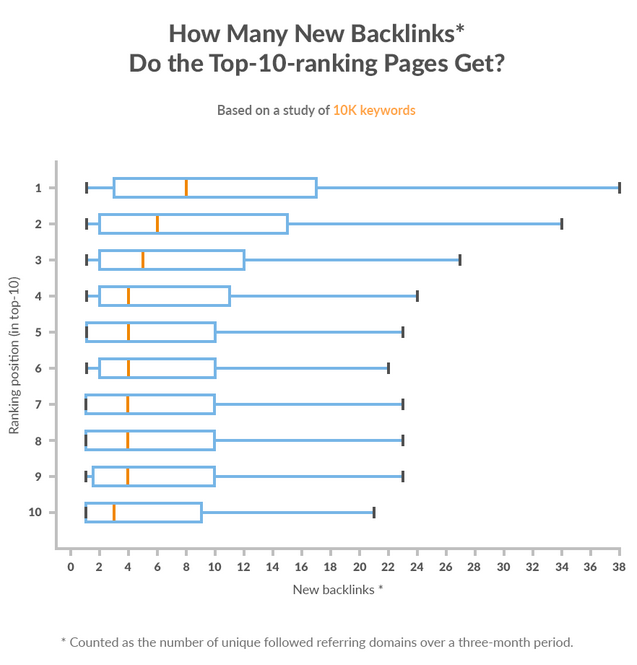 It's not just a large number of backlinks that are important.
They need to be high quality, too. What does a quality backlink look like? It comes from an authoritative domain, is placed within its content, and has topical relevance to your website.
Let's say you have a car blog. A link from another high-ranking car blog carries more weight. And is of higher quality than a link from a major health website. Because it's much more relevant to your niche.
You shouldn't discount internal links, either.
The biggest websites (and news outlets in particular). Always put a lot of effort into making sure every new piece of content links back to several previous posts.
Great internal linking makes it significantly easier for Google to crawl your website and index your information. The easier your site is to crawl, the more likely Google will find and rank your content. They may not have the same power as backlinks, but internal links can still result in higher rankings.
All this is to say that you need to build backlinks in a scalable way. If you want your site to compete with the biggest brands in your industry.
2. Provide High-Quality Content
Most top-ranking websites are well known for the quality of their content. Okay, some major sites don't publish high-quality content all of the time. But every high-ranking site does produce exceptional content, at least some of the time.
Don't forget, high-quality content doesn't necessarily mean it's longer or more detailed than everyone else's. It might contain unique research that other companies can't hope to copy. However, it could break a story. Or it could be designed better. Maybe, it could go viral. There are lots of ways to create amazing content.
Doing so matters when it comes to SEO because high-quality content helps boost several ranking factors.
It's a magnet for backlinks, it reduces your bounce rate, and it should result in a higher clickthrough rate (CTR).
The top-ranked sites don't just rely on the objective quality of their content, though. They also take steps to optimize it to perform better in Google. That means including keywords in header tags, throughout the content, in the page title, and in the URL.
Creating high-quality content isn't easy, especially when there's no objective way to determine how good your content is. This is job of your users. With that being said. There are still steps you can take to make it more likely your users think highly of your content.
The first is to make sure it's written by an expert. This is a pretty simple task for some top-ranking sites like media outlets. Journalists, by default, are experts on certain topics.
However, there's nothing stopping you from writing about your expertise or hiring expert writers, either.
You could even use a strategy adopted by some health websites. Where content is written by a professional writer and then fact-checked by a medical professional. Doing so has the double benefit of having content written by an excellent writer while also being medically accurate.
3. Focus on User Experience
Top-ranking sites on Google put a premium on the user experience and do everything they can to keep customers coming back. This means having a great design, high-quality content as discussed above, an intuitive layout, and a great browsing experience in general. Yes, some of the highest-ranking sites may serve up ads on their pages, but they don't ruin your browsing experience with them or use intrusive popup ads, either.
A great user experience is one of the reasons these sites are top of Google, after all. Google announced that user experience metrics would be used to rank sites, beginning in 2021. How your site loads, what it looks like, and how users interact with it contribute to your rankings, along with other factors like HTTPS, safe browsing, mobile friendliness, and the presence of interstitials.
Google puts such a big emphasis on your site's user experience because it aligns with its goal of giving customers the best possible browsing experience. The search giant finds over half (52 percent) of users will be less likely to engage with a brand after a bad mobile experience. So why would it rank you if you have a high bounce rate?
Improving your site's user experience and aligning it with the experiences provided by the top-ranking sites won't just improve your rankings; it also makes commercial sense. Ad network Ezoic generated a 186 percent increase in earnings per 1000 visitors by improving the UX of a publisher.
4. Backlinks – Make Sure Your Page Speed Is Competitive
You've never had to wait for the New York Times to load, have you? That's because top-ranking sites know the importance of delivering content as fast as possible. Page load speed has been a ranking factor for desktop searches since 2010, and Google announced it was also a ranking factor for mobile searches back in 2018.
Say it with me: A slower site means lower rankings.
You need to optimize for page speed if you want to mix it with the highest-ranking sites. It's not so much about getting the edge over your competitors and making your site 0.1 seconds faster, however. It's about having a site that's fast enough to not impact the user experience negatively.
Research by Google finds over half (53 percent) of visitors abandon a mobile site if it doesn't load in three seconds.
If you have a slow site, you won't just get penalized for a poor load time. You'll also get penalized for having a high bounce rate as users get fed up with waiting and choose a different site instead.
The easiest way to check your page speed is by using Google's PageSpeed Insights tool. It will let you know how fast your site is, give it a score out of 100, and suggest improvements.

If you want to have a seriously fast-loading page, read my advice on getting a perfect score with Google PageSpeed Insights.
5. Backlinks – Consider User Intent
Have you noticed how some top-ranking sites have several pieces of content that all seem to approach the same topic from a slightly different angle? That's because they understand the power of user intent and the value Google places on it.
Google wants to serve up the best and most appropriate content for each query. A big part of that is understanding what the user is trying to achieve from their search. Are they trying to learn something? Research a topic? Make a purchase? Google delivers different results for each intent.
For instance, Google shows e-commerce pages where it thinks the user is trying to make a purchase, but it serves up blog articles for information-related queries.
Knowing what type of content Google thinks users want to see is key to becoming a top-ranked site, because you're much more likely to get ranked if you create content that matches the user intent for each target keyword. This is why so many top-ranking sites have similar content targeting the same topics: to catch every user intent.
It's not simply a matter of informational vs. commercial, either. There are dozens of types of informative content that users may want to access. In some cases, it's a listicle. For other queries, a video may be more appropriate.
Taking time to understand the user intent for each keyword or topic you're targeting can yield serious results. Marketing SaaS CoSchedule saw a 594 percent increase in search traffic when they aligned content with user intent.
Top Ranked Sites: FAQs
What do the top-ranking sites have in common?
They all have a lot of high-quality backlinks, great content, an excellent user experience, a fast-loading website, and content that matches the user's intent.
Why do the top sites have so many more backlinks?
This is partly because of the quality of content but also due to the fact that they sit at the top of Google. This makes them an easy target for people trying to link to an authoritative source.
How can better content improve my rankings?
Better content can improve your rankings in several ways. High-quality content attracts more backlinks, but Google also rewards in-depth content and results in users spending a long time on the page.
Why does user experience matter?
Google wants to provide the best experience to its users. Part of that means sending them to sites that are easy to browse. It's why user experience factors are now ranking factors.
How can I gauge user intent?
Google the keyword you want to rank for and look at the pages that appear in the results. If all of the content has the same format, that's the type of content you should create.
Conclusion: What You Can Learn From the Top Ranked Sites
You can't turn your website into a top-ranking site overnight. However, you can learn a lot from them and implement tactics they use to improve your site's Google ranking. There are more than a few things they do in common, as you've learned.
Make sure you have a scalable system for generating backlinks. Create high-quality content, focus on the user experience, ensure your site loads fast. Therefore be sure to consider user intent when you create content.
However, if you do these five things, and you could be well on your way to having a top-ranked site in the future.
What are you going to work on first?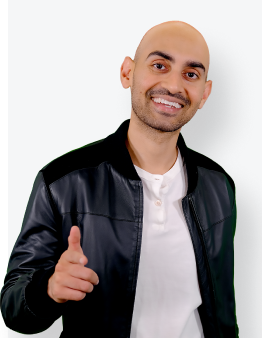 See How My Agency Can Drive Massive Amounts of Traffic to Your Website
SEO – unlock massive amounts of SEO traffic. See real results.
Content Marketing – our team creates epic content that will get shared, get links, and attract traffic.
Paid Media – effective paid strategies with clear ROI.