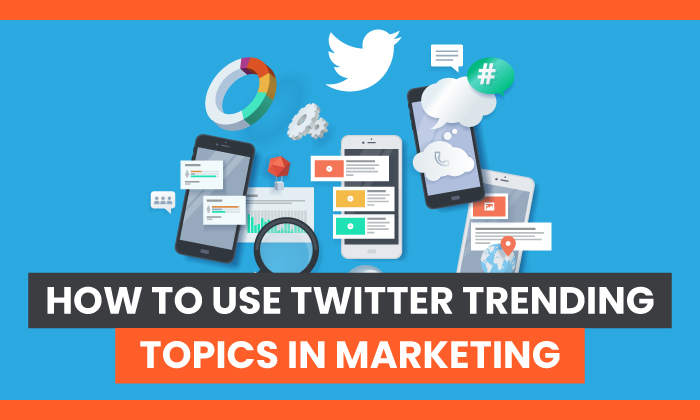 Twitter Trending! Trends come and go. Bell bottom jeans, Rubix cubes, flannel. How are you supposed to keep up with it all?
This is even more of a puzzle in a digital world. Trends don't stick around for a decade or a year. Sometimes things change overnight.
Harnessing what's trending could be a powerful fuel for your digital marketing strategy, for the content you are creating, and for reaching your target market with a message that resonates.
Luckily, Twitter trending topics are an up-to-the-minute resource for staying on top of what's hot. You'll learn what people are talking about, how they're feeling, what they're wondering about, and what's the general buzz. From that, you can build campaigns and content around topics that matter.
What Are Twitter Trending Topics and How Do They Work?
Have you seen Twitter trending topics as you scroll the news or check out the latest updates from your favorite content creators?
Twitter trending topics are based mainly on Twitter's algorithm. Twitter figures out what many people are talking about to determine what is popular and shares it.
Under Twitter trending topics in the "What's Happening" section, you'll see not only popular tweets that are being reshared and commented on over and over again but also a synopsis of the stories and headlines associated with those tweets to give you some context.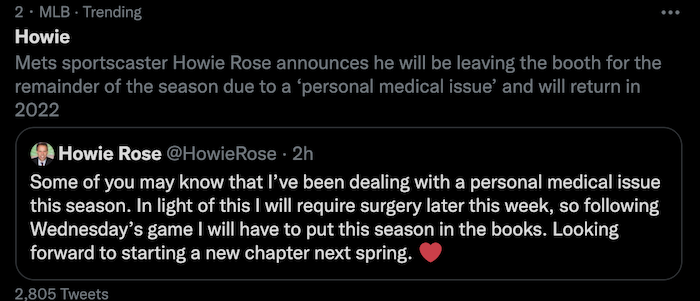 Twitter uses data based on your interactions and what you've liked and followed to share tweets and topics that Twitter thinks you'll be most interested in. This is especially helpful because what's trending in your networks and with your friends may not be what's trending on the other side of the country or world, or even what different demographics are talking about.
To find your trending topics, click on the "For You" link on the website or magnifying glass icon on the Twitter app. Then you can use the tabs to explore certain trending topics and figure out which bandwagons you can hop on, which conversations you can contribute to, and where you can focus your marketing efforts.
8 Ways to Use Twitter Trending Topics
You can use Twitter trending topics to give you insights into what's going on in the world and help you understand your target market's interests so that when you reach out, you speak directly to what's important to them.
1. See What's Popular in Your Niche
By default, Twitter is going to show trending topics tailored to your interests. This will be even more specific when you are active on Twitter. If you're already active in following and interacting with content related to your niche, you're going to start seeing trending topics that reflect those interests.
This can also be a gut check for you as you try to figure out what people are talking about and what's important to them right now. You may feel like you know what the big topics of the day are: TV shows, products, music, and more are, but you need validation.
This is especially useful if you aren't personally in the same demographic or interest group as your target market. You may not already know what the hottest trends are.
2. View Related Tweets to See Users' Opinions on the Topic
Once you start getting an idea of what's trending, you can dive deeper to find out how people are reacting and feeling about a topic.
Oftentimes, trending topics reflect news stories or happenings around the world. In addition to seeing those headlines, you can explore real-world tweets from users.
The big picture here is that every topic is nuanced and primed for a variety of emotions. Those real tweets can serve as an unbiased focus group, where you can hear from your target market about the trending topic.
3. Check the Trending Topics Frequently to See What's Consistently Trending
In addition to seeing what's new and happening in the world, Twitter trending topics can help you see what's consistently trending. By checking in regularly, you'll start to get a feel for what is remaining popular, rather than just being a flash in the pan.
Some trends come and go in a blink of an eye, while others start to frame our conversations and drive our narratives. They start to really become part of who we are and what's happening in our lives.
You can get a handle on those more foundational trends by checking on Twitter trending topics regularly. When you start to see the same (or related topics) coming up frequently, you can use those topics for pillar content.
4. Identify and Avoid Downward Trending Topics
On a similar note, you can use Twitter trending topics to help you see what's losing momentum. As we get busy with our marketing agenda, we can lose touch with what's going on in the day-to-day lives of our target market.
As we sit down to create a marketing campaign, it's easy to look backward and think about what's been working for others or what's been discussed over the past few weeks or months.
However, by the time your content or ads roll out, is that still going to be the hot topic? Short of a crystal ball, it can be difficult to know if a topic will still be trending in the next week or month. Twitter trending topics can be the place to forecast trends.
Are the tweets growing in emotion, passion, and frequency? Is the conversation growing or waning? Is the conversation dying down? Are fewer people tweeting about it as time goes on? Is that topic not regularly making the Twitter trending topics list?
Steer clear of declining topics in your upcoming content and lead generation to avoid being out of date or yelling into the wind. (You can also cross-reference with Google Trends to see if topic searches have increased or decreased as well.)
5. Find Local Trends in Your City and State
It's great to know what everyone in the world is talking about, but if you have a locally-based or locally-driven brand, you need to know how people are feeling in your particular area.
There's a lot of major news and topics that roll through every day. Are people in your area talking about it? How do they feel about it? How is it impacting them?
You will be able to see local Twitter trending topics by interacting with local events and allowing Twitter to access your location on the desktop or app. Twitter can then use your location to share area-specific trending topics.
You can also get specific by typing your topic or hashtag into the search function. You can use the "advanced search" settings to look for tweets sent from a geographical area.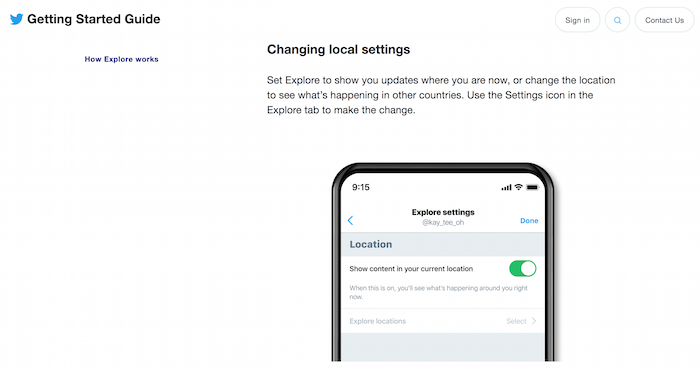 This is great to engage with and even lead the conversations regarding those topics. Be involved.
6. Identify Connected Keywords and Hashtags
Growing your awareness of Twitter trending topics can not only give you general feelings about the latest things going on in the world, but it can also give you specific insights into keywords and hashtags that people are using surrounding those topics.
Which words and phrases are people using in regards to those topics? What are they specifically not using? You can learn a lot from researching top tweets.
If you are creating pay-per-click ads or keyword-driven ads, knowing those natural keywords and phrases can help you lean into those.
If you are creating a social media campaign, knowing those hashtags can help you reach that same audience.
7. Content Ideation
When you're not sure what to write about, turn to Twitter trending topics for some inspiration. Here you can pick up tips about what people are talking about.
Keep in mind that you don't have to write about the specific topics that come up in those trending tweets but may serve as inspiration. What are the general concepts that your target audience seems to be talking about a lot?
For instance, maybe every four years, it's the Olympics that are drawing everyone's attention. You don't have to mirror the same stories that everyone is sharing, but now you know that those anecdotes of inspiration and perseverance are popular with your audience.
8. Take a Stand
Sharing a broader vision can bring authenticity and humanity to your brand. As you are seeing certain news stories dominate the Twitter conversation day after day, don't be afraid to share some of those words of justice, hope, and change.
You don't have to reshare or retell the stories to jump into the conversations. Speaking to the issues that your target market is truly passionate about can help you feel relatable—and can work for the greater good by sharing resources or education.
Bringing new value and insightful thought to a conversation can help you generate notice, helping increase your brand awareness and following. Just tread lightly here and don't try to appear to fit in, when it's obvious it's not OK for brands to chime in.
Why Are Trends Important in Marketing?
If only you could guess what your target market was going to want in the coming days, weeks, months.
To create campaigns that speak natively to your target audience, you're going to have to be aware of what's trending. What are they thinking about? What are they likely to be thinking about in the future?
It's impossible to read your audience's minds, but careful research can help you stay aware of the topics that matter the most to them.
On the other hand, one of the worst ways to waste time, money, and energy in your marketing is to create an amazing campaign or piece of content that falls flat by not connecting with your audience in authentic ways that matter to them.
Being timely and relevant are two of the most important ingredients in any digital marketing effort. Use Twitter trending topics to help you stay abreast of what's happening, and capitalize on topics that work!
Twitter Trending Topics Frequently Asked Questions
What is trending now on Twitter?
You can find out what's trending on Twitter by going to the "Explore" section on the desktop or mobile versions. For the app, you can click the magnifying glass icon to access what's currently trending.
How do you find local Twitter trending topics?
Twitter will show you local trending topics if you have your location turned on in the privacy settings. You can also search for tweets coming from specific geographic locations using advanced search settings.
How can I use Twitter trending topics in marketing?
Twitter trending topics give you specific insights into what real people are talking about and thinking about. You can find out what's growing and declining in popularity and use these topics to inform your SEO, content, ad, lead generation, and social media strategies.
How are trending topics related to keywords?
Twitter trending topics reveal the stories and concepts that people are talking about, as well as real-world tweets about those topics. These tell you the words and phrases people are using to speak and search about those topics.
Conclusion of Twitter Trending Topics
Twitter is more than just a place to check the latest news or updates. You can dive deeper and find out what your target audience is interested in. That's a powerful insight that can drive your content marketing and social media marketing strategies.
Make sure that as you are following Twitter trending topics, you remain engaged with your niche so that the Twitter algorithm can continue to show you more about that area of interest. Dive into geographical areas to learn more about local audiences and opinions.
Let this research drive what and how you talk about key issues in your content, website, social media, and more. You may even learn something new!
What trending topics have you recently discovered?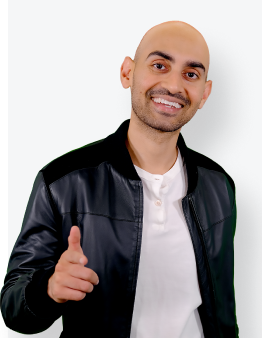 See How My Agency Can Drive Massive Amounts of Traffic to Your Website
SEO – unlock massive amounts of SEO traffic. See real results.
Content Marketing – our team creates epic content that will get shared, get links, and attract traffic.
Paid Media – effective paid strategies with clear ROI.